"We are a group of students working full time for CCL during our gap year. As CCL is an "Investor in People" it was decided that, as a training exercise, we could have some funds to build a Robot for Robot Wars which would teach us a lot about engineering and project management etc. The Necromancer was born! We plan to enter the Necromancer in Robot Wars this year (2000) and then when we finish our gap year, we will hand the project over to next years gap year students, so that they can modify the Necromancer for Robot Wars 2001 and enter it again."
— The Necromancer website
The Necromancer was a competitor robot that attempted to enter Series 4 of Robot Wars. It failed to qualify after drawing its qualifier with Robochicken on a judges' decision, losing after an audience vote. It was also intended to compete in Series 5, but it is currently unknown whether it attempted to enter or how it failed to qualify if it did.
The robot was built and entered by gap-year students working for Cambridge Consultants Limited, who sponsored the robot and provided funds and equipment for its construction. The robot's name is derived from 'necromancer', a type of magician who can supposedly communicate with the dead.
The Necromancer never appeared on television, although team captain Gary Ewer later competed as part of the Infernal Contraption team, becoming captain of the team in the rebooted series.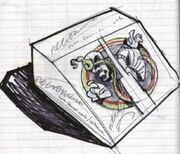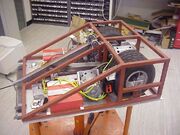 The Necromancer was a silvery-grey box wedge-shaped robot armed with an electric lifting arm. It featured a chassis made from steel box-section and a two-wheel drive system with Bridgestone go-kart tyres, as well as armour consisting of glassfibre composite with a stainless steel outer layer. Power came from a pair of Hawker Odyssey (Genesis) 12V, 16Ah batteries, as well as three 750W Bosch motors - two for the drivetrain and another for the lifter.
Qualification
Edit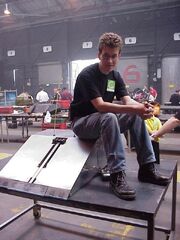 In its qualifier battle, The Necromancer went up against Robochicken. However, it fought without its lifter, as it was not working for the battle, and suffered from numerous control problems due to radio interference. Despite this, The Necromancer performed strongly, easily getting underneath Robochicken and pushing it around the arena for much of the battle. However, towards the end, it suddenly stopped moving, as a result of its wedge getting bent and caught in the floor: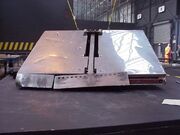 "In the last few seconds of the battle we could not move and this was why - the 3mm steel wedge had bent, and was digging into the floor! To get the robot out of the arena the stage crew had to use the house robot, Shunt, to ram it off, as it would not drive out!"
— The Necromancer website
Eventually, the battle went to a judges' decision, and they declared a draw. However, the audience voted Robochicken the winner, and The Necromancer ultimately failed to qualify.
Series Record
Edit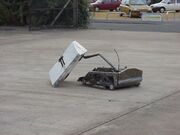 NOTE: This series record reflects the attendance of team captain Gary Ewer only
External Links
Edit
Community content is available under
CC-BY-SA
unless otherwise noted.