For the heavyweight of the same name and design, see 259.
259 was a middleweight robot that was entered by Adam Clark into the Middleweight Championship of the second series of Robot Wars Extreme. It won its opening round in dominant fashion and reached the Middleweight Final where it was overturned by the champion Typhoon.
The middleweight 259 was a smaller and lighter incarnation of Clark's heavyweight 259, which competed in Series 6 of Robot Wars.
The middleweight 259 featured the same basic design as the heavyweight robot of the same name, box-shaped with a 1500rpm vertical flywheel driven by a 750W motor and capable of flipping and causing great damage to other robots. It featured enclosed wheels and revised armour and disc mounts which offered greater protection for the robot's drive belts, preventing them from becoming damaged or dislodged. However, it was still slow at 7mph and had no srimech, which proved to be the middleweight 259's downfall as with its heavyweight counterpart.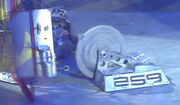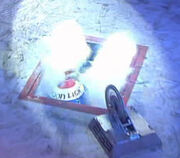 259 quickly got off the mark and focused its attention on Doom Too. 259 slammed into the wooden robot and began tearing away at it. 259 then hit Mammoth and the force from 259's disc flipped Mammoth over, 259 then proceeded to do even more damage to Doom Too. 259 then dodged Typhoon Lightning and hit the pit release button, Typhoon Lightning then bounced off 259 and got stuck on the edge of the descending pit, 259 then shoved the stranded Typhoon Lightning into the pit. 259 and the remaining Typhoon Twin, Thunder, then did more damage to the immobilised Mammoth and Mammoth was then counted out. Doom Too then received more damage from 259 and appeared to become immobilised. Doom Too and Mammoth were then flipped by the floor flipper and pitted by the house robots.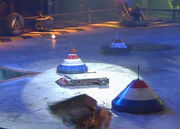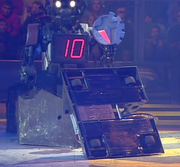 In the final, 259 went straight for Typhoon, but bounced off the already spinning Typhoon. 259 then went after the Typhoon Twins, but just bounced off each time it made contact, inflicting minor damage to one twin. It then hit the pit release button, but as it drove away Typhoon came in and hit 259, the force of the hit overturned 259 and left it immobilised. 259 was counted out as the three Typhoons ganged up on Steel Sandwich. 259 was then flipped by the floor flipper and pitted by Dead Metal.
NOTE: 259-Horizontal and The Skinner may have attempted to enter Series 7 and 9 respectively, but this is not confirmed
As well as the heavyweight 259, Adam Clark also conceptualised a featherweight version of 259, but never completed the project[1].
259's drive motors were taken from Twister.
Community content is available under
CC-BY-SA
unless otherwise noted.