Adam Clark (Born 11th July 1964) was a very experienced roboteer, building a robot for the first six series of Robot Wars, also entering in the second series of Robot Wars Extreme.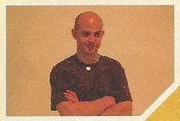 Adam Clark was mostly a one-man team, creating three heavyweights, two featherweights and a middleweight, and entering four of them (Vector of Armageddon, Wowot, and both versions of 259) by himself. He was helped in part by David Dempster, who assisted with both versions of Corporal Punishment and Armadillo, although he only appeared on the show in Series 3. He was also assisted by Dan Danknick in the second season of Extreme Warriors.
Adam Clark got involved in Robot Wars after researching the US robot events, where he discovered the events were coming to the UK.
Contributions
Edit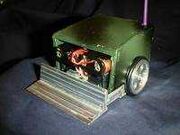 Adam Clark created the first ever antweight robot in 1998, which was called Toecutter (not related to the Series 3 heavyweight entry). In recognition for this, he was made the single judge for the Antweight Championship that took place in Extreme Series 2, where he put Pants and Lower through to the Final in their first round qualifier.
He was, for a time, in charge of the official Robot Wars website.
Note: Vector of Armageddon was a featherweight robot, but it competed in the main competition of Series 1, as all weight classes were grouped together for that series.
Adam Clark's first Robot Wars robot was Vector of Armageddon, under the team name "Riders of the Apocalypse". which entered Series 1, going out in the Gauntlet stage. His heavyweight robot for Series 2 and 3 was Corporal Punishment and he also entered the featherweight competition in Series 2 with Armadillo.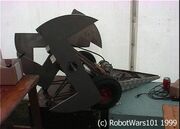 As well as Corporal Punishment, Clark also attempted to enter a second robot into Series 3 called Bone (not to be confused with Series 5 entrant T-Bone), but it was not selected to compete. He also failed to qualify for Series 4 with a full body spinner named Twister, (not to be confused with the Series 5 entrant or the Dutch robot).
Adam Clark still made an appearance in The Fourth Wars War of Independence, representing the USA as a team member of The Mangulator, which he had helped to create.
For Series 5, he entered Wowot, which went out in Round 1 to Lambsy. Wowot also fought in the International Championship in Season 2 of Robot Wars: Extreme Warriors, but lost in the first round to Tornado.
In Series 6, he entered his most famous and successful robot; the vertical spinner 259. It reached the second round before losing to ninth seed Wild Thing on a controversial judges' decision. 259 also reached the second round in the UK vs Germany Special, losing to Fluffy. Despite its early defeats, 259 scored Clark's first two victories in Robot Wars during its appearances.
In Extreme Series 2, Adam Clark made one final televised appearance with a middleweight version of 259, reaching the final of the Middleweight Championship, before losing to the reigning champions Typhoon.
He planned to rebuild 259 for Series 7, with its disc mounted horizontally, and renamed 259-Horizontal, or 259-H for short. However, it was not finished. [1]. Clark also conceptualised a featherweight version of 259, but never completed the project.[2] Ahead of Series 9's official announcement, Adam Clark started building a drum spinner known as The Skinner[3], but it is unknown if this robot attempted to enter the series.
Three of Adam Clark's robots received nominations for awards. Corporal Punishment was nominated for the Sportsmanship award in Series 2, and Wowot and 259 both received nominations for the Best Design Award in Series 5 and 6 respectively, with 259 winning the award in Series 6.
Wins/Losses
Edit
Series Record
Edit
UK Series
Edit
NOTE: The Skinner may have attempted to enter Series 9, but this is not confirmed
US Series
Edit

Nominations
Despite competing in so many series of Robot Wars, Adam Clark didn't actually win a single battle until his final year in the sport, winning 3 battles between his two 259 machines.
Curiously, Adam Clark's robots fell in the first round in every odd numbered war he competed in, the same pattern suffered by the International Wreck Crew and Team Ming.
In the German broadcast of the UK vs Germany Special, Adam Clark's name was misspelled as 'Adam Clarke'.
Adam Clark was employed by Mentorn, the creators of Robot Wars and Techno Games, during the show's run, and also worked with them to create a programme called Rescue Robots, shown on CITV in 2003. The show revolved around using robots with particular functions to complete special missions, the missions included getting to a power plant and removing the core rods and many other different missions. He was also part of The Steering Committee.
He also built a custom motor bike with a cow theme called Mootant.
References
Edit
↑ https://www.facebook.com/groups/UnofficialRobotWars/permalink/578871132392656/?comment_id=582045388741897&notif_t=group_comment_follow&notif_id=1489292911070836
External Links
Edit
UK Series Teams
Series 1
Series 2
Series 3
Series 4
Extreme 1/Series 5
Series 6
Extreme 2/Series 7
Series 8-10
Community content is available under
CC-BY-SA
unless otherwise noted.