Adam Harper is a British engineer. He is best known for his appearances as a judge on the robot combat television series Robot Wars, and as an engineer famed for breaking the land speed record for electric vehicles, taking his revamped Sinclair C5 up to 150mph.
Engineering
Edit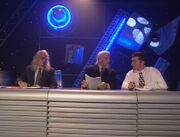 Harper is perhaps most famed for his Sinclair C5, Alien, which powered past 150mph to set a new land speed World Record for electric vehicles.
Harper ran a bike shop in Kent, building electric bikes as a hobby, helping to build the Sinclair Zike (a zero emission electric bike) and Sinclair Zeta (a white box that, when strapped to a push bike provided a power boost similar in principle to the Kinetic Energy Recovery System in Formula One).
In 1987, when the Sinclair C5 flopped out of production, Harper bought all of the remaining stock, spare parts and other equipment, becoming, as he remains today, the only authorised seller of the electric car. Harper's gamble paid off and the C5 did, as he expected, become a collectors item, a new, out of the box, unit fetching up to £5000. During this time, Harper dealt with many famous customers, notably Princes Harry and William.
It was at this point that Harper began tampering with the design, and, temporarily finished, he decided to attempt the first electric car stunt. Harper, aided by stunt rider Eddie Kidd, drove his C5 at nearly 100mph through a wall of flame 70m long. Once this stunt was completed, Harper began work on his world-record attempt.
The project was the brainchild of Cedric Lynch, who's revolutionary 'pancake motor', an adaptation of the traditional electric motor comparable to using a pulley system to pull rather than just pulling. The result of this is better durability and better pushing power at a similar power output. Utilising these new motors, as well as heavily remodelled aerodynamics and tyres, Harper boasted his machine was faster than the Porshe 911 of the time. Harper would comment that the C5 was stable 'up to about 100mph' but it became tricky after that.
Personalities
Presenters
Pit Reporters
Commentators
Foreign Dub Presenters
Judges

Noel Sharkey

(

Series 1

-

10

,

Extreme 1

-

2

,

US 1

-

2

,

Nickelodeon

,

Dutch 1

-

2

,

German

) •

Eric Dickinson

(

Series 1

-

2

) •

Adam Harper

(

Series 1

-

3

) •

Martin Smith

(

Series 3

-

7

,

Extreme 1

-

2

,

US 1

-

2

,

Nickelodeon

,

Dutch 1

-

2

,

German

) •

Myra Wilson

(

Series 4

-

5

) •

Mat Irvine

(

Series 5

-

7

,

Extreme 1

-

2

,

US 1

-

2

,

Nickelodeon

,

Dutch 1

-

2

,

German

) •

Sethu Vijayakumar

(

Series 8

-

10

) •

Lucy Rogers

(

Series 8

-

10

)

Other
Community content is available under
CC-BY-SA
unless otherwise noted.