"They say the top has the shape of a woman's back – strange woman! The tail is made of spring steel blades with a harpoon tail point. Inspired by the film, Alien."
— Jonathan Pearce introduces Alien Destructor in Extreme 1
Alien Destructor was a Dutch competitor robot which fought in both series of Dutch Robot Wars as well as the first series of Robot Wars Extreme. It reached the second round in Dutch Series 1, losing to Twisted Metal, but lost in the first round of Dutch Series 2 to Krab-Bot; both as a result of Jury's decisions. In Extreme 1, Alien Destructor fought in a one-off International Mayhem battle against double UK champion Chaos 2 and Belgian machine Philipper, which it also lost on a Judges' decision.
Etymology
[
]
The robot's design in both versions was largely inspired by the Xenomorphs, the antagonistic alien creatures from the Alien film franchise.
The alternative team name "Giger's Offspring" is also a nod to H. R. Giger, whose design work was instrumental in the success of the franchise.
Versions of Alien Destructor
[
]
Alien Destructor
[
]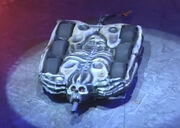 Alien Destructor was an invertible, box-shaped robot with six-wheel drive and armed with a front pneumatic spike as well as a long steel harpoon tail at the rear. Its two-piece fibreglass shell featured a head and hands resembling an alien female gorgon, along with alternate top and bottom panels resembling a 'woman's back' on one side, and a skeleton on the other. Most of these extra decorations, as well as a large portion of the rear tail, were removed for Alien Destructor's appearance in Robot Wars Extreme, following damage sustained during Dutch Series 1.
The first Alien Destructor was later converted into Das Gepäck, which competed in Dutch Series 2 alongside its successor as well as the UK vs Germany Special.
Alien Destructor 2
[
]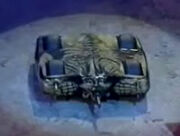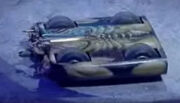 Alien Destructor 2 retained a similar design to the original robot, although it was now four-wheel driven and the harpoon tail was discarded. The robot was equipped with a larger pneumatic spike as well as a set of smaller static spikes on either side of its front end, and was painted lime green with a similar female alien design to its predecessor. This version of Alien Destructor proved faster and more nimble than before, but its fragile shell and high ground clearance both contributed towards its early elimination from Dutch Series 2.
Robot History
[
]
Dutch Series 1
[
]
"She smells blood!"
— Frank Vaan
The original Alien Destructor made its combat debut in Heat B of Dutch Series 1, and fought Scraptosaur in its first round battle.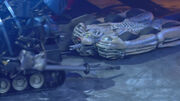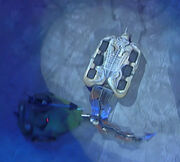 It drove around Scraptosaur in the opening moments, attempting to punch its spike through the latter's armour. The two robots dodged each other until Alien Destructor hit Scraptosaur at last, although without damaging it at all. Alien Destructor's tail whacked the side wall as it drove into Sir Killalot, who lifted it with his jaws and attempted to turn it over. Sergeant Bash caught Alien Destructor's tail as it backed away, dragging and pushing it across the arena before letting go.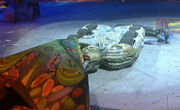 Alien Destructor turned around to run its spike over Scraptosaur's front wedge, before ramming it head-on and into an angle grinder, getting its spike firmly impaled in Scraptosaur's side while doing so. Sgt. Bash and Refbot freed both robots from each other and the wall, before Alien Destructor rammed into Scraptosaur again and pressed the pit release button as the two competitors circled round each other. This allowed Scraptosaur to spear Alien Destructor's left-hand side with its own spike, and both robots continued pushing and nudging each other until 'cease' was called, with Sir Killalot causing more damage to Alien Destructor's tail in the closing seconds. Despite the damage inflicted by the House Robots, Alien Destructor was declared the winner by the Jury, advancing to the second round.
There, it faced the spinning disc of Twisted Metal.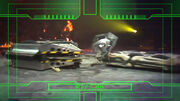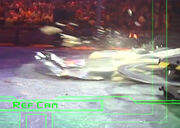 Twisted Metal started off by charging at Alien Destructor, but Alien Destructor drove to avoid the disc and pushed its opponent back. Both robots reversed, and charged back at each other, with Twisted Metal's disc ripping off some pieces of Alien Destructor's armour. Alien Destructor drove away, but drove into Sir Killalot's corner patrol zone. Alien Destructor quickly escaped the corner patrol zone, and drove back at Twisted Metal, which was waiting for it by the flame pit. Alien Destructor drove onto the flame pit, then reversed away. Alien Destructor turned and reversed into Twisted Metal, which ripped off some pieces from the tail. Alien Destructor drove into the centre of the arena, and Twisted Metal drove into it, but the disc did no damage. Alien Destructor drove forwards, straight into Sir Killalot's claw, but Alien Destructor reversed away before Sir Killalot could grab it. Alien Destructor reversed down to the bottom of the arena, then drove back at Twisted Metal, reversing into it and trying to push it with its tail, but could not move its opponent, so drove away for another charge.
"Alien Destructor is not afraid, you have to give her that!"
— Eric Corton (translated from Dutch)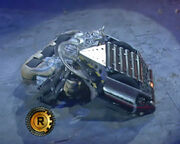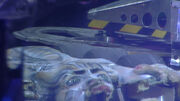 Alien Destructor tried again, and this time it managed to get under Twisted Metal. Alien Destructor tried to push Twisted Metal backwards, but Twisted Metal slipped off the top. Alien Destructor tried driving at the side of Twisted Metal, but Twisted Metal turned, and Alien Destructor drove forwards to avoid the flywheel. After driving to the edge of an empty CPZ, Alien Destructor reversed, but reversed straight into Twisted Metal's flywheel, which ripped off many chips of Alien Destructor's armour. As Alien Destructor reversed, it drove into Shunt, which for some reason had left his CPZ. Shunt reversed back to his CPZ, and Alien Destructor drove away from Twisted Metal, but Twisted Metal drove after it, hitting the tail. Alien Destructor reversed against Twisted Metal, but Twisted Metal turned away. Twisted Metal turned back and hit Alien Destructor again, but the disc became stuck on top of Alien Destructor.
"Killalot tries to help, but meanwhile he breaks the tail off of Alien Destructor! I don't know what the judges will say of that…"
— Eric Corton (translated from Dutch)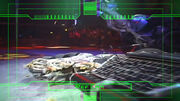 The two robots struggled to move away, and Sir Killalot came out of his CPZ to help them. The House Robot grabbed Alien Destructor by the tail, lifting it up. This allowed Twisted Metal to get free, and the tail was ripped off of Alien Destructor. In the closing seconds, Alien Destructor was lying on the pit, and Twisted Metal drove into the pit released button, ripping off the front of it with its flywheel, but Alien Destructor was able to move off the pit just as it began to descend, driving into Shunt, who had left his CPZ again. Time ran out, and the battle went to a Jury's decision.
"The judges are having a hard time. It wasn't a unanimous vote, it's two against one… for Twisted Metal!"
— Rob Kamphues (translated from Dutch)
The Jury arrived at a split decision - but two of the three voters ruled in favour of Twisted Metal, eliminating Alien Destructor from the first Dutch Series.
Extreme 1
[
]
Julia Reed: "...you've quite cleverly decided to do this as a two-on-one. Why?"
Kees Sicking: "Yeah. I think one against one, one against Chaos, is impossible, so we're gonna bang it against the wall. If we fail, okay. We love flying!"
— Kees Sicking explains his and the Philipper team's decision to team up on Chaos 2 in the International Mayhem
Alien Destructor's only UK appearance came in the first series of Robot Wars Extreme, where it represented the Netherlands in a one-off International Mayhem against the then reigning double UK champion Chaos 2 and Belgian robot Philipper, a fellow Dutch Series 1 competitor. As the International Mayhem was filmed after Dutch Series 1, Alien Destructor competed with most of its tail and fibreglass armour removed, as a result of the damage sustained during its main Dutch Series battles.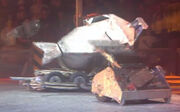 As the battle started, Alien Destructor lifted its tail and avoided the initial action as Philipper pushed – and was flipped by - Chaos 2, before driving itself into an angle grinder. It drove towards both of its opponents and spun round, although without hitting them with its tail, before driving back and forth towards a CPZ as Chaos 2 threw Philipper over again. Eventually, Alien Destructor rammed and pushed Chaos 2 into a CPZ using its tail, briefly pinning the two-time champion against the wall before the latter flipped Philipper on top of it.
"...the Alien Destructor is a reminder of what the Netherlands can do."
— Jonathan Pearce as Alien Destructor rams Chaos 2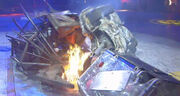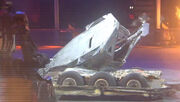 Seconds later, Alien Destructor was flipped over itself, but swiftly drove away, only to be simultaneously attacked by Chaos 2 and Dead Metal as the House Robot pushed it over the Flame Pit. Chaos 2 flipped Alien Destructor onto Dead Metal's saw, before Alien Destructor pushed and broke free from Dead Metal's grasp. It momentarily speared Dead Metal with the spike as Chaos 2 flipped Philipper over once again, before ramming Chaos 2 several more times and briefly getting itself pinned underneath the overturned Philipper. Once it broke free, Alien Destructor attacked Shunt, and survived to a Judges' decision after it and Chaos 2 spent the remainder of the battle dodging each other. Despite finishing strongly, the decision went against Alien Destructor, with Chaos 2 being declared the winner of the International Mayhem.
Dutch Series 2
[
]
The returning Alien Destructor 2 competed in Heat C, fighting Krab-Bot in its first round battle.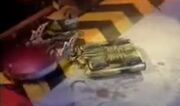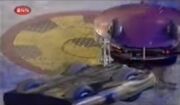 Both robots dodged each other in the opening moments, before Alien Destructor 2 drove into Krab-Bot's front, briefly getting caught by its claws before reversing away. Alien Destructor 2 rammed Krab-Bot's side and pushed it into an angle grinder, with Krab-Bot being caught by Dead Metal as it backed into his CPZ. It then attempted to push Krab-Bot again, but was lifted by one of Krab-Bot's claws as it clamped onto Alien Destructor 2's top panel. The two robots drove in circles around the arena, before Krab-Bot let go of Alien Destructor 2, allowing the latter to push it back into a CPZ.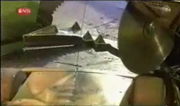 Krab-Bot retaliated by grabbing Alien Destructor 2's side, pushing it and dragging it in its grip, although not without backing into Sgt. Bash. Dead Metal came out of his CPZ to help Sergeant Bash attack both competitors, slicing through Alien Destructor 2's top panel a few times as Krab-Bot escaped. Alien Destructor 2 struggled to escape from the CPZ as Sergeant Bash's pincers held a firm grip on its chassis, before having one of its tyres slashed by Dead Metal's saw. Despite seemingly becoming immobile on one side, and having lost much of its speed, Alien Destructor 2 survived to a Jury's decision, which ruled in favour of Krab-Bot. This eliminated Alien Destructor 2 early on from the second Dutch Series.
Results
[
]
ALIEN DESTRUCTOR 2 - RESULTS
Dutch Series
Series 2
Dutch Championship
Heat, Round 1
Heat C, Round 1
vs. Krab-Bot
Lost
Wins/Losses
[
]
UK Wins: 0
UK Losses: 1
Dutch Wins: 1
Dutch Losses: 2
Series Record
[
]
Dutch Series
[
]
NOTE: Dutch Series 2 team member Niels Schotten competed in Dutch Series 1 with Flextreme
UK Series
[
]
NOTE: The UK vs Germany appearance with Das Gepäck also gave the Alien Destructor team an appearance in the German series.
Gallery
[
]
Outside Robot Wars
[
]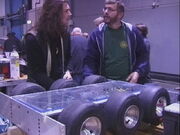 While not being successful in either the Dutch or UK versions of Robot Wars, Alien Destructor was a regular competitor in live events hosted across the UK and Europe. An earlier version of the robot achieved significant success in the inaugural Dutch Robot Games, where it won the Dutch championship by beating ODT-001 in the first round, The Lethal Swan in the semi-final and Flextreme in the final[1]. It also finished runner-up in the international championship, beating Tornado in round one[2] and Philipper in the semi-final before losing to Bigger Brother in the final. Alien Destructor was less successful in the 2003 event, losing its two battles to Ansgar and Bigger Brother.
A newer version of Alien Destructor, armed with a front clamping mechanism and without the decorative fibreglass body, continued to fight in live events after the original series of Robot Wars ended. It competed in the 2006 Fighting Robots UK Championships, where it took Killer Carrot 2 to a Judges' decision, but fell in the group stages after being flipped out the arena by Behemoth. Paired with Leveller 2, it also finished runner-up in the concurrent Tag Team Championships to Velocirippa and Merlin. Alien Destructor retired after this event, but in 2013 it returned to compete in the Robots Live! European Championship. After losing its heat to Big Nipper, it fought former UK series competitors such as Tornado, Tough as Nails, Ripper and Bulldog Breed in a number of melees held alongside the main championship.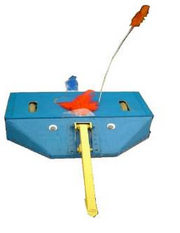 Whilst Robot Wars was in its hiatus, the Alien Destructor team also bought the Belgian robot Hard, and built a featherweight called Wood Pecker.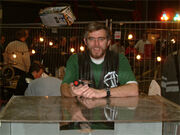 Sometime during the filming of Dutch Robot Wars Series 2, Team Alien Destructor competed in a live event with antweight Angelfire, and fought in one battle against PulverizeR, Smok, Antcrusher, War Ant and Twisted Midget.
External Links
[
]
References
[
]