Alienator was a featherweight robot built by Team Desert Storm, which competed in the Featherweight Championship of Robot Wars: The Seventh Wars. Despite surviving to the end of its heat, it was eliminated at that stage on a Judges' decision.
Team Desert Storm also competed in the main heavyweight championships of the UK Robot Wars with The Alien.
Alienator was a box-shaped robot armed with a vertical spinner at the front of the robot. It had a rollover design, with two large circular panels to prevent it being flipped over. The faces of the circles determined the front and back of the robot, and holes were cut out of the armour to conserve on weight. Despite being the maximum weight for a regular Featherweight robot, Alienator was still very small even compared to other Featherweights, and it was one of the fastest Featherweights in the competition as well.
Robot History
Edit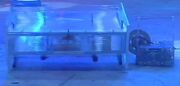 In its Featherweight melee, Alienator was drawn against former finalists Bernard and Cutlet, as well as DTK, the walker Mammoth, Staglet and Typhoon Cadet. Alienator began well, flipping Bernard over with its spinning weapon, before being attacked by DTK. Although it was shoved and flipped forwards slightly, Alienator remained on its wheels, and it replied with a hit of its own on DTK's side. Alienator then bashed into the side of Staglet lightly, and a hit on Cutlet's side followed soon afterwards. It then attacked Mammoth's side twice with its saw before speeding away.
"Next to it [Mammoth], little Alienator - ooh - good speed away across the arena floor."
— Jonathan Pearce
At this point, Alienator's saw seemed to stop working (it was explained after the fight by Karl Asplin that the chain to the weapon had come off); Staglet then grabbed Alienator and dragged it towards the Flame Pit, pushing it disc-first into the path of Typhoon Cadet. Alienator fought back though, countering Staglet's shoving with some pushing of its own, forcing Staglet to release it. Alienator immediately drove into Cutlet, before reversing and absorbing a ram from Bernard.
"Now who's doing the pushing and who's doing the pulling between Staglet and Alienator, who breaks away; gets a little slam in there as well."
— Jonathan Pearce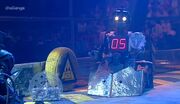 Alienator then smashed into the pit release button, and as the numbers of mobile featherweights began to deplete, Alienator remained stuck by the pit release button. Refbot came in to count it out, but on 5, Alienator suddenly came back to life and drove off. DTK then pushed it, before flipping it forwards slightly.
"He's got away from you Refbot! Is that allowed? Well, it's cheeky! And DTK is about to make him pay! The Refbot's nonplussed, totally lost for words!"
— Jonathan Pearce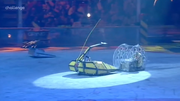 Alienator reversed into the back of Refbot as it started to count out the overturned Typhoon Cadet. It was then attacked by DTK once more, with DTK flicking it away. With seconds to go, Alienator was shoved from behind by DTK, before slipping off, and the battle ended with Alienator lightly reversing into the back of DTK before cease was called. The judges put Bernard and DTK through, eliminating Alienator.
Craig Charles: "Aw, I really wanted you to win! I really wanted you to win, how do you feel about that?"
Sarah Asplin: "Don't mind."
Craig Charles: "You don't mind? You disappointed not to get through to the final?"
Karl Asplin: "We were beached for a bit. The chain came off the weapon, and we were stuck on our own chain, and that's what the problem was, and I think that's why we lost."
— The post-battle interview
Wins/Losses
Edit
Series Record
Edit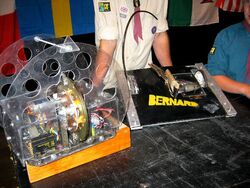 Alienator was one of four robots to come back to life whilst being counted out by the Refbot. Alienator was the only non-heavyweight to do this.
Community content is available under
CC-BY-SA
unless otherwise noted.