"...it's going to be mayhem on legs. Robot 101 is good, it's very reliable, but let's face it, despite its pneumatic stabber, it's not nearly nasty enough. Anarchy on the other hand is a walking weapon! Twice the weight limit means 4 times the weapons capability..."
— Mike Franklin on the Team 101 website
Anarchy was a heavyweight walkerbot which exclusively competed in Series 6 of Robot Wars. It was by far the most successful walkerbot to ever compete on the show, reaching the Heat Final in its first and only appearance as well as receiving the 'Best Engineered' award in Series 6. Anarchy was designed, built and entered by Team 101.
"The design of Anarchy combines the proven walking mechanism of Scuttle (Technogames world battery sprint champion), with the durability of Robot 101, then adds some real offensive weaponry. With that kind of design there might even be enough of the weight limit left to add some Razor proof armour."
— Mike Franklin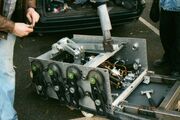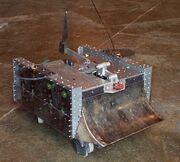 Anarchy was a grey box-shaped robot with eight legs driven by a series of sprockets, gears and chains. The legs were protected with a thick layer of plastic on either side, and enabled the robot to scuttle across the arena floor. Additionally, they gave Anarchy a zero-degree turning circle and a top speed of 5mph. Taking advantage of its increased weight allowance, Anarchy also featured three weapons - a static front scoop, a pneumatic axe and a rear-mounted pneumatic flipper.
"We've got the force of Chaos 2's flipper behind our chopper!"
— Mike Franklin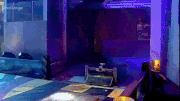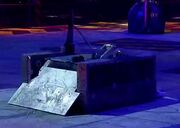 Both the axe and flipper proved very potent: the axe was able to cause tremendous damage and was capable of puncturing 14mm of polycarbonate, while the flipper was powerful enough to nearly flip Inshredable out of the arena at one point. Two semi-circular plastic plates were also fixed to Anarchy's top armour to prevent it from being stranded on its side in case it was flipped. According to the Team 101 website, Anarchy's armour consisted of T6 aircraft-grade aluminium, with thicker materials being used for its weapons.
Qualification
Edit
At the qualifiers for the Sixth Wars, Anarchy was drawn in a battle with Mr Nasty, Brutus Maximus and Ruf Ruf Dougal. The winner of the battle is as yet unknown, however all four participants would go on to qualify for the main competition.
Team 101 confirmed that they would have liked to enter Anarchy into Series 8 of Robot WarsCitation? , but the reduced weight limit for walkerbots, from 200kg to 135kg, meant that Anarchy would have been too heavy to compete.
Robot History
Edit
Anarchy fought in Heat G of the Sixth Wars, and faced newcomers Thor and Revolution 2 as well as the experienced Judge Shred 2½ in its first-round battle.
Philippa Forrester: "Why are you most worried about them?"
Paul Blakeman: "It's just heavy"
— The Judge Shred team expresses concerns about Anarchy's weight - it was heavier than Judge Shred 2½'s reported maximum flipping capacity of 130kg
Anarchy started by scuttling towards and exchanging axe blows with Thor, before axing and getting flipped a few times by Judge Shred 2½, all the while attacking Revolution 2 at one point. Anarchy resisted as it and Thor repeatedly axed Judge Shred 2½, before walking over a flame jet as it tried to attack Revolution 2 again. It briefly caught fire as it scurried away, before flipping Judge Shred 2½ again as it and Revolution 2 got stuck to each other. Anarchy proceeded to push both robots before attacking Thor, and flipped Judge Shred 2½ clean over as it walked away.
"You look through the innards, there, you can see eight legs independently walking, but barely a wobble, in the movement of Anarchy. It's the first time we've seen a walker in the history of Robot Wars so balanced."
— Jonathan Pearce, impressed by Anarchy's engineering and design
Later on, it flipped Revolution 2 onto its side as the latter got stuck on the pit, the attack appearing to immobilise Revolution 2, before again getting lifted by Judge Shred 2½ and attacked by Thor. Anarchy and both of its opponents were still fighting each other by the time 'cease' was called, with the battle going to a Judges' decision. The Judges ruled that Anarchy would progress to the second round along with Thor.
There, Anarchy faced Inshredable, which was still not completely repaired following its own first-round battle.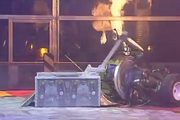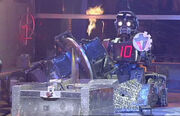 Despite Mike Franklin reporting to Philippa Forrester that its motors had 'melted' in its previous fight, Anarchy started strongly, ambling straight towards Inshredable and punching several holes through its back wedge as it pushed it around the arena. Inshredable drove away towards the wall, dodging Growler and Sergeant Bash in the process, before Anarchy flipped it completely over a few times as Inshredable was caught by Sergeant Bash's pincers. Anarchy axed and flipped the now-immobilised Inshredable a few more times, propping it up against the wall and leaving the House Robots to attack it before flipping it one last time while Refbot counted it out. Growler then dragged Inshredable towards the Flame Pit before dumping it into the pit, allowing Anarchy to advance to the Heat Final.
Philippa Forrester: "What are you most worried about from Tornado?"
Steve Bickle: "Erm, they've got that nasty shreddy thing on the front and we've got all these legs, so..."
Philippa Forrester: "Yeah, and they're only covered by plastic, that's been my worry all along."
Steve Bickle: "Yeah, it's not thin plastic, yeah, its nice big... chunky plastic. So, if they spend enough time wearing it away, we should do something to him."
— Steve Bickle and Philippa Forrester assess Anarchy's durability before the Heat Final
There, Anarchy faced the twelfth seed Tornado, which had been equipped with a large static spike in an attempt to puncture its protective side panels and damage its legs.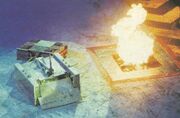 Anarchy turned to face Tornado as it charged round and rammed its front scoop several times, twice missing with its axe before Tornado pushed it against the arena wall. Tornado was unable to punch through Anarchy's plastic side sheets, and Anarchy retaliated by flipping Tornado over three times. However, as it attempted a fourth flip, Tornado backed away before Anarchy's flipper fired, allowing it to slam under the flipper and reach Anarchy's internal panels with its spike as it pushed Anarchy against the wall.
"Despite our intentions, the spike wouldn't do any real damage to Anarchy's side armour. The best damage we did to them was to drive the spike underneath their flipper when it was raised, although even under there Anarchy was well armoured and we did no serious damage."
— Andrew Marchant of Team Tornado[1]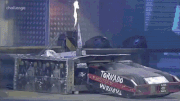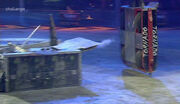 Anarchy briefly pushed Tornado back before both robots separated, with Tornado slamming head-on into Anarchy again before pressing the pit release button and again attempting to push Anarchy sideways. Again, Anarchy missed a flip on Tornado, with Tornado driving its spike into Anarchy's internal plates a second time and pushing it as Anarchy appeared to be losing speed. Another few rams and slams from Tornado ensued before Anarchy finally flipped it over again, with Tornado shoving it against the wall and allowing Dead Metal to attack Anarchy's top armour. Despite this onslaught, Anarchy withstood a few more rams from Tornado to survive to a Judges' decision, which went against it; Mike Franklin cited his lack of precise weapon control as the main reason for Anarchy's loss.
"We've had no practice with it. It was only finished the night before we came, and there was no time to practice... axing things and flipping things."
— Mike Franklin on Anarchy's out-of-sync weapons control in the aforementioned battle
As a result, Anarchy was eliminated from the Sixth Wars, but its impressive design, weapons and walking mechanism enabled it to receive the 'Best Engineered' award at the end of the series.
Wins/Losses
Edit
Series Record
Edit
Outside Robot Wars
Edit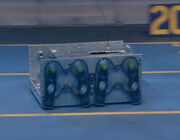 Like many other Robot Wars competitors, Team 101 entered Techno Games with a weaponless version of Anarchy, called Scuttle B², which they entered and won the Heavyweight Sprint competition with in Techno Games 2002 and 2003. The team also won gold in the Battery/Lightweight Sprint events at Techno Games 2001 and 2002 with the original Scuttle, despite being disqualified from this event in Techno Games 2000 after most of Scuttle's legs fell off.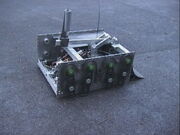 A partially-finished Anarchy also attended the 2001 Oundle Mill event, where it demonstrated its walking mechanism and at one point pushed King B Powerworks over a short distance.[2]
Anarchy was one of only two walking robots to progress beyond the first round of the main UK series, the other being Clawed Hopper.
It was also the fastest walking robot to compete on the show, with a top speed of 5mph.
Anarchy was the lightest walkerbot to enter the UK series since the weight limit was increased to 200kg, at 167kg, although Mike Franklin of Team 101 quoted its weight as being 171kg.
Anarchy was one of only three robots to damage Refbot by knocking off his camera. The other two robots to do so was Inshredable and DisConstructor.

Fascinatingly, both Anarchy and Inshredable met each other in Series 6, and Mike Franklin was also the driver of Refbot in various Series 6 fights.

Mr. Psycho and Shunt were the only House Robots not to appear in a battle with Anarchy.
Honour
Best performing walkerbot in the UK Series
References
Edit
External Links
Edit
Community content is available under
CC-BY-SA
unless otherwise noted.