Angela Scanlon (born 29 December 1983) is an Irish stylist, journalist, and television presenter. She was announced as one of the co-presenters of Series 8 on 3 February 2016, alongside fellow Irish presenter Dara Ó Briain, and reprised her role in Series 9 and 10.
Scanlon wore blue overalls, provided by Topshop, during Series 8.
Robot Wars
[
]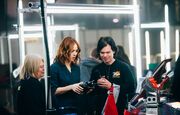 Angela started out as a relative unknown to many Robot Wars fans, with this role considered by some as her "big break" into a wider television audience. She spoke of her excitement online:
"So excited to be joining the mighty @daraobriain on the brand new series of ROBOT WARS!!!!"
— Angela's Twitter Account
Her role in Robot Wars is a far more important one than previous female presenters, as while Scanlon reports and talks to teams in the pits like Philippa Forrester, Julia Reed and Jayne Middlemiss, she also interviews teams in the main boxes, and presents the show as a whole, equal in role to co-host Dara Ó Briain.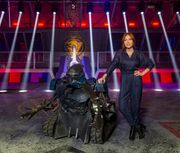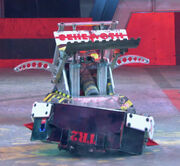 In Episode 1 of Robot Wars: Battle of the Stars, Angela Scanlon took to the controls of Behemoth to battle Dara, who was controlling TR2. Scanlon repeatedly missed with her flips, overturning Behemoth in the process, allowing TR2 to throw it around. Behemoth's only flip came when Dara Ó Briain willingly allowed Angela to flip TR2, and three minutes passed, with no official winner being declared. Unaired on television, the two continue to battle after cease, but Scanlon eventually drove Behemoth into the pit[1].
"Behemoth let me down, Dara Ó Briain was merciless!"
— Angela Scanlon[2]
In Series 9, Scanlon conducted interviews with the Judges in segments previously exclusive to Dara Ó Briain: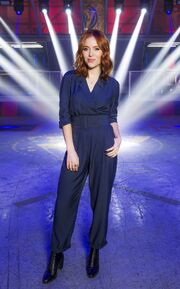 Heat 1: Alongside Dara Ó Briain, Scanlon played and lost a game of Connect 4 against a robotic arm, while Professor Sethu Vijayakumar explained the concept of 'shared autonomy'.
Heat 3: Scanlon talked to Professor Noel Sharkey about the use of robotics in farming.
Heat 4: Angela Scanlon talked to Dr Lucy Rogers about the available choices of armour for combat robots. This gave Scanlon the opportunity to strike an HDPE panel with a hammer, and cut into it with a grinder, before attempting to use the grinder on a HARDOX panel.
In Series 10, Scanlon once again interviewed the Judges to discuss topics relating to robotics and Robot Wars itself:
Heat 1: Scanlon talked to Vijayakumar about the British robotics industry and a rocket suit developed by engineer Richard Browning. This was followed by a short segment featuring Browning and demonstrations of his Daedalus Mk. 1 jet suit. She also claimed that it would be a "good outfit for a new Refbot."
Heat 3: Scanlon interviewed Dr Lucy Rogers, who explained the role of the House Robots as well as offering her views on the newly-introduced Fog of War arena hazard.
Outside Robot Wars
[
]
Scanlon's best-known work before Robot Wars was hosting the online backstage content for The Voice UK, having previously released documentaries Oi Ginger!, and Full Frontal. In-between the filming and airing of Series 8, Scanlon also became a radio presenter, and now frequently appears on BBC Radio 2. She co-presents a show with Russell Kane on Saturday mornings on Virgin Radio. She has also written for various well-known women's magazines, such as Grazia and U Magazine.
In early 2017, Angela Scanlon began hosting BBC's The One Show while its usual host Alex Jones went on maternity leave. She hosted the show alongside Matt Baker to positive reception. Angela was also one of seven celebrities who championed one object for Britain's Greatest Invention on BBC 2 in June 2017, with the mobile phone being her choice.
In November 2017, Angela revealed she was 6 months pregnant with her first child[3], and gave birth to Ruby Ellen Horgan on 25 February 2018[4]. Scanlon's second daughter, Marnie Fae Horgan, was born on 11 February 2022[5].
References
[
]
External Links
[
]
Personalities
Presenters
Pit Reporters
Commentators
International Dub Presenters
Judges

Noel Sharkey

(

Series 1

-

10

,

Extreme 1

-

2

,

US 1

-

2

,

Nickelodeon

,

Dutch 1

-

2

,

German

) •

Eric Dickinson

(

Series 1

-

2

) •

Adam Harper

(

Series 1

-

3

) •

Martin Smith

(

Series 3

-

7

,

Extreme 1

-

2

,

US 1

-

2

,

Nickelodeon

,

Dutch 1

-

2

,

German

) •

Myra Wilson

(

Series 4

-

5

) •

Mat Irvine

(

Series 5

-

7

,

Extreme 1

-

2

,

US 1

-

2

,

Nickelodeon

,

Dutch 1

-

2

,

German

) •

Sethu Vijayakumar

(

Series 8

-

10

) •

Lucy Rogers

(

Series 8

-

10

)

Other

Stuart McDonald

(Director/Announcer,

Series 1

-

7

,

Extreme 1

-

2

) •

Tom Gutteridge

(Director/Executive Producer,

Series 1

-

7

,

Extreme 1

-

2

) •

Stephen Carsey

(Director/Executive Producer,

Series 1

-

7

,

Extreme 1

-

2

) •

Bill Hobbins

(Series Producer,

Series 3

-

7

,

Extreme 1

-

2

) •

Andrew Robertson

(Executive Producer,

Series 8

-

10

) •

Matt Wilkinson

(Series Producer,

Series 8

) •

Henry Imbert

(Series Producer,

Series 9

-

10

) •

Robotics industry professionals