Anty Geddon was an antweight competitor robot which fought in the Antweight Championship of the second series of Robot Wars Extreme. In its only appearance, it was eliminated from its heat after getting destroyed by then-reigning Antweight Champion Combat Ant.
The robot's name was a pun on the word 'armageddon'.
Anty Geddon was a box-shaped robot with two large wheels at the rear and a black top panel. Its weapons were a narrow arm-like lifter and a spiked blade.
Robot History
Edit
Extreme 2
Edit
Anty Geddon competed in the Antweight Championship, shown as part of the Robot Rampage episode. In its heat, it faced Mesmer 2, Hades, Anty B, the reigning Antweight champion Combat Ant and Chroma.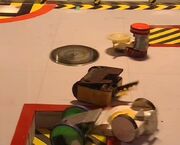 As the battle started, Anty Geddon immediately drove towards Chroma and pressed the Floor Spinner button, although without activating the hazard. It was then pushed and lifted by Anty B, before pushing Combat Ant into the pit while being pushed by Chroma and Anty B. Anty Geddon stayed out of the action as Anty B and Chroma fought each other, before approaching Combat Ant just as it was being pushed out of the pit by Hades. However, it was soon lifted onto its side by Chroma, whose flipper became lodged underneath one of Anty Geddon's wheel spacings, allowing Anty B to attack and lift both robots over simultaneously. This caused Anty Geddon's top panel to open as Chroma lay on its side, causing its lifting mechanism to fall out by the time both robots became separated.
"...Anty Geddon in trouble, really. No recovery - absolutely shredded by the 'Four Ants of the Apocalypse!'"
— Jonathan Pearce as Anty Geddon is destroyed by Combat Ant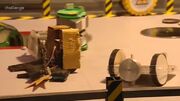 Combat Ant proceeded to rip one of Anty Geddon's wheels off, before flicking its weapon away and flipping it onto its back after Anty B pushed Chroma away. Unable to self-right, Anty Geddon had part of its side armour torn off by Combat Ant, and was left by the wall as Anty B attacked the defending champion. Needless to say, Anty Geddon was eliminated from the Antweight Championship.
Wins/Losses
Edit
Series Record
Edit
Ironically, since armageddon means the destruction or ending of something, Anty Geddon ended up being destroyed in its only battle.
Community content is available under
CC-BY-SA
unless otherwise noted.