"PREPARE FOR THE APOCALYPSE"
— Team website
Apocalyptic Lawnmower was a competitor robot built by a team of students, which was intended to enter the second series of Robot Wars. Although it reached the design stage and its chassis was built, it is unknown whether the robot was completed in time, but it ultimately did not compete in Series 2.
Design
[
]
"The frame is mainly made of chrome plated brass and put together using silver solder (very expensive). After we made the frame we made a wooden base to put the stuff on because we thought putting everything on the floor was a bit thick."
— The team on the construction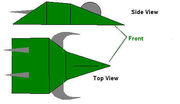 Apocalyptic Lawnmower was a triangular-shaped robot intended to be painted green and armed with a variety of weapons. These weapons included a circular saw, two iron spikes and two horizontal, claw-shaped "reaper blades" which were presumed to be axes according to the original Robot Wars website. The robot's construction was especially unusual, with its frame being made out of chrome-plated brass and silver solder, with a temporary wooden baseplate to put its internal components and wheels in. However, only Apocalyptic Lawnmower's frame was finished.
Series Record
[
]
External Links
[
]