"Arena Cleaner has a 20kg spinning blade, which Scott Mills and Chris Stark hope will 'tidy away' the opposition!"
Arena Cleaner was a robot which competed in Robot Wars: Battle of the Stars, filmed as part of the ninth series. It was entered by BBC Radio hosts Scott Mills and Chris Stark, who were mentored by Dave Moulds of Team Carbide throughout the build process. Although it finished the head-to-head round in second place, Arena Cleaner went on to win Episode 1, making it one of two Battle of the Stars champions alongside Kadeena Machina.
As a stock robot built by Robo Challenge, Arena Cleaner would later be repurposed as Cathadh to represent the United States of America in Robot Wars: World Series.
Design
[
]
"We wanted a robot that would do as much damage as possible and look vicious!"
— Scott Mills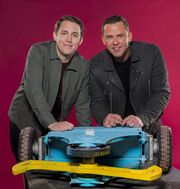 Arena Cleaner was an invertible robot armed with a yellow 20kg spinning bar, with one spiked blade on each side. The weapon was intentionally designed to be large, to intimidate opposing teams[1]. The robot had a rubber mount on each surface to balance the robot, and was armoured in 3mm of HARDOX steel, but its main weakness was its hugely exposed two-wheel drive. The back end of the robot was shaped to have steep wedges, and the robot used a 'baby blue' colour-scheme.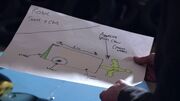 Following its battle with The Cat, Arena Cleaner's tyres were covered in tread borrowed from the Trolley Rage team, possibly to gain more grip on the arena floor. Mills and Stark conceptualised the robot as having an 'aggressive spinning claw' with four prongs, with the sketch factoring into the robot's final design, although the physical spinning bar used two blades instead of four.
This article/section of article is a subject of dispute between canon sources of Robot Wars, including the TV broadcast and roboteers, and has been written in a neutral way. If you have new information about the dispute, please take it to the talk page.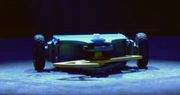 Arena Cleaner's weight is a matter of uncertainty - the show claimed it weighed 103kg in Arena Cleaner's statistics board, while some roboteers have stated varying weights for Arena Cleaner which were over the heavyweight limit of 110kg. According to Jack Tweedy, Arena Cleaner weighed 122kg. However Craig Danby, mentor of The Cat in the very same episode, states both robots weighed 112kg.
Etymology
[
]
The name Arena Cleaner was chosen shortly before filming began - after the robot's working title of Rampant Robot was rejected by the producers, Mills and Stark asked for suggestions from listeners while on air, with Arena Cleaner ultimately becoming the robot's name, referencing its destructive nature in the Robot Wars Arena.
The Team
[
]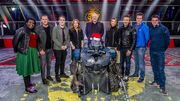 Scott Mills first became a DJ at the young age of 16, later joining BBC Radio 1 in 1998, where he gained large success. Mills most famously hosts the daily slot, The Scott Mills Show, and often presents The Official Chart Show when its usual host is unavailable. This long career allowed Scott Mills to appear on other TV shows such as the Eurovision Song Contest (where, since 2011, he has commentated on the two midweek semi finals, and in 2013, read out the UK's results during the final show) and Strictly Come Dancing, and a musical based on his life was even performed in 2009.
Chris Stark is also a DJ, who joined the regular cast of The Scott Mills Show in 2012. In his own right, Chris Stark also had a recurring role in Virtually Famous, and starred in 24 Years at the Tap End.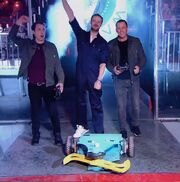 Dave Moulds is the captain of Team Carbide. He made his Robot Wars debut in Series 8 with Carbide, which was the runner-up of the series. Dave Moulds had also previously built Turbulence, which brought him success in the live circuit. As the reigning Robot Wars runner-up, Moulds was selected to mentor Mills and Stark throughout the process of building and competing with Arena Cleaner. As Team MAD were not involved with Battle of the Stars, Dave Moulds was the most successful roboteer from Series 8 to become a mentor.
As with all Battle of the Stars competitors, Arena Cleaner was a stock robot built by Robo Challenge, producers of the show who had also built the House Robots. The robot would later be adopted by Team Toad, an American team who competed in Robot Wars: World Series, rebranding and modifying the robot to compete as Cathadh.
Robot History
[
]
Battle of the Stars
[
]
Arena Cleaner competed in Episode 1. In its first battle, it was drawn against Dr. Maggie Aderin-Pocock's robot, Interstellar: MML.
Scott Mills: "What are our chances?"
Dave Moulds: "Oh, pretty good!"
— The team discuss their overall chances of winning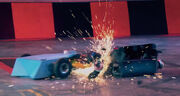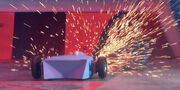 The battle started cautiously, with Interstellar: MML creeping forward as Arena Cleaner spun its weapon up to speed. Arena Cleaner then moved in and attacked Interstellar: MML's right wheel and completely tore it off. Interstellar: MML continued to move, but Arena Cleaner dealt it two more attacks in quick succession, with notable damage caused to the flipper before the other wheel was shattered, ceasing Interstellar: MML's movement completely. Arena Cleaner came in for one final hit before cease was called. With a comfortable knockout, Arena Cleaner earned three points.
"I'm so impressed with the viciousness of that claw, it's so fast!"
— Scott Mills
In its second battle, Arena Cleaner faced off against Suzi Perry and Dallas Campbell's robot, The Cat, a fellow horizontal spinner.
The Cat started the battle with its back-end towards Arena Cleaner, and it weathered a couple of early attacks from Scott Mills and Chris Stark's machine. Both robots then hovered around each other in and around a CPZ, before contact was made and Arena Cleaner had one of its wheels ripped off. Cease was called, but the punishment wasn't over yet for Arena Cleaner, as Shunt came over and rained down with multiple axe blows on the immobile machine, causing sparks.
"Arena Cleaner is taken to the cleaners!"
— Jonathan Pearce as Arena Cleaner's wheel is ripped off by The Cat
Arena Cleaner's final Head-to-Head battle saw it battle with JAR, a fight the team needed to win, in order to qualify for the final.
Arena Cleaner managed to immobilise the Brownlee brothers' robot with one hit. Arena Cleaner continued to attack the inactive robot, sending sparks flying with hits to JAR's armour and cutting into one of its wheels. With JAR finished, Shunt came across to punish it further, but Arena Cleaner decided to get revenge on the House Robot and made a notable impact, as it damaged one of Shunt's wheelguards before slashing into his rear bulldozer blade, immobilising Shunt.
"Ooh, my goodness me - look at the damage to Shunt's blade!"
— Jonathan Pearce notes the slice inflicted on Shunt's rear bulldozer blade
With 6 points on the board, Arena Cleaner qualified for the Grand Final of the first Battle of the Stars episode, where it faced The Cat for a second time.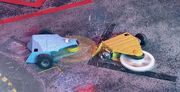 The Cat once more approached the battle with its back-end towards Arena Cleaner, but it did nothing to deter Arena Cleaner, as it managed to knock a wheel off within its first two attacks. With The Cat now just spinning on the spot, Arena Cleaner waited for the right moment to slice into its other wheel. Arena Cleaner sent sparks flying from hits to the armour of The Cat, before attacking the wheel once more, which fell off shortly after Arena Cleaner's final attack on its opponent.
"Arena Cleaner has done it - they are a Robot Wars Celebrity champion!"
— Jonathan Pearce
Cease was called on the battle, but the action was not completely over, as Sir Killalot came in to dish out further punishment to The Cat. After Sir Killalot roasted The Cat over the flame pit and chucked it aside, Arena Cleaner decided to engage with the House Robot without the use of its bar spinner, where, after a short tussle, Arena Cleaner was picked up and dumped into the pit.
"I think we're being taught a lesson here!"
— Chris Stark as Sir Killalot picks up Arena Cleaner
Nevertheless, Arena Cleaner was confirmed as the champion of the Battle of the Stars for Episode 1 and were presented the trophy by Dara Ó Briain.
"I can't believe we've won it, this is ridiculous!"
— Scott Mills
Results
[
]
Wins/Losses
[
]
Series Record
[
]
NOTE 1: This series record reflects the performance of mentor Dave Moulds.
NOTE 2: Arena Cleaner was repurposed to compete as Cathadh in Robot Wars: World Series.
Gallery
[
]
Honours
[
]
Trivia
[
]
Arena Cleaner was first revealed officially on Christmas Day, in a BBC Make it Digital article.
References
[
]
External Links
[
]