Armadillo was a featherweight robot from Adam Clark which competed in the Featherweight Championship of Series 2 of Robot Wars. In its only battle, which was shown as a partial recap in the end-of-series episode The Grudge Matches, it lost the championship to Series 1 competitor Demolisher.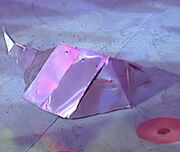 As its name suggested, Armadillo was a silver robot based on the mammal of the same name, featuring a plated shell with an angled front and sides and a moving rear 'tail'. The end of the 'tail' was articulated in such a way that it could move up and down in a similar manner to a lifter, although its effectiveness as one was never demonstrated onscreen.
Robot History
Edit
Armadillo competed in the Featherweight Championship. In the final, which was partially shown as part of the Grudge Matches special, it faced Anarchy, Series 1 Heat Finalist Demolisher and The Ripper.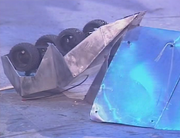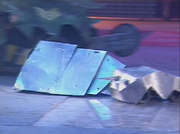 Very little was seen of Armadillo in the televised highlights, although its slow speed made it vulnerable to getting rammed by the considerably smaller Demolisher. However, Demolisher drove up Armadillo's side, turning itself over in the process, causing both robots to be stuck together for some time until Sergeant Bash re-righted the former. Armadillo then drove onto the arena spikes, allowing Demolisher to ram underneath it, and was rammed again before the end of the battle. It ultimately lost the Judges' decision - and the inaugural Featherweight Championship - to Demolisher.
Wins/Losses
Edit
Series Record
Edit
NOTE: 259-Horizontal and The Skinner may have attempted to enter Series 7 and 9 respectively, but this is not confirmed
Armadillo was one of three robots to have a name based on the mammal, along with Series 6 competitor Armadrillo and Series 8 withdrawal Armakillo.
During the start of Corporal Punishment's Gauntlet run in Series 2, Heat F, Jonathan Pearce stated that Adam Clark had "built an Armadillo for his brother and niece". It is unclear whether he was directly referring to Armadillo, or another robot with the same name.
Community content is available under
CC-BY-SA
unless otherwise noted.