"Could bring about the end of the world for its opponents!"
Armour-Geddon was a robot that competed in Series 3 of Robot Wars. Coming from St. Peter's School in Huntingdon, it lost in the first round to Onslaught.
It did not compete after Series 3, although team member Jonathan Freeman would later compete in the pilot episode of the 2016 revival with Wraith.
Design
[
]
Armour-Geddon was a boulder-shaped torque reaction axlebot (or a football, as the team stated), armed with a spiked weapon with a cutting wheel, much like Stinger. Its wheels were the most notable aspect, as they were very well-armoured, since they were coated in hexagonal and pentagonal welded steel plates. The wheels also had two modules controlling them, in essence making it two robots in one.
Etymology
[
]
Its name is a pun on the word Armageddon, and the word armour.
Qualification
[
]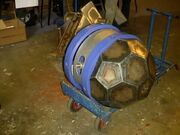 Armour-Geddon attended the Third Wars auditions, where it was largely complete with its drive system and bodywork complete, although the robot did not have any weaponry attached. It ran the obstacle course and was selected to compete in the Third Wars for its only Robot Wars campaign.
Robot History
[
]
Series 3
[
]
Armour-Geddon met Onslaught in its first round battle of Heat I.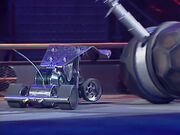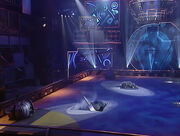 Onslaught's weapon had no effect on Armour-Geddon, but its arm got stuck on the arena wall. It managed to escape, but could not use its arm and drove very close to the pit, getting stuck. Matilda freed it but Onslaught pushed it and Armour-Geddon rolled from the top-left CPZ straight into the pit.
Philippa Forrester: "You had me thinking "this robot's fantastic, it's never going to be immobilised. It's absolutely fantastic!" I didn't know it was a kamikaze robot though."
Tom Collins: "It was, because we had radio interference, we had virtually no control over the thing."
— Tom Collins blames radio interference
Results
[
]
Wins/Losses
[
]
Series Record
[
]
Trivia
[
]
Had the pilot episode of Series 8 been aired, Jonathan Freeman's Wraith and Armour-Geddon would have marked the joint-longest break from televised Robot Wars, alongside The General.
The robot's name was spelled as Armour-Geddon on its statistics board, but due to space limitations the machine otherwise went by just 'Armour Geddon' (with no hyphen) on the battleboards and team introductions.