"The robot with global appeal, Atlas!"
Atlas was a robot that participated in Series 3 of Robot Wars, but lost in the first round to Challenger 2. The team entered Thud in Series 2, originally in the heavyweight event, but the team missed their qualifier, fighting instead in the super heavyweight category and losing to Siren.
"2 wheelchair motors provide the power, a spike and cutting disc, the weaponry, 2mm steel, the shell."
— Jonathan Pearce on Atlas' armament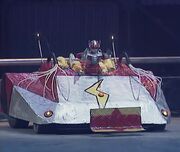 Atlas was built at a cost of £400, and was armed in 2mm steel armour with a "West Country finish", a spike and cutting disc, complete with an 'expendable' animatronic mascot which played sound effects. The wheels came from a tractor, a lawnmower and a golf trolley. Atlas was reasonably heavy for its time, and used a spike and a 12" cutting disc for weaponry, as well as a plate wedge, but this did not run flush to the ground, and the robot proved unreliable.
Robot History
Edit
Atlas was against Challenger 2 in Round 1. Atlas sped out and rammed Challenger 2, but to little effect. Atlas turned to use its saw blade, but it caused little damage to Challenger's armour. Atlas pushed Challenger back, then was pushed back itself into a Side Grinder. Challenger backed away, and then rammed Atlas again. Neither of the two robots' weapons were effective, but Challenger kept up its attack. Sgt. Bash torched Atlas from his CPZ, before Atlas was rammed by Challenger again. These attacks rendered Atlas immobile, so the House Robots closed in.
"Let's turn the pages of the Atlas, shall we? What country is that going to come down in?"
— One of Jonathan Pearce's puns, relating to Sir Killalot lifting Atlas up with its lance.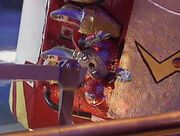 Sir Killalot used his lance to crunch through the bodywork of Atlas, levering it up at the same time. Sir Killalot held it over the Flame Pit, in an attempt to melt the toy mech on the top of the robot. Instead, Shunt hacked its head off, and then smashed it down onto the flames below. Atlas was then dropped on the flames, but Shunt pushed it off after a while. Smoking, Shunt battered it with his axe until cease was called. Atlas was beaten, and eliminated from the competition.
Wins/Losses
Edit
Series Record
Edit
Community content is available under
CC-BY-SA
unless otherwise noted.