"The incredible strength of Atomic's flipper and its wedge shaped nose for shunting and riding under opponents make the yellow machine a dangerous adversary..."
Atomic was a robot that competed in Series 4, 5 and 7 of Robot Wars, plus the first series of Robot Wars Extreme.
Atomic had a slow start to its Robot Wars career, reaching the Heat Final of The Fourth Wars despite being immobilised in Round 1 and losing its weapon in Round 2, it was defeated by reigning and eventual champion Chaos 2. In the Fifth Wars, Atomic 2 returned as the second seed in its heat but was drawn against Hypno-Disc in the second round and immobilised as its weapon was once again destroyed.
A much improved Atomic fought in Series 7, and began a much stronger campaign than its predecessors as it began throwing opponents out of the arena, including the seeded S.M.I.D.S.Y. in the heat final and M2 in the first round of the semi-finals. Despite a strong start in the battle with Typhoon 2, Atomic's weapon malfunction left it helpless and it was defeated in the top eight.
The first version of Atomic was a large yellow trapezoid-shaped robot armed with a red pneumatic flipping scoop and with a top speed of 12 mph. The flipper robot - which ran on nitrogen rather than CO2 - cost around £1000 and was originally made from scrap aluminium with polycarbonate side panels. However, the side panels were removed from Atomic before it fought, presumably due to the machine being overweight.
For Extreme and Series 5, a new version of Atomic was built, officially known as Atomic 2 (written as Atomic II on the sides). Atomic 2 featured a much more compact and streamlined design and a variety of interchangeable flipper blades including a small plate, a spiked plate and a set of forks (though the forks were not used in any of its battles, and only appeared in its official photo for Extreme). The flipper was substantially more powerful than its Series 4 counterpart, and structurally stronger as well. It also featured a foot-long pneumatic spike at the rear which thrust at up to 1000psi.
In Series 7, Atomic reverted back to its original name but kept the Atomic II logo on its sides. The rear spike was likely not present despite still being mentioned on Atomic's statistics board, while a large scoop-like blade was used for the flipper as well as a small plate used on one occasion, similar to the blade used in Series 5. The scoop blade proved especially effective in helping Atomic flip other robots out of the arena, in conjunction with Atomic's manoeuvrability and great turn of speed. Atomic also had the ability to willingly raise its scoop off the arena floor, in order to enter the arena with a higher ground clearance. Overall the Series 7 version of Atomic was much more durable, substituting its aluminium armour from Series 5 for a steel shell which stood up to spinners much more comfortably.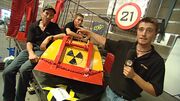 Atomic was entered into Robot Wars by a team of farmers, based in Arley, Worcestershire. Stephen Bebb captained the team and led the construction of the machine, while the young David Bebb, aged 18 at the time of Series 7, was the robot's driver, and received much acclaim for his skills. Paul Francis was consistently the third team member in all of Atomic's appearances.
Atomic's first-ever battle was at the Series 4 qualifiers, where it fought Reactor. Atomic won the battle, but Reactor still received a discretionary place. Robot Wars: The Ultimate Guide claims that Atomic managed to flip Reactor out of the arena, but out of the arena flips were not allowed at the qualifiers.
Atomic 2 had to attend the Series 5 qualifiers, as only the top 16 seeds had been decided prior to the qualifiers. Atomic 2 attended the Birmingham leg of the qualifying tour, where it won a qualifier battle against Tiger Shark, and an impressive performance ultimately earned Atomic 2 the 22nd seed in the series.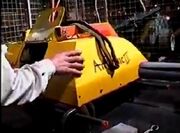 Atomic also competed at the Series 6 qualifiers, where it fought Short Circuit and an unidentified robot made from long metal framework, armed with a horizontal spinner. Atomic completed several flips on Short Circuit, but it was noted that these flips were fairly weak for Atomic's standard, and Short Circuit was able to cut through its side armour to disable one of its wheels. Atomic's movements were slowed after this, and it ultimately lost the qualifier battle to Short Circuit, failing to qualify for the Sixth Wars as a result.
"Atomic did lift us up a couple times with us flipper, but it seemed low power. If I recall correctly, it was 3 or 4 robots in the arena fighting it out, and I spiked through Atomic's side panel into its wheel, something came loose or wobbly and it wasn't driving well."
— Nathaniel Poate of the Short Circuit team in 2019[1] (edited)
Atomic would then successfully qualify for Series 7.
In its first appearance, Atomic was drawn up against the reigning champions, Chaos 2, as well as newcomers Indefatigable.
Atomic was immediately charged at by Chaos 2, and attempted to flip the number 1 seed, but missed. Both machines then failed to connect with their weapons, before Atomic swerved its front towards Chaos 2, which continued to target Atomic's sides. In an attempt to shake off Chaos 2, Atomic made a move towards Indefatigable after it had finally got itself into the action. However, during its attempt to chase down the fellow newcomer, Atomic was caught broadside on by Chaos 2, and was chucked onto its side. Despite self-righting quickly, Atomic failed to show any further movement when it landed back on its tyres. While Atomic - with its flipper blade stuck in a raised position - sat motionless, Chaos 2 flipped Indefatigable, which was left stranded on its side as a result.
"The srimech system bringing Atomic back into it - but Indefatigable now up on its side, and they have no self-righting mechanism! And Indefatigable, out of the competition!"
— Jonathan Pearce as Atomic is given a passage through to the next round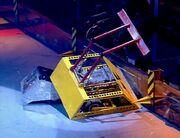 Atomic then became the centre of attention for Chaos 2 again, and after its rear end was flicked upwards, Atomic was chucked headfirst into a side-wall camera. Follow-up flips from Chaos 2 left Atomic propped up against the arena wall, so Chaos 2 decided to charge towards Indefatigable again. After taking the reigns of attacking Indefatigable away from Sergeant Bash, George Francis' machine lifted Indefatigable over the sidewall and out of the arena, which eliminated it. Despite Atomic's scare, it joined Chaos 2 in progressing to the second round.
In Round 2, Atomic was drawn up against the number 17 seed, King B3, after it and Medusa 2000 progressed from their first-round battle involving Attila the Drum, via a Judges' decision.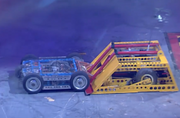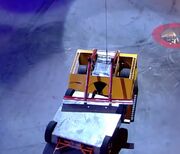 Both machines hovered around each other in the opening moments before a King B3 drive saw one of its lifting spikes plunge into the front of Atomic. Both machines moved each other backwards, with an Atomic lift needed to separate the two. The duo were quickly in at close-quarters again though, as, after King B3 backed over a flame jet, another forward drive from the Robot Wars veteran pierced Atomic's front armour again. Atomic then attempted to deliver King B3 to Dead Metal, but it escaped, before slamming Atomic into the arena wall. Atomic then gave chase to a retreating King B3, and turned it over before shovelling King B3 into Sir Killalot. However, in the subsequent CPZ action, Atomic mistimed a flip, and as a result its flipper blade was sent flying.
"And off comes the flipping blade of Atomic! Slam, into the arena wall: buckled and bent and broke!"
— Jonathan Pearce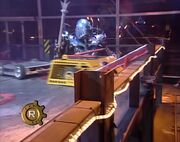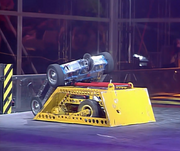 Despite its weapon now being completely out of commission, Atomic continued to function as a wedge, and after some pressure it soon became evident that King B3 was smoking and had lost drive on one side. With King B3 unable to move freely, Sir Killalot swiftly dispatched of the 17th seed by dropping it into the Pit of Oblivion. Atomic was through to the Heat Final, where it would face up against Chaos 2 again.
Craig Charles: "You're the new kids on the block, but you did really well there!"
Stephen Bebb: "Yes, we did!"
— The post-battle summary after an impressive result for Atomic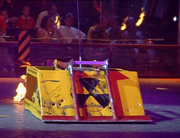 For the Heat Final, Atomic's flipper was welded back on, with gussets added at the bend of the weapon in an attempt to reinforce the breaking point from the last fight.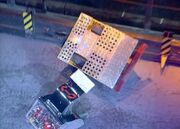 Chaos 2 charged into the front of Atomic straight away, which tried to flip Chaos 2 over but missed. The erroneous timing of the Atomic flip also saw it drop onto the front of Chaos 2's flipper, which turned Atomic over without hesitancy. A second Chaos 2 flip placed Atomic back onto its wheels, but the yellow and red machine was thrown around again after a quickfire pair of flips from the reigning champion. After the rumbling it received, Atomic sat immobile, which allowed Chaos 2 to line up an attempt to flip Atomic out of the arena, although it was unable to lift Atomic's bulky frame up and over the barrier.
"The top speed is 15 miles an hour. The current speed... about minus 10."
— Jonathan Pearce on the motionless Atomic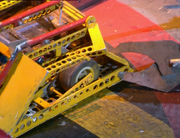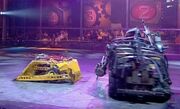 Unable to complete its signature move, Chaos 2 instead hurled Atomic onto Sir Killalot's head and into his CPZ. After turning around, Sir Killalot gave no mercy to Atomic, as he snipped through the top of Atomic's frame before crumpling the bottom left corner of the beaten machine. Sir Killalot then delivered the crippled Atomic to the Floor Flipper, where it was thrown, before Chaos 2 came in with one final flurry of flips before cease was called on Atomic's Fourth Wars campaign.
Craig Charles: "Did something happen to your motor? It just seemed to die straight away. As soon as you were flipped you never really got going again after that."
Stephen Bebb: "I think the batteries have fallen out."
Craig Charles: "Assault and battered!"
— Concluding comments at the end of Atomic's debut series
Atomic 2's only appearance in either series of Extreme was as part of a Mayhem in Extreme in an attempt to qualify for the second Annihilator of the series, where it fought MouseTrap and Fighting Torque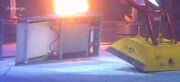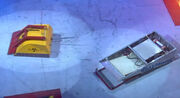 Atomic 2 started by making its way over to MouseTrap, which had its weapon in a fired position due to it be activated before the fight started. Atomic 2 caught MouseTrap broadside on and turned it upside down, before following up with a more explosive flip, which cartwheeled the Series 4 Semi-Finalist over again. Atomic 2 continued its early flipping domination by toppling Fighting Torque over, before righting both MouseTrap and Fighting Torque with its next two flips. MouseTrap wasn't back on its wheels for long though, as Atomic 2 flipped it over again and then used its rear pneumatic spike twice in quick succession.
"Atomic doing all the work here."
— Jonathan Pearce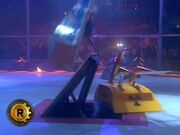 After one more flip on MouseTrap, Atomic 2 decided to leave it to be counted out by Refbot, while it went after Fighting Torque again. While Fighting Torque flailed away with its weapon arm, Atomic 2 fired its spike. The two robots continued to tussle, with Atomic 2 driving Fighting Torque back against the arena wall, where it then turned Fighting Torque over. With Fighting Torque on its side, Atomic 2 darted back towards MouseTrap, which was about to be thrown by the Floor Flipper. When Atomic 2 reached the eliminated machine, the arena hazard activated, sending MouseTrap up into the air before it landed on top of the onrushing Atomic 2. After its minor scare, Atomic 2 stayed out of trouble while Fighting Torque was counted out, although it still found time to turn Fighting Torque over one more time after it was chucked back onto its wheels by the Floor Flipper. With it being the last machine standing at the time of cease, Atomic 2 had earned a place in the second Annihilator.
"We're gonna cream them!"
— David Bebb's confidence going into the Annihilator
Atomic 2 was ultimately unable to compete in the Annihilator, though, as it suffered large amounts of damage from Hypno-Disc in the two machines' Series 5 battle, which took place at about the same time. This same thing happened to Bulldog Breed 3 which also won its Mayhem but suffered too much damage from a battle with the Series 5 Grand Finalist.
After reaching the Heat Final in its maiden campaign, Atomic 2 was awarded the number 22 seed for the Fifth Wars. In its first-round battle, Atomic 2 faced Kan-Opener.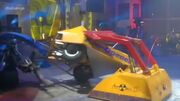 After a few seconds of both machines manoeuvring into position, Atomic 2 moved underneath the front of Kan-Opener and flipped it over. As Kan-Opener's self-righting arm spasmed away, Atomic 2 lined up another attack and chucked Kan-Opener into Sir Killalot. Kan-Opener managed to move away from the House Robot, but it was unable to assert itself on the contest during the seconds it spent back on its tyres before being flipped again.
"Kan-Opener with the jaws, with the go-kart tyres, with plenty of features worthy of mention. But with a suicidal tactic - opening itself upright for an attack by Atomic."
— Jonathan Pearce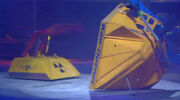 Kan-Opener attempted to right itself, but only managed to push itself on its side before falling back down. Kan-Opener's self-righting arm was also now facing outwards while Kan-Opener itself sat flush on its back, which meant it was unable to attempt to right itself again. This prompted Refbot to come in and count Kan-Opener out, which was subsequently thrown by both the Floor Flipper and Sir Killalot before being pitted.
"He's (Kan-Opener) actually a really good robot, and you made mincemeat of him!"
— Craig Charles to Team Atomic after their machine's first-round victory
With its victory over Kan-Opener, Atomic 2 was through to the second round, where the third seed and two-time Grand Finalist, Hypno-Disc, was waiting.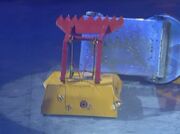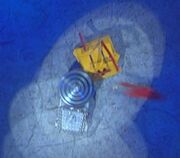 As Hypno-Disc got up to speed, Atomic 2 tried to angle towards the rear of its opponent, but was unable to outmanoeuvre the Rose family's machine. After sizing each other up once more, the two machines made their first collision, with Atomic 2 sustaining damage to its front and rear after a follow-through from Hypno-Disc's weapon. Atomic 2 then charged at Hypno-Disc, and despite suffering a sizeable chunk of damage on one of its side panels, Atomic 2 was able to turn Hypno-Disc over.
"It's flicked Hypno-Disc up and over! Now this would be a huge shock if Hypno-Disc went out here!"
— Jonathan Pearce
Atomic 2 attempted to follow up its flip with another use of its weapon, but was unable to carry out the attack before Hypno-Disc had self-righted. During the attempted flip, one of the support bars for Atomic 2's weapon had also snapped, and its weak point was soon exploited, as a full-frontal Hypno-Disc attack snapped the bar back, before the number 3 seed completely ripped away Atomic 2's front flipping blade.
"This is a really good battle in the making here, OH, until that moment!"
— Jonathan Pearce as Atomic 2 loses its weapon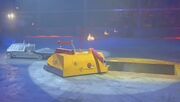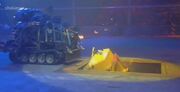 Weaponless, Atomic 2 scurried over the activate the Pit release button, and it danced around the lip of the arena hazard for a period after being damaged by another attack from Hypno-Disc. One final rally of hits from Hypno-Disc left Atomic 2 immobile, and after its mutilated carcass was counted out by Refbot and damaged further by both Sir Killalot and Matilda, Atomic 2 was pitted and eliminated from the competition.
After a series absent, Atomic returned to action in the Seventh Wars. It's first round in Heat G saw it face newcomers Cygnus X-1, Extreme 2 returnees Terror Turtle, and S.M.I.D.S.Y., the thirteenth seed.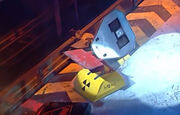 Atomic darted across the arena once activate was sounded, and threw Terror Turtle over after attacking its rear end. After a minor face-off with S.M.I.D.S.Y., Atomic charged at Terror Turtle again, although it only rammed into it this time, as opposed to flipping the turtle. Then, while S.M.I.D.S.Y. was engaged with Cygnus X-1, Atomic got underneath the latter and flipped it up against an angle grinder. With its flipper still raised, Atomic was forced to withstand contact from S.M.I.D.S.Y.'s spinning disc, which sent sparks. Atomic charged after S.M.I.D.S.Y. in retaliation, but the seeded machine dodged the danger of Atomic's flipper.
Unfortunately for Terror Turtle, it wasn't so lucky, as the onrushing Atomic followed through towards Terror Turtle with a drive before completing its charge by thrusting it out of the arena. After Terror Turtle was sent packing, S.M.I.D.S.Y. decided to bundle the stranded Cygnus X-1 across the arena. With S.M.I.D.S.Y. preoccupied, Atomic quickly got behind the seeded machine and flipped it up against the arena wall.
"What's happened to S.M.I.D.S.Y.? The seeded machine on its side, could Atomic get in and thrust them out of the arena?"
— Jonathan Pearce as Atomic puts the seeded machine in danger
Atomic then attempted to follow up its attack, but found itself under pressure from Shunt, so retreated. After S.M.I.D.S.Y. worked its way back down onto the arena floor, Atomic attempted to flip Cygnus X-1 twice, but was unable to gain sufficient to put Cygnus X-1 out of the arena. With Cygnus X-1 still unable to right itself, both Atomic and S.M.I.D.S.Y. moved into the centre of the arena to carry out a one-on-one duel, where Atomic flipped S.M.I.D.S.Y. over.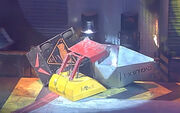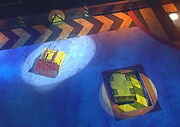 Suddenly, S.M.I.D.S.Y. came to a stop, and Atomic finished it off soon after, as it placed S.M.I.D.S.Y. onto the Pit before going over to press the release tyre for the arena hazard. With cease called after Cygnus X-1 was subjected to further punishment, Atomic was through, and was joined in the second round by S.M.I.D.S.Y., which safely progressed despite the late pitting it suffered.
Atomic's Round 2 battle saw it face newcomers Hellbent, which progressed to the second round itself by edging out equally novice machines in Araknia and I Bot One Beta. Despite the inexperience of its opponent; Atomic driver, David Bebb, was wary about the threat Hellbent presented.
Jayne Middlemiss: "David, you are the driver. What are your tactics going to be out there in Round 2?"
David Bebb: "This is quite a dangerous robot, so I'm just going to get it to the edge and get rid of it as soon as possible, I think."
— Pre-battle thoughts ahead of Atomic's second-round battle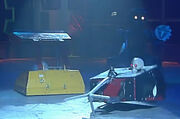 Atomic's first move was to dodge Hellbent's front forks and go for its sides, although it missed with its first attempted flip. Hellbent responded by flicking Atomic's front up, before Atomic missed with two more thrusts of its own. Atomic then finally got underneath Hellbent, as it skidded around to its front and raised it into the air, although Hellbent landed back on its tyres.
"Great thrust by Atomic. Hellbent's okay though, look."
— Jonathan Pearce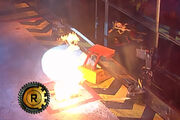 Despite not being able to force Hellbent into self-righting action, Atomic continued to attack, and followed up its first flip with another charge. This attack proved the clincher for Atomic, as it caught Hellbent side-on, accelerated it towards the arena wall and chucked it out of the arena.
"Very good, Atomic, and the end of the Hellbent team."
— Jonathan Pearce as Atomic ruthlessly dismisses Hellbent
With its explosive flip eliminating Hellbent, Atomic had sealed a spot in the Heat Final for a second time in its Robot Wars career.
The Heat Final itself saw Atomic face the seeded machine it fought in its first-round melee, battling S.M.I.D.S.Y. again, with Team Atomic hopeful of a place in the series Semi-Finals.
Jayne Middlemiss: "Lads, you're through to the Heat Final - how are you feeling?"
David Bebb: "A little bit nervous, but at the same time, confident, because we think we could possibly get through this one."
— David Bebb before the Heat Final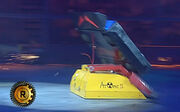 In the opening period, the competing robots skirted around each other as they both looked for openings. Both machines then engaged properly, as a minor S.M.I.D.S.Y. bump was followed up by an Atomic flip which sent the seeded machine over. S.M.I.D.S.Y. responded by reversing into Atomic with its rear disc, but Atomic's weapon held firm, with only sparks to show for S.M.I.D.S.Y.'s attack. An Atomic charge then left S.M.I.D.S.Y. balancing on its spinning weapon temporarily, before a follow-up drive and flip put S.M.I.D.S.Y. back the right way up, as Atomic itself shot off into the arena wall.
"The more aggressive, Atomic, certainly! Look at this - bang!"
— Jonathan Pearce as Atomic comes in with a strong attack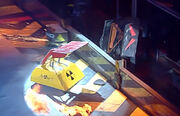 With S.M.I.D.S.Y. now back with its wedge on the floor, the battle went back into a tentative sizing up period, until S.M.I.D.S.Y. broke the calm with a reverse into Atomic, which swatted it aside with a flip. Then, as S.M.I.D.S.Y. attempted to move away, its route out was obstructed by Refbot. Atomic quickly took advantage of this by cutting across S.M.I.D.S.Y., before rushing it towards the arena wall. Atomic's subsequent flip saw S.M.I.D.S.Y. crash into and go over the arena wall.
"OH, it's all over! A very, very good display by Atomic, and the seeds have fallen. Always on the cards. S.M.I.D.S.Y. had to keep dodging and ducking and diving, and they took the big dive instead."
— Jonathan Pearce
S.M.I.D.S.Y. was eliminated as a result, and Atomic was through to the Semi-Final stage for the first time.
Craig Charles: "Well, you have been busy down on that farm, haven't you! How come it's jumped forward leaps and bounds?"
David Bebb: "I think we've modelled it on when we've been beaten. We know how to improve it from where we found our weaknesses from those fights."
— The secret behind Atomic's first overall Heat victory is revealed
Atomic's first opponent in the Semi-Finals was Heat A winner, M2, which beat Robot Wars veterans Pussycat and Tiberius 3 to reach this stage. For the fight, the broad-bladed front that Atomic had trusted so far in The Seventh Wars was swapped out for its low-bladed scoop, akin to the one used in the Fifth Wars.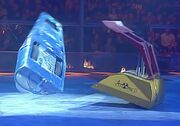 Atomic quickly went on the front foot, as it lifted M2 into the air after it drove up Atomic's front. As M2 attempted to right itself, Atomic came in with another flip, although it only flicked M2 back onto its wheels in doing so. M2 then moved into space and circled Atomic, which remained on the Pit slab for a short period of time. After a period of jostling, Atomic finally cut down M2's angle of approach to flip it, although M2 rolled through the air and back onto its tyres. In an attempt to fight back, M2 flipped rashly and missed Atomic, before the yellow and red machine forced M2 to roll back onto its wheels again as it came in with a lunging flip.
"You can see the weapons operator of Atomic, Paul Francis. A farm manager by trade, and shepherding M2 across the arena!"
— Jonathan Pearce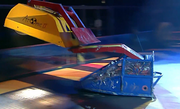 After another tentative interval of manoeuvring, Atomic connected with the next attack of meaning, as it chucked M2 over and forced it into swift self-righting action. Atomic then got underneath M2 soon after, but was reluctant to flip, and its reluctance was nearly its downfall, as M2 responded with a chain of flips which left Atomic flailing away in the CPZ while under pressure from M2 and Sgt. Bash.
"M2 flips Atomic! That's closer! That's more dangerous! That's CPZ territory, corner patrol zone territory!"
— Jonathan Pearce as Atomic is made to worry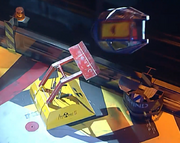 Atomic righted itself and responded swiftly, as it forced M2 into Sergeant Bash's possession after flipping M2 once again. M2 escaped the House Robot unscathed, but Atomic's aggressive spell continued, as another flip meant M2 had to carry out another succession of flips to right itself. In one final rally of attacks, Atomic first bundled M2 over towards the sidewall. Atomic's penultimate flip then saw its blade prop M2 up against the arena wall and the angle grinder, with one final adjustment of its weapon needed to then roll M2 over the sidewall and out. With this, Atomic was through to the second round of the Semi-Finals.
In Round 2 of the Semi-Finals, Atomic met Scottish machine Typhoon 2, which was making an impression in its first UK Championship after beating the experienced Iron-Awe 2.1 and Thermidor 2. With the power of the opponent evident so far in the series, Team Atomic were eager to dispose of Typhoon 2 quickly.
Jayne Middlemiss: "What are your tactics going to be against the Typhoon?"
David Bebb: "I think, try and stop their blade as early as possible. Seems to be the only tactic against them."
— Final thoughts before Atomic's fight for a place in the Grand Final
Atomic's immediate moves stayed true to Team Atomic's plans, as it attempted to cut down Typhoon 2's escape route that it would use to get up to speed. Atomic darted across towards the eventual champion and flipped, but Atomic's flip wasn't as clean enough to throw Typhoon 2 over. Despite landing on its wheels though, Typhoon 2 was still constrained to in and around the CPZ area, and couldn't find a gap to move away into space. With Typhoon 2 unable to spin up, Atomic charged in again. Unfortunately for Atomic, its burst of speed could not be matched by an accurate flip, as it only bumped Typhoon 2 to one side while flipping itself onto its back. In turning itself over, Atomic had also managed to jam its own flipper open, leaving it venting gas and unable to self-right.
"There's been an Atomic implosion of some sort!"
— Jonathan Pearce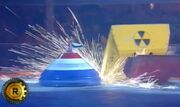 To compound Atomic's misery, Typhoon 2 was now free to spin up to top speed, and the full-body spinner came in with a significant blow on Atomic. Atomic's flipper fired once more in a desperate last attempt to get back into the fight, but it was in vain, and two more strikes from Typhoon 2 were followed by the countdown from Refbot. Atomic was then thrown by the Floor Flipper before being pitted by Sir Killalot - signalling the end of its Seventh Wars adventure.
Craig Charles: "You look absolutely gutted!"
Stephen Bebb: "No, it's alright - I can get back home now!"
— Dry humour in defeat from Stephen Bebb
ATOMIC - RESULTS
Series 4
The Fourth Wars - UK Championship
Heat Final
Heat A, Eliminator
vs. Chaos 2 (1), Indefatigable
Qualified
Heat A, Semi-Final
vs. King B3 (17)
Won
Heat A, Final
vs. Chaos 2 (1)
Lost
Extreme 1
Mayhem & Annihilator

Mayhem
vs. Fighting Torque, MouseTrap
Won
NOTE: Atomic was forced to withdraw from the Annihilator due to damage suffered from Hypno-Disc in another battle.
Series 5
The Fifth Wars - UK Championship
22nd seed, Heat, Round 2
Heat B, Eliminator
vs. Kan-Opener
Won
Heat B, Semi-Final
vs. Hypno-Disc (3)
Lost
Series 7
The Seventh Wars - UK Championship
Semi-Finals, Round 2
Heat G, Round 1
vs. Cygnus X-1, S.M.I.D.S.Y. (13), Terror Turtle
Qualified
Heat G, Round 2
vs. Hellbent
Won
Heat G, Final
vs. S.M.I.D.S.Y. (13)
Won
Semi-Final 2, Round 1
vs. M2
Won
Semi-Final 2, Round 2
vs. Typhoon 2
Lost
After its devastating loss to Typhoon 2 in Series 7, Atomic was repaired ahead of a prospective eighth series, which ultimately would not take place for twelve years.
The repaired Atomic made an appearance at the Robots Crusade event in 2004, before subsequently being retired.
Atomic holds the record for the most consecutive out of the arena flips with four. This was achieved through all four of its victories in Series 7. It was also the first robot to win a heat, having thrown a robot out of the arena in all of its battles.
Atomic has only ever lost to Grand Finalists of the same series; Chaos 2, Hypno-Disc and Typhoon 2. The former two were also defending Grand Finalists.
Atomic is one of the few robots to successfully flip Hypno-Disc over and force it to self-right.
Atomic never had a judges' decision during its career.
All three of Atomic's losses in the main competition saw it taking substantial damage from its opponents and the House Robots.
Atomic is one of three robots (along with X-Terminator and Team Knightmare) to lose to the reigning champion in the heat final of one series and go on to reach the semi-finals in a subsequent series.
Atomic is one of three competitors (along with Killertron and Team Big Cheese) to lose to the eventual UK Champion in the heat final of one series and go on to reach the semi-finals in a subsequent series.
In both Atomic's first and last battles, its flipper jammed open during an attempt to self-right.

Community content is available under
CC-BY-SA
unless otherwise noted.