Audacious is a middleweight robot which attempted to enter Series 10 of Robot Wars. It was not selected to compete, although Team Ironclads had experience in live events prior to applying for the series. The team had previously applied for Series 8 with their heavyweight, ThunderChild, but this was not selected either.
The robot is named after HMS Audacious, a central-battery ironclad launched in 1869.
Design
[
]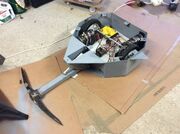 Audacious is an invertible, roughly octagonal-shaped sit-and-spin thwackbot with a two-wheel drive system. It is painted grey with its name painted in white letters, and features a pair of small White Ensign flags. Audacious's weapon is a interchangeable, pivoted tail that can have its height adjusted by a linear actuator. The selection of tails include a pickaxe, a maul, and a harpoon. The robot cost £750 to build.
Qualification
[
]
Audacious entered the build process between Series 9 and 10 of Robot Wars, and applied for the tenth series of the show as a competitor. Despite making significant process with the build of Audacious, Team Ironclads were not selected to compete in Series 10, and the robot was only completed after the series had concluded filming.
Series Record
[
]
Outside Robot Wars
[
]
Audacious made its debut at Extreme Robots Manchester in 2017. It fought in multiple rumbles against other heavyweights, including one against Big Nipper and Donald Thump. Later that year at Extreme Robots Maidstone, Audacious picked up its first win, during a rumble which included Trolley Rage, Iron-Awe 5 and Cyclone. In the same event the team's other robot, ThunderChild, got its best result. Finishing 3rd in the main event.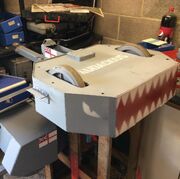 After a major rebuild, qualifying it as a middleweight, Audacious's 2018 season was plagued with reliability issues, attributed to a faulty speed controller. At Extreme Robots Manchester, it took part in the heavyweight competition but went out in the first round to Ripper, hitting the roof three times before being pitted. At Extreme Robots Chatham, Audacious took part in the newly-founded middleweight competition, but its speed controller kept failing and the robot was eliminated early. The same issue occurred again during the middleweight contest at Extreme Robots Cheltenham later that year.
In 2019, a new set of speed controllers improved reliability tremendously, allowing it to pick up several wins throughout the year. During the Middleweight Championship at Extreme S.T.E.M. in Cheltenham, it was first drawn against You Little Ripper and Raphael. You Little Ripper broke down shortly into the fight, leaving Raphael and Audacious to fight it out to a close judges decision, which Raphael won on damage. Audacious then faced Smash of Crackers 'n' Smash in a redemption fight but was knocked out after several big hits from Smash's spinner. Audacious's final appearance of 2019 was at the new Robo Riots event in Dublin where it picked up a respectable two wins from four battles.
2020 started with Audacious fighting with the heavyweights at the Mechatrons event in Dublin. Audacious picked up wins against 4x4 and Kan-Opener but lost to Iron-Awe 8 and Beast. This meant Audacious finished in the top 8, ahead of Team Ironclads' own heavyweight ThunderChild.
In September 2021, Audacious was among the Team Ironclads robots to attend Robonerd[1], which was followed in October by a return to combat at that month's Robots Live! Crawley event alongside ThunderChild, Agamemnon and Pallas.[2]
References
[
]
External Links
[
]