"A scary, nightmarish looking robot. Any bots brave enough to attack Banshee are surprised by its ability to revolve!"
— The Robot Wars File on Banshee[1]
Banshee (sometimes known as Banshee Bandit) was a heavyweight robot that competed in Robot Wars: The Fourth Wars. It lost in the first round after being flipped over by Spawn of Scutter, and finished equal twelfth in the Pinball Warrior Tournament with a score of 75 points.
Team Banshee (as the 39th Huddersfield Scouts) also competed in Series 3 with Shark Attack, which was updated in five weeks to create Banshee.
Design
[
]
"It revolves, took 5 weeks to update from Shark Attack in the last series. The weaponry comes from lathe tools."
— Jonathan Pearce on Banshee's updates and weapon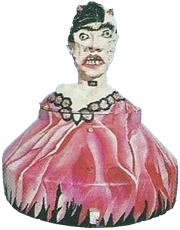 Banshee was a full-body spinning robot, with fairly low rotating speeds of 200rpm, giving it 360 degrees of defence. It had the novelty head of a large banshee, a female Irish spirit wailing "warnings of impending death and doom" according to the team, complete with hypnotic flashing eyes. It has been jokingly stated that the robot was modelled on team captain Graham Walker's wife. The robot's body proved especially fragile, with its head being decapitated by Shunt's axe following its Series 4 defeat. Additionally, Banshee had no self-righting mechanism, and a top speed of only 5mph which adversely affected its performances in both the main series and the Pinball Warrior Tournament.
Robot History
[
]
Series 4
[
]
"We're going to thrash Shunt with this, definitely!"
— Graham Warner's ironic prediction of the upcoming battle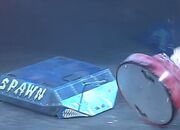 Banshee was drawn against 10th seed Spawn of Scutter, successor of Scutter's Revenge, and newcomer Knightmare. It got up to speed quickly, deflecting off Spawn of Scutter. Using its slight wedge, Spawn of Scutter got beneath Banshee and flung it across the arena using its spike, tipping Banshee over. Shunt axed through Banshee's head, before severing the head from the rest of the robot's body and thrusting it onto the Flame Pit, where it was left to burn.
"Headache? I don't think any pills are gonna...make that one feel better!"
— Jonathan Pearce bursts into laughter as Shunt decapitates Banshee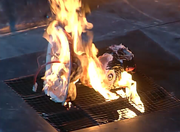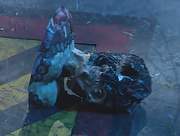 With its head charred by the Flame Pit, the House Robots proceeded to cause damage to the main body before placing it on the Floor Flipper. After being thrown across the arena, Banshee was eliminated from the Fourth Wars.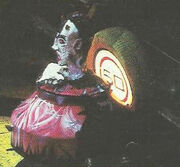 In addition to the main series, Banshee also competed in the Pinball Warrior Tournament, shown in Heat K, which was before its actual heat it appeared in. Its exceptionally slow speed prevented it from making substantial progress, with Banshee taking seven seconds just to turn around and knock the first set of barrels over.
"In your own time, boys!"
— Jonathan Pearce, amid fits of laughter, upon realising Banshee's sluggish speed
Even so, Banshee persisted, and eventually turned to hit Sergeant Bash's 50-point target. It then hit the Multi-Ball release, and finished the run by running into Sir Killalot. Time ran out, and Banshee scored 75 points during its run, putting it equal twelfth with Stinger.
"Steady progress....the word 'steady' being emphasised here."
— Jonathan Pearce
Results
[
]
Wins/Losses
[
]
Series Record
[
]
References
[
]