"A powerful flipper robot, with a unique skeleton design built from steel – they are the only armour-less robot in the series. The team don't think they need any armour to be successful and believe 'other robots hide behind [HARDOX] boxes.'"
— Robot Wars website on Beast
Beast was the name given to a series of heavyweight robots which entered three different series of Robot Wars. In the original run of the show, the robot was spelt 8645T in the style of a number-plate. The team claimed that squinting at this spelling made it look like the word "Beast".
8645T reached the second round of its heat in Series 5, but fell in the first round in Series 7 as 8645T 2, having also attempted to enter Series 4 and 6 without success. Beast reached the Head to Head stage in Series 8 after qualifying through its Group Battle, but collected no victories there. The newest version of Beast, Harpy, was invited to attend Series 10 as a reserve, but ultimately went unused.
Versions of Beast
[
]
8645T
[
]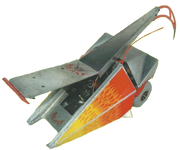 In Series 5, 8645T (still usually pronounced as Beast) was a long narrow wedge-shaped robot running on two exposed wheels. It was armed with a full pressure CO2 powered flipper, running off a hydraulic ram delivering 750psi pressure. The weapon also doubled as a rear spike-axe, courtesy of the large polearm blade at the back of the robot, a design later utilised by Robochicken in Series 7. 8645T was one of the tallest in the series due to its axe, and was fairly fast, although it could not self-right which proved costly in its defeat, and its inflatable tyres were also vulnerable.
8645T 2
[
]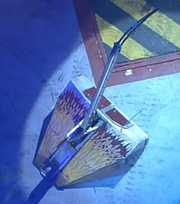 In Series 7, the robot was known as 8645T 2, and was rebuilt to use a much shorter wedge-shaped design. 8645T 2's flipper was raised to a higher height, and had more power, and was still combined with the axe, which was also indirectly made more powerful due to the improvements to the flipper. 8645T had even more speed, and its more conventional shape and more robust structure made integral improvements to the design, including improved tyre protection. However, the presence of the axe on the back of the machine meant 8645T 2 still could not self-right, even though it may have been able to do so with the secondary weapon removed.
"That's a beast of a problem to have!"
— Jonathan Pearce on 8645T 2's inability to self-right
Beast
[
]
"We have a massive buffer tank, big weapon, and we've got to show it off by having no armour!"
— John Lear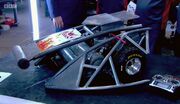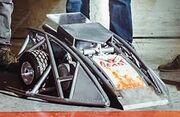 Beast was a curved wedge-shaped heavyweight robot, armed with a full-pressure rear-hinged flipper, capable of flipping 115kg. The robot was rather bare in terms of armour, instead using a structure of framework with many gaps to keep the robot's weight down, much like R.O.C.S., leaving the robot's wheels exposed to certain types of weapon. In response to Beast's skeletal frame, the team claimed that this compromise allowed them to put a greater focus on the strength of the weapon. LED lights also appeared inside the robot.
"The robot has the ability to flip another (110kg maximum weight) competitor 10 feet in the air, which the team can do when they apply their advanced 'buffer' tank technology. This means they can efficiently use their CO2 supplies at a lower pressure and make it last longer. Beast can use its flipper to self-right and spin at 90° on the back wheels."
— The Robot Wars website on Beast
Harpy
[
]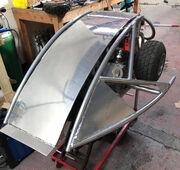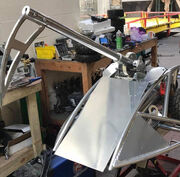 To compete in Series 10, Beast was rebuilt and became known as Harpy. The robot's shape and core design was the same, but its armour was much more reflective. The flipper of Harpy was redesigned to feature no padding to defend against axes, nor the robot's logo, and instead features a new conventional wedge blade. Most notably, Harpy had an interchangeable, flatter wedge, which is used in tandem with Harpy's alternative weapon - its large overhead gear-driven axe. Unlike 8645T, Harpy's axe worked independently of the flipper, and can allow the robot to self-right. Not long after Series 10 was aired, Harpy returned to its original name of Beast.
Etymology
[
]
The robot's original name 8645T was an alternative way of spelling 'Beast', with captain John Lear claiming that when written on a car's license plate, 8645T resembles the word Beast. As such, presenters such as Jonathan Pearce and Philippa Forrester referred to the robot as Beast instead of the full 8645T name. Most noticeably, Stuart McDonald introduced the robot as "8645T Beast 2" in Series 7.
Over the period of the live circuit, the robot's name changed simply to Beast ahead of Series 8, although the robot's logo still references the original 8645T name.
The Team
[
]
"John has 17 years fighting experience at amateur robot fighting events and appeared on Series Five and Series Seven with his robot Beast, but never made it past the early rounds."
— The Robot Wars website on Team BEAST in Series 8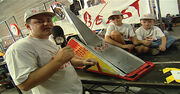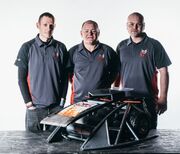 Team BEAST was a Staffordshire-based team captained by John Lear, a mechanical craftsman aged 55 in Series 8. John Lear built all versions of Beast, and drove 8645T in Series 5 and 7. He was consistently joined by his son John Lear Jr who was a young child at the time of Series 5 and 7, but by the time of Series 8, John Lear Jr was aged 24 and became the robot's weapon operator. John Lear's nephew James Wood completed the line-up in Series 7, while in the reboot, 23-year old Alex Marler joined the team as Beast's driver, having assisted the team on the live circuit where Alex Marler also competes in his own right with self-built machines.
Qualification
[
]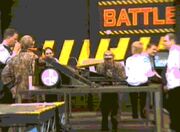 8645T won two qualifier battles on Series 4's tour, but despite this success, it still was not selected to compete.
At the Series 5 qualifiers, 8645T fought Kan-Opener. 8645T won the battle on a Judge's Decision despite being pitted as one of Kan-Opener's claws got stuck in its armour but both robots were given places in the series.
8645T 2 attempted to qualify for Series 6, however, before its match, technical issues arose and the robot withdrew. The team were given a second chance but 8645T 2 was disqualified from the qualifiers after its axe damaged the arena floor due to it firing randomly and unsafely - as a result, 8645T 2 would not qualify for the Sixth Wars.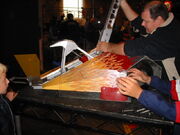 At the Series 7 qualifiers, 8645T 2 fought Mighty Mouse (who it would fight in Series 7), TX-108, and an unknown third opponent. 8645T 2 won the battle, thus gaining guaranteed qualification.
Beast was chosen to compete in Series 8 through an open application process, but this method did not work twice, and Beast was not chosen to return when the team applied for Series 9[1]. Returning to Series 10 as Harpy, the team were invited to attend as reserves, but completed filming as one of only two unused reserve entries, alongside Infernal Contraption.
Robot History
[
]

Armament! This Robot Wars article is in need of rewriting to bring it up to a higher standard. You can help Robot Wars Wiki by rewriting it.
Series 5
[
]
8645T fought in Heat A of the Fifth Wars. 8645T's first-round battle saw it go up against the team's close friend John Findlay, and his team's machine T-Bone.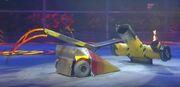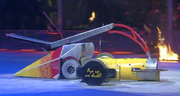 8645T initially used its axe weapon unsuccessfully, and T-Bone charged into 8645T's side, but T-Bone broke its own cutting disc upon contact with 8645T's armour. 8645T flipped T-Bone up several times, before finally impaling T-Bone with its axe. The two robots dragged each other around until the end of the battle, a judges' decision declared that 8645T had won the battle.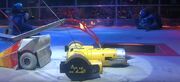 "While the Judges were reaching their decision, Craig Charles asked the audience to choose a winner by cheering when he called the names of the robots. [The T-Bone team] were delighted when the audience cheered louder for T-Bone ... they thought it was in the bag ! However the judges said it was a very close contest, but they had chosen 8645T as the winner. The Team could only think that when they were pulling 8645T towards the pit, that it must have looked as though T-Bone was being pushed!"
— The Roaming Robots website on the Judges' decision (archived)
In the second round of the heat, 8645T fought S.M.I.D.S.Y., the twenty-fourth seed, which stood between 8645T and its dream adversary, reigning champion Chaos 2.
"We wanted to fight Chaos 2..."
— John Lear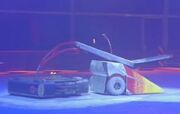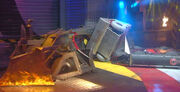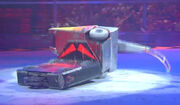 8645T pinned S.M.I.D.S.Y. with its axe, and S.M.I.D.S.Y., unable to escape, pushed 8645T into the sidewall where it was attacked by Shunt. Suddenly 8645T was on the defensive, taking damage from Shunt's axe and with S.M.I.D.S.Y. worming its way beneath it. S.M.I.D.S.Y. then used its jaws to tip 8645T onto its side in Shunt's CPZ. 8645T managed to escape, and charged S.M.I.D.S.Y. once more, with the Cyberspace machine mercilessly charging 8645T and tipping it onto its back once more. 8645T then was seized and taken to the floor flipper by Sir Killalot, but managed to flee as it was unintentionally dropped back onto its wheels. Cease was called, since 8645T had already been counted out.
"Oh, I wanted to see the beast fly!"
— Jonathan Pearce at the end of the fight
Series 7
[
]
"Fought in the Fifth Wars, knocked out in the second round."
— Jonathan Pearce
8645T 2 went up against newcomer Mobot, Mighty Mouse and the fourteenth seed and Annihilator runner-up Thermidor 2 in the first round of the Seventh Wars.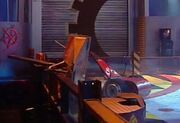 8645T 2 was immediately targeted by Thermidor 2, who flipped it onto its back straight away in an unoccupied CPZ. 8645T 2 swiftly self-righted, and got away from danger, then deciding to take on Mobot, trying to flip it but missing. But Thermidor 2 then came back with a run-up and threw 8645T 2 back onto its side. 8645T vented huge clouds of CO2 trying to self-right, but ultimately failed. After being counted out, 8645T 2 was righted by Thermidor 2 and assaulted by the House Robots. Pulling away, it charged across the arena, evading the House Robots. Suddenly, the arena floor flipper activated, throwing 8645T 2 through the air and causing it to land on the other side of the arena, breaking the top of its axe in the process.
"Oh. What's he [8645T 2] doing? Toying with the pit. And away through. Si-ay! Away free he went straight onto the floor flipper and we got you in the end! Clever bit of driving. Isn't he clever?"
— Jonathan Pearce's desire to see the Beast fly comes true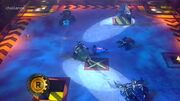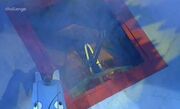 8645T 2 made one final attempt to pit the now immobilised Mighty Mouse, but drove straight into the pit itself.
"Oh well, there's always next year, just have to lose the axe and just have a flipper, or do we make another robot, a spinning cooling tower which runs any way up called RPL perhaps?"
— The 8645T website on their plans after Series 7
Series 8
[
]
Beast competed in Episode 5, where it fought Crazy Coupe 88, a robot Tyrone Ellis created after he competed in Series 7 with Hodaf The Bad, newcomer Gabriel and veteran Infernal Contraption in its first-round melee.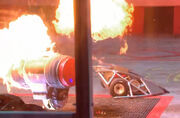 Beast could not use its flipper effectively in the opening stages, failing to lift Infernal Contraption and Gabriel on separate attempts, but after stopping the spinning blades, Beast flipped Crazy Coupe 88 over, which eliminated itself by driving into Dead Metal afterwards. Although Beast pushed Gabriel, its efforts mostly turned towards Infernal Contraption, pushing it over the flame pit while missing with another flip. Beast turned Infernal Contraption around, which drove itself into the pit, allowing Beast to qualify alongside Gabriel.
"Flipper wasn't coming back down as fast as we wanted it to, so just need to find out the problem."
— John Lear Jr.
Beast was next drawn against Ironside3, a bar spinner entered by Trevor Wright, who Team BEAST had fought in the Seventh Wars.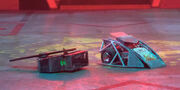 Beast needed to chase Ironside3 as quickly as it could in order to stop the spinning bar from gaining speed, but could not catch its equally fast opponent, and Ironside3 sent Beast spinning away with an attack. An attack to Beast's flipper seemed to hamper its mobility, and it failed to flip when Ironside3 drove over the top of it. At this stage, one of Beast's tyres had locked, and when Ironside3 tore into Beast's mobile tyre, it was rendered immobile after gas quickly escaped from it. Beast could only fire its flipper to feign mobility, but it was counted out, and lost the battle.
Beast then fought another spinning weapon, the newly reinstated Pulsar.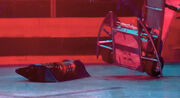 It slowly approached its opponent, but once again could not get underneath. It suffered from drive problems almost immediately, and stood almost still when Pulsar attacked the side. Beast was flung up by the drum, and completely immobilised by the second hit of the drum when it landed. Beast's second loss meant that it could no longer reach the Heat Final.
Despite its elimination, Beast still fought Gabriel for one last match. However, Beast suffered even more problems before the battle began, as its flipper fired shortly before the battle, and it had to be forced back into a neutral position. Thus, Beast entered the arena without a weapon. Team Saint also noticed Beast's exposed tyres, and intended to aim for them with their robot's sword swings.
Angela Scanlon: "So you guys came up against Gabriel in the group battles, is there anything you learned from that, that you're going to bring to them?"
Alex Marler: "It's very difficult to fight, so we've really got to up our game."
— Team BEAST's hopes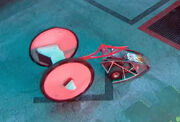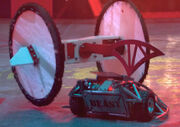 Beast barely crept forward in the match before Gabriel rained down blows on it, immobilising one side of Beast from the very beginning. When Gabriel pressed the pit release button, its team noticed that Beast was effectively immobile, and after a few more tentative swings, held off. Beast simply drove in circles to show signs of life, but the team admitted that they had lost the battle, and encouraged Gabriel to land more attacks. It nudged Beast closer to the pit, but held off once again as Craig Colliass noticed that Beast was starting to overheat, and cease was eventually called. Dead Metal came in afterwards, and sliced through the top of Beast, to cause extra injury to the fallen robot. Although the match lasted the full three minutes, the Judges declared that Beast was immobilised early into the battle, and it lost via KO.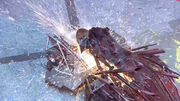 "Although Beast was still mobile on one of the wheels, it basically was not going anywhere. That was loss of control, loss of mobility."
It was later revealed that Beast's mobility was hampered in its final two battles because the magnets within one of its motors were broken, which the team did not realise until filming was complete.
Results
[
]
Wins/Losses
[
]
Series Record
[
]
Gallery
[
]
Outside Robot Wars
[
]
Beast
[
]
The first version of Beast to not use the 8645T name, sporting a clear shell, fought in the 2006 Winter Tour, but this version was not used again.
In 2007, the 2005/2006 model was retired, and a new Beast with a steep wedge and flame paint job much like that of 8645T was built and competed in several robotic fighting events such as Roaming Robots until 2012. Later in 2012, the flame paint job Beast was retired and the first version of the current Beast made its debut.
In October 2014, Beast, along with Ripper, appeared on Pawn Stars UK, where John Findlay tried to sell the two robots to the TV buyers, but the robots were not sold, due to the offer being too low. Ripper flipped Beast over at the end of the programme.
Beast 2 later competed in the 2015 World Championships, while the original Beast competed at Bronebots 2016, ahead of its appearance on Robot Wars. In its "Harpy" design, Beast also competed at the 2017 Bronebots event in Russia.
Under other owners, different versions of Beast have seen various re-brands. Team Tilly painted it gold and named it Khaos, taking the robot to various live events in 2016 and 2017.
Harpy first competed at Mechatrons Dublin 2017, while still being essentially the same robot as Beast, where it lost to King B Remix in the quarter-finals. In mid-2017, Harpy gained its reflective armour and axe. The updated version of Harpy debuted at the Extreme Robots event in Guildford. On a team with Big Bully, it fought Ripper and Saint, where its axe became bent, and Harpy was eventually pitted. In another battle, it fought Eruption, Behemoth and Suspension, but lost mobility.
At a live event in Dublin hosted by Mechatrons in 2018, Team BEAST brought two versions of Harpy to the venue separately, interchangeably using the Beast branding for the axe-wielding version of Harpy, while consistently using the Harpy name for their flipper. Harpy defeated ThunderChild on a Judges' decision, having flipping it over to briefly immobilise it. It also fought Iron-Awe 5, but lost due to a period of immobility. Harpy then defeated Rusty by knockout, after the latter could not self-right, despite Harpy breaking its flipper bungees at the end of the battle. The robots fought again in a whiteboard battle further into the competition, and despite being flipped, harpy won the Judges' decision after immobilising Rusty towards the end of the battle. Finally, it was eliminated by the brand-new King Buxton 20 on a Judges' decision, after being rammed around the arena despite an impressive start. The axe-wielding Beast fought Shillelagh, but lost its axe in battle, and eventually became immobile. However, it was able to defeat Dozer, flipping it over using only its wedge shape. It also defeated ThunderChild on a close Judges' decision.
Beast and Harpy continue to appear at Extreme Robots events with varying degrees of success; at the 2018 Manchester event, the former finished runner-up to Ripper.[2] Beast was also successful at the Extreme Robots event in Cheltenham, held in November 2018. There, it defeated Apex by overturning it, and reached the semi-finals after beating TR3. Beast would ultimately finish the event - and the 2018 Extreme Robots Championship - third overall, having lost its semi-final to Gabriel before winning its play-off fight against 2point0.[3]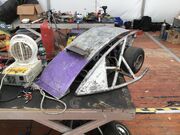 Beast made an impressive run at the Irish Mechatrons event in January 2020. Both the original Beast and the newer version alternatively known as Harpy entered the same bracket, but it was the original Beast which reached the final under the controls of John Findlay, including two victories over Iron-Awe 6. At the climax of the competition, Beast fought Immersion three times in total, winning one close bout, but ultimately lost the other two and earned second place. The featherweight Beauty X also won the featherweight competition at this event, having competed in India only one week prior.
Other Robots
[
]
The team also have a featherweight called Beauty which has been mentioned in the Robot Combat Hall of Fame after it won competitions such as the UK Featherweight Championship twice in a row (as Beauty 2 in 2008 and Beauty 4 in 2009), the 2007 Roaming Robots Winter Tour and Featherweight Tag-Team Championships 2007. As of 2014, there have been 9 Beauty robots (including 2 versions of Beauty 3). Beauty 2 won the UK Featherweight championship for the third time in 2014, and won the 2007 Featherweight European Championship. At the FRA Featherweight World Championship 2017, Beauty 2 finished in eighth place. It was less successful in the 2018 championship hosted by King of Bots, taking severe damage from spinners in its first two fights before driving into the pit in its final fight.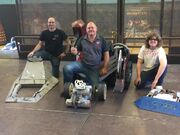 John Lear also completed a middleweight robot in late 2018, building Gaston, an invertible robot armed with a vertical disc. At the Cheltenham Extreme Robots Middleweight event in 2018, Gaston won the competition, defeating Voodoo and Backflip in the final.
John Lear and Alex Marler competed in the Chinese TV show Clash Bots with a new heavyweight lifter, Flame Tyrannosaurus. Its steep lifting arm also doubles as a clamp, and the robot additionally wields a flamethrower. It was the first robot to appear in the series, using its flamethrower to scare the presenters. In its competition battle, it fought the vertical spinner Toxic Fangs. However, it sustained a direct blow to its exposed wheel, limiting its mobility. Flame Tyrannosaurus was able to knock Toxic Fangs' drone out of the air, but was flipped over by the vertical spinner, and was pinned against the arena wall, leading to its loss by knockout.
Alex Marler
[
]
Meanwhile, team member Alex Marler originally started off with his own team in 2006. He fought with three featherweights on the live event circuit, his first was Psycho Fling which started off as a Zeobot featherweight kit purchased from Technobots and was made of old arena polycarbonate (later stainless steel) before it was rebuilt as a two-wheel driven invertible design with a front lifter. He has also fought with Block of Wood so-called due to its choice of armour which managed to finish 4th in the 2007 Featherweight UK Championships. Since 2008, Marler has also fought with a 3rd featherweight called Crumple Zone armed with a vertical crushing jaw. Alex Marler also built Dozer, a heavyweight pushing robot with a lifting scoop, which fought at various Extreme Robots and Mechatrons events before being listed for sale in November 2018.
Alex Marler nowadays competes at Extreme Robots and Irish events with his new heavyweight Nibbler, a four-wheel driven robot armed with twin spinning driscs, which can be swapped for a large static plough when spinning weapons are prohibited at events. Nibbler regularly competes against other spinners, with a decent amount of success.
Robot Wars Live Events
[
]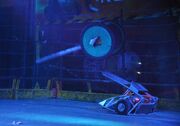 Beast competed in the first live event of the new Robot Wars at Barnsley in February 2013, where it was thrown out of the arena by Ripper in the first round. Beast also participated in the Robot Wars Winter Tour 2013 held at the end of the year where it qualified through to the finals after throwing Meggamouse out the arena during the secondary heats in held at Doncaster and won the separate competition held at that event. In the finals held at Gloucester, it beat Titan on a Judges' decision, but lost to Manta in the semi-finals after getting immobilised where it was stuck on top of the arena wall in a comical way.
For the purposes of the Live Events, a new version of Beast, known as Beast 2 was built, sporting a red colour scheme, and smaller wheels. However, the robot was not operating as well as the original Beast, thus, it did not compete in Series 8 of Robot Wars. Both versions of Beast made separate appearances at the Robot Wars World Championships in 2015, held at Colchester. Beast fought in the main competition, where it fought Brutus and Ka-Pow! in the first round. It qualified on a Judges' decision, having thrown both robots around the arena. In the second round, it fought Tough as Nails and Gabriel. Beast started reasonably well, but was eventually grabbed by Tough as Nails, which damaged Beast's tyre and pitted it, eliminating Beast from the competition. Meanwhile, Beast 2 fought in the Annihilator side event, with more success. Beast 2 made it all the way to the final, where it immobilised Ka-Pow! with a single flip, but lost a long match to Toon Raider, meaning Beast 2 placed 2nd overall.
Beast 2 has now been renamed Khaos (not to be confused with former Robot Wars champion Chaos 2). It first competed under its new name at the Robot Wars event in Colchester 2016 where it had moderate success.
Trivia
[
]
The Series 8 version of Beast was originally conceived shortly after Series 7, with the intentions of entering a new series as early as 2005, despite it not entering a televised series until 2016.
Team BEAST is one of very few teams with two members who share the same name. Others include Leveller 2's team and Team 13.
A silhouette of Beast is used alongside Robot Wars: Battle of the Stars competitors in Series 10 to explain the competition format to viewers.
Both of the seeds the Beast fought in the original run met each other in the Extreme 1 Tag Team Terror.
The team's featherweight, Beauty 2, was recognised by The Combat Robot Hall of Fame in 2009, initially receiving an Honorable Mention for its success and dominant performances at UK live events. In 2022, it was fully inducted into the Hall of Fame after a balloting error was rectified, receiving sufficient votes in the 2009 ballots to be included.[4]
References
[
]
External Links
[
]