Beef-Cake was a featherweight robot that appeared exclusively in the first series of Robot Wars Extreme. Competing in the Featherweight Championship, it won the battle - and the title - after RC Warrior became immobilised on the pit square, but ended up sustaining damage from the House Robots in the process.
The team also entered the Extreme 1 Middleweight Championship with Zap.
Design
[
]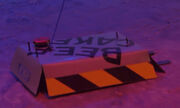 Beef-Cake was a steel box-shaped robot built around the chassis of a radio-controlled car, armed with two static ramming forks at the front. The robot was painted silver with its forks and name in black, while it also featured side skirts painted in hazard stripes, a flashing red light on the rear, and a blue aerial.
The Team
[
]
Beef-Cake was built by Team Zap, a team based in Broadheath. The team were named after their middleweight robot Zap which also competed in Extreme. Beef-Cake was driven by team captain Tommy Winkworth, who was joined by Lindy Robinson and John Lowe.
Robot History
[
]
Extreme 1
[
]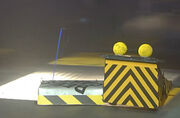 Beef-Cake solely competed in the Featherweight Championship, where it fought RC Warrior. It rammed into RC Warrior twice in the opening moments, before darting across the arena and driving around RC Warrior.
"This is ballet! This is Robot Wars ballet! Look at them, pirouetting and dancing and away, zippy nippy!"
— Jonathan Pearce as Beef-Cake darts around RC Warrior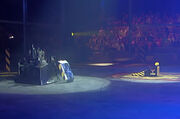 Beef-Cake then pushed RC Warrior into an empty CPZ, with both robots escaping as Shunt drove in. RC Warrior became stuck on the unopened pit panel as it drove round the arena, with Beef-Cake slamming into it again before driving up Shunt's wheelguard. Seconds later, Beef-Cake pressed the pit release button, causing RC Warrior to descend with the lowering pit, but later decided to attack the House Robots and was flipped over by Shunt's plough. Shunt then pushed the inverted Beef-Cake into Sir Killalot, who proceeded to crush and drive over Beef-Cake with his tracks.
"Oh, err, no, no, this isn't fair! Don't take on Beef-Cake, now you've - aw, you've flipped him over - he's like a little beetle - YOU'VE CRUSHED HIM! Oh no, you've crushed him, Killalot! Oh that is so cruel!"
— Jonathan Pearce as Sir Killalot drives over Beef-Cake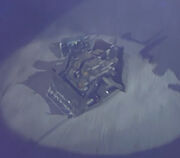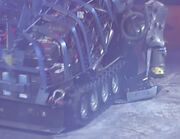 As Team Zap watched on in dismay, Refbot nudged Beef-Cake close to an entrance gate in an attempt to prevent the House Robots from attacking it any further. However, Shunt axed its underside seconds later, before Sir Killalot grabbed and attempted to lift it just after 'cease' was called. Beef-Cake slipped away from Sir Killalot's jaws, and emerged as the Extreme 1 Featherweight Champion, although the team were noticeably unhappy with the damage it sustained from the House Robots.
"Beefcake was built as a bit of an obvious laugh. I didn't expect it to win. The fight was edited as they all are, therefore slightly misleading. I did have a little pop at Shunt in the last couple of minutes for some comedy David/Goliath audience pleasing action causing him to retaliate and flip me over. It definitely got a bit out of hand after that. It was the first time I'd seen destruction of a winning bot even though I knew featherweights were considered slightly disposable. At the end Killalot tried to cut it in half, luckily it fell through at the right time. Although fairly p***** off and upset, I took it with a bit of salt and got on with it after surprisingly finding the rc chassis inside came out totally fine after taking 400odd kg going over it. It got rebuilt after the event. I still have Beefcake2 to this day sitting in my cellar but it never competed in Robot Wars, only live/charity events."
— Tommy Winkworth
Results
[
]
Wins/Losses
[
]
Series Record
[
]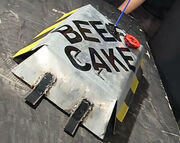 Outside Robot Wars
[
]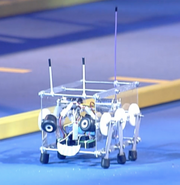 Beef-Cake and Zap also competed in Robots@War 2001 where they won their respective weight categories.[1]
The team entered Techno Games 2001 with Crazy Critter, a box-shaped walker that competed in the Battery Sprint event. Crazy Critter broke down halfway down the course, but qualified for the semi-finals after the race's winner, Geyser Bird, was disqualified for excessive human intervention. Despite this, Crazy Critter broke down again in the semi-finals and did not qualify for the final as a result.
Honours
[
]
Trivia
[
]
Beef-Cake is the only non Heavyweight competitor to have side skirts.
References
[
]