"Another powerful forklift and ram, capable of throwing even the heaviest of robots, and our very own Sergeant Bash!"
— Jonathan Pearce introduces Berserk
Berserk was a super heavyweight robot which competed in Series 2 of Robot Wars. It was the first entry from Team Berserk, and fought exclusively in the Super Heavyweight Championship, also known as the Super Showdown. There, Berserk reached the final round, but lost to Kick Robut.
Team Berserk returned to compete in Series 3 with the more successful Berserk 2, which also competed in Series 4. The team also entered Series 5 with Twister, and failed to qualify for Series 6 with a newer version of the latter.
Berserk was a large red robot armed with a front scoop and a rear forklift designed to lift and topple other robots over. It featured an angry face on its top panels, and the forklift proved capable of lifting its fellow opponents and the House Robots throughout its appearances.
Robot History
Edit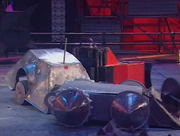 Berserk competed in the Super Heavyweight Championship, and won its qualifier against Death Jester and Automatic Jack after toppling Death Jester over and lifting Sergeant Bash with its forklift.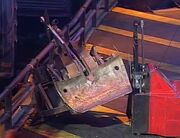 In the Super Showdown, it faced Demon Duck, Siren and Kick Robut. Berserk started tentatively, turning round and driving into the PPZ to lift Shunt against the wall with its weapon. Sir Killalot came in to separate both robots, before lifting Berserk with his lance and dragging it across the arena towards the Flame Pit.
"And Berserk... is broiled!"
— Jonathan Pearce as Sir Killalot holds Berserk over the flames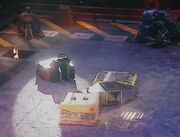 With its wheels off the floor, Berserk was left over the flames before Sir Killalot finally lowered it and allowed it to escape. It approached its three opponents as they converged in the middle of the arena, before being lifted by Kick Robut's lifting spikes and driving away. Eventually, Berserk lost mobility completely, and was attacked by Shunt and Sir Killalot before being left on the Flame Pit again as the battle drew to a close. As a result, Berserk lost the battle - and the Super Heavyweight Championship - to Kick Robut.
Wins/Losses
Edit
Series Record
Edit
Community content is available under
CC-BY-SA
unless otherwise noted.