"Big Nipper is an exquisitely hand crafted machine, using some of the strongest materials available to them like high grade titanium."
— The Robot Wars website on Big Nipper in Series 10
Big Nipper was a competitor robot which fought in Series 5, 7, 8 and 10 of Robot Wars. Outside of the televised show, Big Nipper is also recognised for a period of dominance on the UK live circuit, twice becoming a FRA heavyweight champion.
In its debut performance during the Fifth Wars, Big Nipper caused notable damage to Razer, but became the first victim of the eventual champion. After missing Series 6, Big Nipper returned with an improved performance in Series 7, where it reached the Heat Final before losing to The Grim Reaper in a very close Judges' decision.
Big Nipper returned for the reboot with interchangeable weaponry, using its well-known lifting claws and a new vertical spinning disc to finish third place in its heat during Series 8. Although it was an unused reserve in Series 9, Big Nipper made waves in its Series 10 heat, securing the largest hit from a vertical spinner in the reboot by throwing Smash into the lighting above the arena and into the trench. After losing to the eventual champion Eruption, Big Nipper defeated previous Grand Finalist Aftershock to earn third place in its heat, and qualified for the 10 Robot Rumble, where it was one of the final robots to fall. Big Nipper also represented the United Kingdom in Robot Wars: World Series, where it won both of its battles.
"We like the idea of a crusher, but we wanted to build something different, so we thought if it could pick the robots up, it would be a good idea."
— Graeme Dawson explains the concept for Big Nipper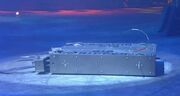 Big Nipper was a low, invertible box-shaped robot notable for its unique lifting weapon. This weapon combined a traditional lifter with a set of horizontal crushing claws, the design of which resembled the mandibles of a stag beetle, and was designed to operate even when the robot was inverted. In its initial Series 5 form, Big Nipper featured a four-wheel drive system and a top speed of 10mph, while the weapon was a simple front-mounted lifter with the titanium spiked claws attached to the end. The robot was painted grey with its name painted on the top panels in black, a colour scheme which it would maintain with minor changes until Series 8.
"Our weapon system is not so simple to explain but it is basically a very large lifter with a crusher mounted on it."
— Mark Lumb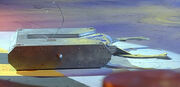 For Series 7, Big Nipper underwent a comprehensive redesign, with the robot featuring a more compact chassis, eight-wheel drive, and a drastically-altered lifting mechanism. This mechanism took the form of a centrally-mounted arm which could enable the robot to self-right, with the crushing claws being attached to the end of the arm as before. The combined lifter/crusher had a lifting capacity of 200kg in this incarnation, while the crushing claws were estimated to have a force of 1.5 tonnes. Big Nipper's weapon was powered by a single motor, with an electromagnetic clutch which enabled it to alternate between lifter and crusher modes. However, this arrangement prevented the weapon from being able to lift and crush simultaneously. To help identify whether the robot was running upright or inverted, Big Nipper's name was written in blue (top) and red (bottom) logos on its lifter/crusher arm.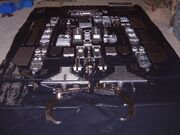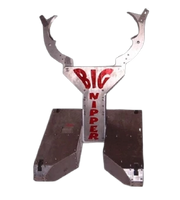 Due to the weight distribution placed on its weapon, Big Nipper usually displayed a tendency to lift its back end up whenever it used its lifter/crusher. This had the added advantage of placing all of the robot's weight on its bottom-front wheels, which gave it large amounts of grip to push opponents across the arena when required. However, this characteristic also made Big Nipper easier to flip – especially from the rear - while the top wheels remained vulnerable to overhead attacks.
"Big Nipper is a powerful crusher/gripper robot, with the ability to pick up an opponent weighing up to 300kg and carry it around the arena. Big Nipper's powerful brushless motors have resulted in four tonnes of crushing power, and, for its interchangeable vertical spinner, a 20kg spinning disc which can reach 4000rpm in just five seconds."
— The Robot Wars website on Big Nipper in Series 8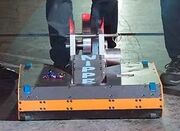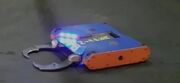 In 2016, Big Nipper underwent several changes ahead of its appearance in Series 8, notably the addition of interchangeable weapons, lithium polymer batteries and brushless motors. The robot itself was now painted black, orange and silver with blue LED lights, while its armour now consisted of 7-10mm Grade 5 titanium salvaged from a scrapyard. In addition to its signature lifter/crusher – now with four tonnes of crushing force and a quoted lifting capacity of 300kg – Big Nipper was also equipped with a second weapon, adding a 20kg vertical spinning disc to the end of the moving arm. The disc has two large teeth, and can spin up to 4,000rpm (4,200rpm according to Graeme Dawson) in just five seconds. Big Nipper's top speed was doubled to 20mph, while its weight was also increased to 110kg.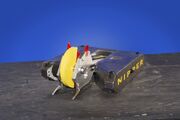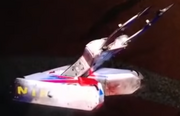 In Series 10, Big Nipper returned to its grey colour scheme, abandoning the extra black panels used in Series 8. It gained a new 20kg single-toothed disc - painted yellow and red - which is capable of gaining more purchase upon impact and reaching a tip speed of 180mph in three seconds.[1] The word 'Nipper' is now written on the sides in yellow, in addition to its disc arm in yellow (top) and light blue (bottom). As in previous series, Big Nipper's full name is still displayed on the lifting/crushing arm. The housing for the disc also bears googly eyes. Four packs of lithium polymer OptiPower ultra batteries running at 29.4V now powered Big Nipper, while its claws now have two tonnes of crushing force. The machine also features wheels made from ice hockey pucks that have been machined out to fit hubs.[2]
"Big Nipper is an exquisitely hand crafted machine, using some of the strongest materials available to them like high grade titanium. Tool makers by trade, they make the tools that other people use to make their machines."
— Robot Wars website
Big Nipper also brought an additional weapon to the filming of Series 10, in the form of a wedge which would be applied to the end of the robot's lifting arm, to create a scoop-type weapon that was designed to resist horizontal spinners such as the bar spinner of Carbide. However, this weapon was outlawed by the producers, deemed to be a purely defensive addition.
Big Nipper was entered by Yorkshire-based Team Titanium (known as Team TMT in Series 7 and simply Team Big Nipper in Series 5), captained by Graeme Dawson, a toolmaker by trade, who built and drove Big Nipper in all of its appearance. Across all series of Robot Wars, Graeme Dawson was joined by Mark Lumb, who controlled Big Nipper's weaponry and took charge of electrical maintenance. In Series 5 and 7, the team also featured Harold Lumb, while in Series 8 and 10, Graeme Dawson's father Glyn joined the team with a prominent speaking role, and a position as 'team advisor' listed on the Robot Wars website.
Although she was never a member of the televised team, Graeme Dawson's daughter was also frequently mentioned during Big Nipper's VT's and interviews in Series 10.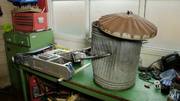 Although it did not enter Series 6, Big Nipper successfully qualified for Series 5 and 7 through attending the qualifiers; in Series 7, it fought Araknia, Ewe 2 and eventual series champion Typhoon 2 in its qualifier battle. While it ultimately lost to Ewe 2, all four robots received places in the Seventh Wars regardless.
Big Nipper was selected for Series 8 by open application, although when it applied for Series 9, it was initially not selected to compete[3]. Big Nipper was later selected as a reserve for the series, but went unused[4], alongside fellow FRA UK champions TR2 and Gabriel. Team Titanium still appeared in the series when they helped Team Conker fix Crackers 'n' Smash. Big Nipper returned to Series 10 in the same manner as its qualification for Series 8.
"You've Been Nipped!"
— The Big Nipper team's slogan for Series 5
Big Nipper made its Robot Wars debut in Heat K of the Fifth Wars, facing the fourth seed – and double World Champion – Razer in the first round.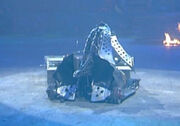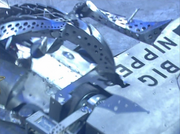 In the opening seconds, both robots drove into each other, with Big Nipper driving up Razer's wedge and breaking one of its self-righting wings off its mount. However, it could not grab hold of Razer, and backed away before bumping into the latter's side. Big Nipper dodged Razer as it attempted to attack, but was caught, and had its top armour pierced by the latter's beak. Razer continued pushing, piercing and spinning Big Nipper around until it let go, only to grab Big Nipper again a few seconds later and lift it into the air.
"Well, if you crush a beetle, it rains and rains and rains, and punishment raining down on Big Nipper now from Razer..."
— Jonathan Pearce as Razer pierces and lifts Big Nipper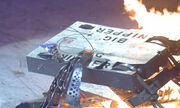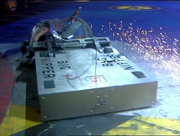 With one of its claws bent, Big Nipper was carried towards and held over the Flame Pit by Razer, but used its weapon to make contact with the floor and break free. It attempted to drive away, but drove up Razer's wedge again while doing so, and was pushed back over the Flame Pit as Razer gripped it by the lifter. Big Nipper lifted itself to manoeuvre away from the Flame Pit, eventually managing to grab hold of Razer's beak as the latter pushed it around and against an angle grinder.
"Well, the Nipper... is... big on resolve, if nothing else... and this is a very good and therefore very surprising first battle for Razer. I thought they'd stroll this, against the new boys..."
— Jonathan Pearce, impressed with Big Nipper's staying power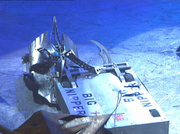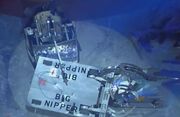 Big Nipper tried to push Razer back, holding onto its beak again, with the two robots pushing each other close to a CPZ as Dead Metal and Shunt entered the fray. Razer eventually grabbed the space in between Big Nipper's weapon and front-left wheel, pushing it across the arena into Shunt's CPZ. Shunt axed Big Nipper's top armour several times as Razer attempted to bite into its wheel. These attacks left Big Nipper immobilised, and it was soon counted out by Refbot before Shunt axed its top panel one last time.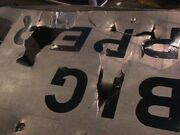 "'You've Been Nipped?' You have been... nipped in the bud, more like, for Big Nipper!"
— Jonathan Pearce notices the Big Nipper team's slogan as their robot is counted out
'Cease' was called, and Big Nipper was duly eliminated from the Fifth Wars, although not without leaving Craig Charles and Team Razer impressed with its performance.
Jayne Middlemiss: "Why did it take you two years to come back?"
Graeme Dawson: "We decided to build a proper robot this time."
— The Big Nipper team explain to Jayne Middlemiss their absence from Series 6
Following a comprehensive redesign and a one-series hiatus, Big Nipper returned for the Seventh Wars, competing in Heat B. In its first-round battle, it faced Extreme 2 Annihilator Champion Kan-Opener, former Series 3 competitor The Grim Reaper and Extreme 2 Tag Team Terror co-runner up Barbaric Response.
Immediately, it attempted to pursue The Grim Reaper, only to ram into and underneath Kan-Opener as all four competitors converged. Big Nipper concentrated on attacking Barbaric Response, but was flipped by the latter, and proceeded to push and lift The Grim Reaper. In turn, The Grim Reaper flipped it completely over and lifted it, but Big Nipper responded by grabbing The Grim Reaper by the flipper and pushing it into the wall. Eventually, the two robots separated, exchanging shoves, lifts and flips between themselves as Kan-Opener and Barbaric Response were left stuck together.
"That's a good little duel going on in there between the two of them, evenly matched. That's okay, the Big Nipper is invertible..."
— Jonathan Pearce as Big Nipper jostles with The Grim Reaper
In the process, Big Nipper lifted and pushed The Grim Reaper into the wall close to the Flame Pit, lifting its own rear end off the floor while doing so. It was briefly rammed by Growler while dodging a flip from The Grim Reaper; with the House Robot briefly trapping it between himself and Mr. Psycho. Undeterred, Big Nipper pushed Barbaric Response and Kan-Opener against the wall, the latter two still unable to separate themselves, and attempted to crush through Barbaric Response's flipper, but without success. It narrowly avoided the pit twice as it drove up Barbaric Response and was flipped once more by The Grim Reaper, but escaped, and rammed into The Grim Reaper yet again. Big Nipper was flipped one more time by The Grim Reaper, before both robots ended the battle with their weapons locked together. The subsequent Judges' decision ruled that Big Nipper and The Grim Reaper would go through, as a result of their aggressive and sustained performances.
In the second round, Big Nipper faced Jackson Wallop. Before the battle began, the team expressed confidence about its chances of winning, noting that Jackson Wallop's spinning weapon was mounted too high for it to reach and damage Big Nipper's body.
In the opening seconds, both robots slammed into each other, with Big Nipper pushing and chasing Jackson Wallop towards the wall. Backing away over the Flame Pit, it stayed away from Jackson Wallop as the latter hit Refbot, the wall and the pit release button, before pushing it into an angle grinder and forcing its claws underneath. Big Nipper released Jackson Wallop, before catching and pushing it towards Shunt; in the process, however, it momentarily stopped, allowing Shunt to strike its top armour a few times with his axe. Unscathed, it proceeded to push and drag Jackson Wallop around with its claws, dislodging one of the latter's tyres as it did so.
Big Nipper finally let go of Jackson Wallop as it manoeuvred the latter towards Shunt again, where Jackson Wallop was left spinning in circles and vulnerable to attacks from Dead Metal. Once Dead Metal finished causing damage to Jackson Wallop, Big Nipper proceeded to grab and push it into an empty CPZ, with Jackson Wallop's weapon damaging and getting caught in the entry gate panel. With Dead Metal eventually dragging, pushing and pitting Jackson Wallop, Big Nipper was declared the winner, and went through to the Heat Final.
"It's strange, Craig. Big Nipper have crept through almost unnoticed..."
— Jonathan Pearce prior to the Heat Final
There, it faced The Grim Reaper, the second time in which both robots fought together in the arena, with the winner earning a place in the series semi-finals.
Immediately, Big Nipper drove into The Grim Reaper and spun round, initially struggling to get its claws underneath before lifting The Grim Reaper and pushing it into a CPZ. It pushed The Grim Reaper again as both competitors avoided Sgt. Bash, all while carrying it across the arena until The Grim Reaper fired its flipper and rolled off its claws.
"Big Nipper is a kilo heavier than Grim Reaper... and is certainly starting this very well!"
— Jonathan Pearce as Big Nipper carries The Grim Reaper on its claws
The Grim Reaper flipped Big Nipper over twice in response, the second flip momentarily leaving it propped up against the wall in Cassius Chrome's CPZ. Both competitors locked together as Cassius Chrome intervened, with Big Nipper being pushed out sideways and pinned against the wall by The Grim Reaper. Big Nipper was simultaneously rammed by Cassius Chrome and flipped forwards by The Grim Reaper, getting caught by the latter's flipper in the process. It used its own weapon arm to lift itself and open The Grim Reaper's flipper up, although it was momentarily sandwiched between the latter and Cassius Chrome before the two competitors separated.
"...Big Nipper holding onto the arena side wall... like a wrestler holding onto the ropes..."
— Jonathan Pearce as The Grim Reaper puts Big Nipper under pressure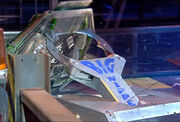 Seconds later, Big Nipper was flipped onto Cassius Chrome by The Grim Reaper, then over the Flame Pit and against the wall. After these flips, it drove away, and recovered to simultaneously lift and push The Grim Reaper back into the now-vacated CPZ. In doing so, Big Nipper turned The Grim Reaper onto its back against the wall, but was blocked by Sgt. Bash as The Grim Reaper righted itself and both competitors tried to drive out. As soon as they escaped, Big Nipper reversed into an angle grinder, then pushed The Grim Reaper into Sgt. Bash's CPZ a second time before lifting it again. For the remainder of the battle, it dodged The Grim Reaper, before lifting and pushing it into the wall one last time just before 'cease' was called.
"Pensive... dogged... wasteful! Big Nipper... I think is on top – not physically. I think they ended in the ascendancy, Judges. What do you think?"
— Jonathan Pearce as Big Nipper makes its final attack on The Grim Reaper
The Heat Final went to a Judges' decision, which after an extremely close battle, went in favour of The Grim Reaper due it being marginally more aggressive. This marked Big Nipper's elimination from the Seventh Wars, although both Craig Charles and Jonathan Pearce believed that it had finished the battle stronger.
"Poor old Big Nipper, couldn't get his jaws, around the grimmest of reapers, on Robot Wars!"
— Craig Charles' sign-off for Heat B, referencing Big Nipper's elimination
With Robot Wars being revived after twelve years off the air, Big Nipper returned for Series 8, upgraded and with its interchangeable weapon setup. Competing in Heat 3, it fought TR2, Or Te and Supernova in its Group Battle, the first time in which it used its new vertical disc weapon in combat.
Dara Ó Briain: "Are you gonna win this?"
Glyn Dawson: "Course we're gonna win it, it's the toughest robot here!"
Dara Ó Briain: "Even to itself? That's how tough it is!"
— Confidence from Team Titanium before Big Nipper's Group Battle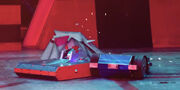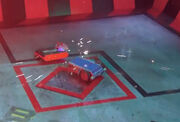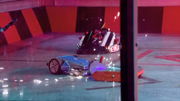 At the start, Big Nipper weaved and drove towards Or Te, slamming and pushing it into Supernova's disc. This attack knocked Or Te's link loose, immobilising it, with Big Nipper backing away and momentarily driving over the Floor Flipper. It and Supernova then drove into each other disc-to-disc, sending sparks flying; a second successive hit from Supernova knocked Big Nipper back as it retreated and pressed the pit release button. Unable to activate the pit, Big Nipper chased after TR2 and Supernova, eventually hitting the latter's disc twice more before TR2 scooped Supernova up with its flipper. It proceeded to slam into the side of TR2, but skidded sideways as it tried to turn, and almost backed itself into the pit. With three of its bottom wheels still on the floor, Big Nipper drove itself away, and progressed to the Head-to-Head stage after Supernova was angled by TR2 and ended up careering into the pit itself.
During the Group Battle, Big Nipper sustained severe damage to its disc weapon; both the arm and weapon shaft were left bent following the collisions with Supernova, causing the disc itself to seize up. As a result, Team Titanium elected to swap the disc for its claws ahead of its first Head-to-Head battle, against TR2.
"No one in charge, apparently, for Big Nipper."
— Jonathan Pearce before Big Nipper's Head-to-Head against TR2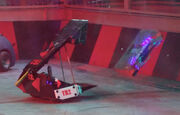 Immediately, Big Nipper slammed head-on into TR2 with its claws, backing away as it attempted to slip them underneath the latter's flipper. However, as it spun round, it exposed its side to TR2, allowing TR2 to push and throw it into the wall. Big Nipper sped away, but was collected by TR2 as it spun a second time, and launched into the wall and Dead Metal's pincers. It backed away and bumped into the wall as it escaped, but lifted itself over, allowing TR2 to nudge and flip it twice into Dead Metal's saw. Sparks flew as the saw hit Big Nipper's armour and claws - almost severing its removable link at one point - before Dead Metal spun Big Nipper away as it tried to lift him. Again, Big Nipper slammed head-on into TR2, but was unable to use its claws effectively as the two competitors spun round and attempted to get underneath each other. Eventually, the pit descended, with Big Nipper skidding towards and over the edge while driving away from Dead Metal's CPZ. Unable to escape, it was pushed in by TR2, and scored no points as a result of its first Head-to-Head loss.
"And the last moments of this... but Big Nipper are sure to go now! And down they go, and in the end, they made it easy for TR2!"
— Jonathan Pearce as Big Nipper is pitted
For its next Head-to-Head, against King B Remix, Big Nipper reverted to its disc, with Team Titanium being especially confident going into the battle.
"He's going home in a bin bag!"
— Graeme Dawson
At the start, it drove after King B Remix while the latter activated the pit, only to be slammed a few times by King B Remix and getting speared by an arena spike after driving over it. This allowed King B Remix to get underneath Big Nipper and push it towards the pit as the spike retracted, with Big Nipper almost driving disc-first into Dead Metal as it escaped.
"Get it started, get it causing damage! This is what we want to see... and I think it IS causing damage now!"
— Jonathan Pearce comments on the inactivity of Big Nipper's disc, just before it damages King B Remix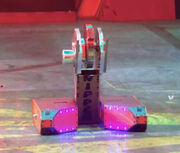 However, Big Nipper responded by clipping one of King B Remix's wheels, sending small chunks of plastic flying, before manoeuvring around the Floor Flipper and tearing into its back panel. The two robots pushed each other close to the pit release button and into an empty CPZ, with Big Nipper tearing more pieces of plastic off of King B Remix before throwing it into the air twice with its disc. The second hit knocked King B Remix's link loose, immobilising it, with Big Nipper celebrating by spinning around in the centre of the arena and lifting its disc arm, then itself.
"We really did want to do some damage to him, but his link came out before we got the chance to do the damage, really!"
— Glyn Dawson on their win
Having scored three points as a result of this knock-out victory, Big Nipper jumped to joint-second in the Head-to-Head table, equal on points with its final opponent, Dantomkia. A potential victory in this battle would enable it to qualify for a place in the Heat Final, along with points leader TR2, prompting Big Nipper to continue using its disc weapon.
"Hopefully with the mild steel he's got we should be able to get a good grip. Hopefully we'll trash him!"
— Glyn Dawson evaluates Dantomkia's armour ahead of Big Nipper's final Head-to-Head
At the start of the battle, both robots drove past each other almost immediately, with Big Nipper proceeding to drive up Dantomkia and allowing the latter to throw it off the floor. Big Nipper was then shoved into Sir Killalot's CPZ by Dantomkia, with the House Robot cornering and pushing it away as it sped into Dantomkia again. Dantomkia threw Big Nipper onto its back, but Big Nipper self-righted, only to drive itself into Sir Killalot's CPZ again seconds later. Sir Killalot picked Big Nipper up by its disc arm, holding it aloft up to the height of the polycarbonate panels, before dropping it over the Flame Pit.
"Killalot has them slammed. Killalot has them pinned. Killalot has them pinched. Killalot has them raised. He signals to the crowd - will it be thumbs down from the crowd?"
— Jonathan Pearce as Sir Killalot holds Big Nipper in his claw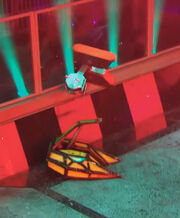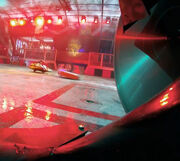 Big Nipper darted away, dodging Dantomkia before slamming into it disc-first. It drove round and attempted to damage Dantomkia's flipper with a second slam, but Dantomkia pushed it back into Sir Killalot, although Big Nipper was able to escape this time. Seconds later, Big Nipper charged into Dantomkia again, ripping its flipper plate off with the disc, but was in turn pushed into Sir Killalot's CPZ a third time, and momentarily pinned against the wall by Sir Killalot himself. It escaped after Sir Killalot accidentally got his lance stuck through the wall, and after being inverted, bumped into Dantomkia and righted itself over the Flame Pit. This allowed Dantomkia to push and flip Big Nipper against the wall and into the polycarbonate panels; Big Nipper was then pushed and sent spinning out of control into Dead Metal's CPZ. However, it escaped Dead Metal's grasp, and caused more damage to Dantomkia's flipper with another head-on slam. The two competitors bumped and chased each other around the arena in the closing seconds, with Big Nipper being pushed and slammed into Sir Killalot's CPZ again by Dantomkia just as the airhorn sounded.
"Oh, big slam, that! Massive slam! Bang! Smash! Crash, go the hopes and dreams!"
— Jonathan Pearce as Big Nipper damages Dantomkia in the closing stages
'Cease' was called, and the battle went to a Judges' decision. After a close clash which was particularly praised by Dara Ó Briain and Sethu Vijayakumar, the decision went unanimously in favour of Dantomkia, again leaving Big Nipper with zero points. With this, it finished third in the Head-to-Head round with a total score of three points, and was eliminated from Series 8.
"We ended up going too close to Sir Killalot a lot of times, so I think that made us lose, really."
— Graeme Dawson summarises Big Nipper's loss to Dantomkia
After only participating in Series 9 as an unused reserve, Big Nipper made its return in Heat 2 of Series 10. Its Group Battle saw opponents in the form of Series 9 champions, Carbide, and a fellow returnee from Series 8, Gabriel 2. For this fight, Team Titanium opted to outfit their lifting arm with a static wedge, as additional defence against the bar spinner of Carbide. However, the producers outlawed the use of this weaponry, and Big Nipper instead entered the battle with its vertical spinner equipped.
Graeme Dawson: "The last series, we were watching it on TV and I gave her our transmitter for the robot, and straight away she said: "Ooh, I'm driving that one!", and it was Carbide!"
Angela Scanlon: "Would you like her to be driving Carbide in the battle that you're about to go in to?"
Graeme Dawson: "That'd be alright, yeah!"
— Graeme Dawson's daughter is brought into pre-battle talk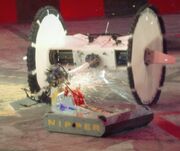 As Carbide and Gabriel 2 moved towards each other, Big Nipper backed into space to get its spinning weapon up to speed. Big Nipper was then approached by Gabriel 2 itself, and although it made contact with its disc, Big Nipper came off worse for wear from the meeting, with its top left wheel pulled out of position as a result of a bolt from Gabriel 2's entanglement device falling into Big Nipper, which lost drive on one side as a result. Big Nipper remained active for the time being though, using the gyroscopic effects of its weapon to edge across the arena and outside of its own circumference. Big Nipper then connected with a hit to one of Gabriel 2's wheels, sending the thwackbot into the Arena Tyre. Rogue House Robot mode was activated, with Big Nipper shoved to one side by Shunt after taking a hit on top from Gabriel 2.
"I think Big Nipper have gone. They're immobile - they're out."
— Jonathan Pearce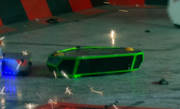 Shortly afterwards, Big Nipper came to a complete stop, and was counted out. An immobile Big Nipper then took a hit from Carbide in the remaining seconds of the fight, resisting the blade well, while both Carbide and Gabriel 2 survived to a Judges' decision. Gabriel 2 joined Big Nipper in dropping into the Robot Redemption round, with Carbide victorious.
Here, Big Nipper faced Crackers 'n' Smash after it finished second in its Group Battle against Eruption and Aftershock. Team Titanium opted to retain the spinning weapon for this battle.
In the opening moments, Big Nipper and Smash exchanged minor hits, before Big Nipper sent one of Crackers' entanglement devices flying. Big Nipper followed through on this attack with a drive on Crackers' into an unoccupied CPZ. After spinning away, Big Nipper charged into Smash, sending it into the other half of the clusterbot.
"Great controls and aggression from Graeme Dawson. There's more to come, I think, from Big Nipper - they're getting better and better."
— Jonathan Pearce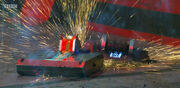 As a result of this hit, Smash had impaired mobility, so Big Nipper turned towards Crackers and tore away the other entanglement device atop the green machine. Big Nipper continued its assault on Crackers by buffeting it into Sir Killalot, where the House Robot parked itself on top of it.
"Really good start, here, by Big Nipper."
— Jonathan Pearce
With Crackers now occupied, Big Nipper turned its attention back towards Smash - using its spinning disc to force Smash back against the arena wall. Then, after repositioning itself to the side of Smash, Big Nipper came in with a gigantic blow, which sent Smash airborne. Smash's trajectory upwards was only stopped after it crashed into the lighting equipment above the arena, before it landed down into the trench below - eliminating Smash.
"That's one of the biggest flips we've ever seen in Robot Wars! Big Nipper showing they're a force to be reckoned with, and Smash is ejected out of that battle - goodbye!"
— Jonathan Pearce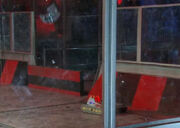 After its staggering hit, Big Nipper suddenly put itself into danger, as it tangled with Shunt and was lifted up by the Floor Flipper. Big Nipper regained its composure though, and then engaged with Crackers again, which although had freed itself from Sir Killalot, was suffering from mobility issues itself. Big Nipper bumped Crackers back into the CPZ, where Sir Killalot placed it over the Flame Pit. Crackers, unable to gain traction on the arena hazard, was subsequently counted out, and Big Nipper was able to celebrate freely in the centre of the arena.
Now into the Heat Semi-Final, Big Nipper was placed up against Eruption, with the team opting for the disc over the claws for a third time in a row. Before the fight, Team Titanium swapped out Big Nipper's titanium forks for wider aluminium mounts and titanium blades, which were made much sharper and lower in an attempt to negate Eruption's flipper.[5]
"We want to get underneath his flipper and hopefully rip it off. Then he's just a metal box on wheels - then we'll beat him easily."
— Graeme Dawson on tactics to beat Eruption
Both machines jostled for position in the opening seconds, before Big Nipper attempted to dart into space. However, in its drive away, Big Nipper caught itself on the Flame Pit, bending one of its front forks. After continuing to evade Eruption by darting through sparks ejected from the Arena Spikes, Big Nipper was flicked over by the flipper robot.
"They've been flipped, here, by Eruption, who have started the stronger."
— Jonathan Pearce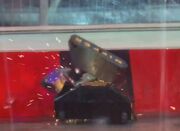 Unable to self-right quickly enough, Big Nipper was flipped again by the Series 9 runners up, although its spinner caused visible damage to Eruption's flipper on the landing. Big Nipper continued to be put on the retreat, and then found itself overturned by Matilda. In trying to put itself back onto the side where its forks were on the floor, Big Nipper activated the Arena Tyre, which signalled for the Fog of War. After vision was restored, Big Nipper ramped over the the of Eruption and back into danger with Matilda. With a tusk attack from the House Robot withstood, Big Nipper charged towards Eruption, crashing into its opponent. Another flip from Eruption soon after saw Big Nipper land on its front forks, bending them further.
"They've bent, haven't they - right from the first hit."
— Graeme Dawson on Big Nipper's front claws
Big Nipper then went on the retreat for a long period, with a minor flip from Eruption and a glancing hit from Big Nipper the highlights during this period. Eruption then hurled Big Nipper into an empty CPZ, before Eruption flipped itself over, as Big Nipper swiftly self righted before backing over and away from Eruption's weapon.
Lucy Rogers: "All he's doing is running away."
Noel Sharkey: "He's not getting a lot of points for aggression, for me - he's getting none, really."
— The judges discuss Big Nipper's approach as the battle is waged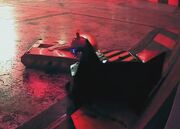 With Eruption still adjusting after self-righting, Big Nipper forced Eruption back against the arena wall with a drive. An Eruption flip was then followed up by another Big Nipper ram, but Eruption finished the stronger, with a succession of flips as the fight drew to a close.
"What a well-tolled machine this is - so well crafted, Big Nipper. Against the brute power of Eruption."
— Jonathan Pearce
With seconds remaining, Big Nipper was put under pressure by Matilda's flywheel as it attempted to right itself, before one final flip from Eruption was carried out as 'cease' was called. Big Nipper's efforts across the 3 minutes were not enough to convince the judges, with Eruption awarded a unanimous decision, sending it through to the Heat Final, while Big Nipper dropped into the Third Place Playoff.
After its loss to Carbide, Aftershock was Big Nipper's opponent, with the winner gaining a place in 10 Robot Rumble. Big Nipper matched Aftershock with its weapon choice, setting up a vertical spinner face-off.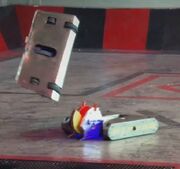 Big Nipper started aggressively, clipping Aftershock with its first drive, before digging into Aftershock's front wedge with its subsequent hits. Both machines remained in close with the other, before a massive collision between the two vertical spinning weapons sent both machines flying in opposite directions.
"How are they both still working!"
— Noel Sharkey after the massive collision between the two machines
After using its weapon arm to put itself the right way up and then skirting over a firing Floor Flipper, Big Nipper re-engaged with Aftershock. Big Nipper was then able to put Aftershock on the back foot, as it knocked it onto its back before a strong drive sent Aftershock clean over. Big Nipper continued its strong spell by hitting Aftershock's side panel, before one final blow sent Aftershock cartwheeling through the air and onto its back.
"This is good, controlled Big Nipper we're seeing out here - and we're seeing a beaten Aftershock, I think!"
— Jonathan Pearce as Big Nipper carries out its KO blow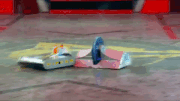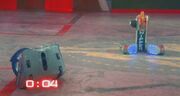 Aftershock's weapon had also ceased to function after this blow, and with it unable to self right, the robot that finished fourth in Series 9 was counted out. Big Nipper raised its arm upwards and spun around in delight, and its place in the 10 Robot Rumble was confirmed.
"Big Nipper, for me, was the more poised machine."
— Jonathan Pearce
In the 10 Robot Rumble, Big Nipper fought Apollo, Eruption, Sabretooth, Terrorhurtz, Track-tion, Iron-Awe 6, Concussion, Expulsion and Thor in one last-man standing battle. For this battle, Team Titanium elected to use its claws for the first time in this series, as it would offer the robot a much longer battery life when compared to its vertical spinner configuration.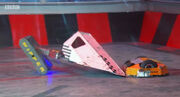 Big Nipper started the Rumble tentatively, backing away before pushing and throwing Expulsion onto its tool spinner. It drove up the side of Apollo just as Concussion dislodged Track-tion's right track, before turning round and attempting to prise Track-tion's track clean off, but without success. Big Nipper reversed and drove towards Thor; it then proceeded to pursue and lift Apollo using its claws, although not without lifting itself up in the process. This left Big Nipper vulnerable to a pair of attacks from Sabretooth, whose drum clipped one of its claws and threw it against the wall. Big Nipper levered itself off the wall using its arm, before dodging Apollo and driving into Concussion as 'Fog of War' was activated. It backed towards one of the entry gates, before driving into Sabretooth and Apollo; seconds later, Big Nipper drove into the side of the Series 8 champion again, shortly after the latter threw Iron-Awe 6 across the arena.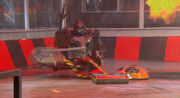 Avoiding the chaos, Big Nipper drove towards Eruption, helping Concussion steer the Series 9 runner-up into Terrorhurtz before lifting Eruption just as Sir Killalot intervened. It bumped into the entry gate while attempting another side-on slam on Apollo, before pursuing Eruption again and getting thrown onto the top of Iron-Awe 6 by the latter. Big Nipper turned and sped away as 'Rogue House Robot' was enabled, driving into and pushing Eruption into Thor as Michael Oates' machine threw itself over. It retreated into an empty CPZ to avoid Sir Killalot and Shunt, before chasing Concussion – dodging Iron-Awe 6 in the process - and getting slammed side-on by the latter as it attempted to charge into Thor. As 'Fog of War' activated again, Big Nipper and Concussion stopped in the centre of the arena, before driving into each other again as the 'fog' cleared.
"Sabretooth still rumbling around… Big Nipper with a big pinch there as well!"
— Jonathan Pearce as Big Nipper lifts Apollo over itself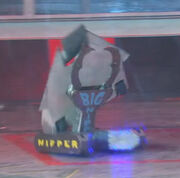 Big Nipper drove through an empty CPZ, before getting underneath and throwing Apollo over itself with its claws. Seconds later, it slammed into Eruption and Apollo again, sparks flying as its claws hit Sabretooth's drum in the process. Big Nipper avoided getting flipped by Eruption, before charging into Terrorhurtz and Concussion, lifting the former off the floor. It almost backed itself into the pit, before again lifting and dragging Terrorhurtz across the arena. However, Big Nipper got one of its claws stuck on the edge of the Floor Flipper as it drove away, allowing Shunt to leave his CPZ and strike it with his axe. Big Nipper escaped before driving into Apollo three more times and charging into Thor; however, Thor pushed it back into Sir Killalot's CPZ using its axe. It escaped quickly and attempted to lift Thor up in response; however, Big Nipper was swiftly attacked and pushed into Apollo by Sabretooth, sparks flying as its claws hit the former.
After bumping into Terrorhurtz, Big Nipper drove away towards Shunt, narrowly avoiding his axe in the process, before driving into Apollo and Terrorhurtz within seconds of each other. As it drove around the pit, it dodged Thor, only to drive up Eruption's flipper; Sir Killalot proceeded to push Big Nipper and Eruption into the Arena Tyre mount, triggering 'Rogue House Robot' once more. Big Nipper struggled to drive away as Sir Killalot continued attacking Eruption, but shot across the arena and bumped into Apollo and Thor. It proceeded to lift and push Eruption towards Sir Killalot seconds after the latter threw Terrorhurtz into him, but was intercepted by Thor and pushed towards the pit.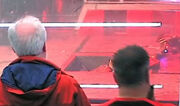 One of Big Nipper's wheels hung over the edge as Thor slid itself in, leaving it unable to drive away properly. Eruption capitalised on its predicament by gradually bumping and pushing it fully into the pit, eliminating Big Nipper from the 10 Robot Rumble. Defeated, Big Nipper levered itself fully in with its arm and attempted to climb out with it just after 'cease' was called, but its campaign during the main competition of Series 10 had drawn to a close.
Big Nipper was also invited to represent the United Kingdom during Robot Wars: World Series. In its first battle, it faced two representatives of Team Rest of the World, the Russian entry Weber and Dutch entry THE BASH. Big Nipper was equipped with its claws for the entire World Series special, and began this fight in the CPZ, while its partner Eruption started the fight for the UK.
Mark Lumb: "If we can get hold of one of them we'll bring them back to you..."
Michael Oates: "...and then we can double-team them!"
— Team UK's plans for their first battle of the episode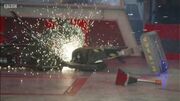 Despite being out of the action in the opening period, Big Nipper still aimed to affect proceedings, as it attempted to lift Weber as it entered its CPZ. Despite not succeeding in this attack, Big Nipper entered the fray soon after, and brought its front claws into play on the immobile THE BASH. In trying to save its teammate from further punishment Weber flipped THE BASH away from Big Nipper's clutches - although in doing so turned the Dutch machine over. Big Nipper used this opportunity to edge THE BASH into Dead Metal's CPZ, where the House Robot sent sparks flying from the rear of the beaten machine. Just like seconds earlier though, Big Nipper found Weber in at close quarters when it attempted to attack THE BASH, with Big Nipper's backside flicked upwards by the Russian flipper as a result.
"Get us off it now!"
— Graeme Dawson orders Mark Lumb to turn focus towards Weber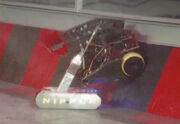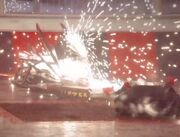 After wriggling itself loose from THE BASH, Big Nipper focused its full attention on Weber. Following an initial jostle, Big Nipper drove Weber across an unoccupied CPZ and pressed it up against the arena wall. Big Nipper then raised its claws which were already underneath Weber's flipper panel - thus allowed it to lift Weber into the air temporarily. Despite the Russian machine coming back down and then pulling a wheelie to move away, Big Nipper remained in hot pursuit. A swift backwards manoeuvre then saw Big Nipper evade an attempted Weber flip, before Big Nipper decided to tag Eruption back into play. In its time back out of the action, Big Nipper missed out on some action involving the two active competing machines with Dead Metal. This prompted Big Nipper to join the fight again, even though it wasn't tagged. Despite being flicked slightly by Weber, this proved to be the Russian robot's last real involvement, as a strong Eruption flip left Weber beached on its back, unable to self-right. The two opponents were beaten, and Big Nipper and Eruption turned on Dead Metal, with Big Nipper's claws getting jammed into the front of the House Robot. A hail of sparks followed as Dead Metal attempted to throw Big Nipper aside, before cease was called, with Team UK opening up the episode with 3 points.
"Well I think this is showboating. I don't think this is necessary - it's good fun to watch!"
— Jonathan Pearce as Team UK turn on Dead Metal
Big Nipper's Head-to-Head fight saw it face Canada's Robot Wars veteran Terror Turtle, with Big Nipper's claws the weapon of choice again.
Michael Oates: "So you guys have got Terror Turtle next. Should be fairly okay, I would've thought."
Graeme Dawson: "I don't know, it's got a nasty spinner on the front of it."
— The Big Nipper captain remains cautious ahead of his robot's Head-to-Head fight
An instant head-to-head slam between the two saw Terror Turtle's front-left panel pealed outwards. Big Nipper then squeezed its claws inside Terror Turtle and attempted to drive it back. Despite its initial attempt at this overbalancing Big Nipper, Graeme Dawson readjusted his machine to accelerate Terror Turtle into the CPZ. As it completed its drive, Big Nipper darted over the Arena Spikes, which churned harmless sparks. However, on the other side of the flash was Matilda's flywheel, which clattered into Big Nipper. This sent its entire top-left panel flying and ruptured Big Nipper's lithium polymer batteries, causing the machine to catch fire.
"Terror Turtle's been done to pieces, to be honest, but what's happened here to Big Nipper? I think the four packs of lithium-polymer batteries could be on fire!"
— Jonathan Pearce during a chaotic opening few seconds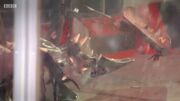 A flip from Matilda followed, which left Big Nipper's electronics dangling out from its body. Thankfully for Big Nipper, Terror Turtle had ceased to function during the House Robot attack, and although Big Nipper was stunned it was still functioning. Big Nipper's began to smoke during Terror Turtle's countdown, but was still able to see things through, and racked up another 3 points for Team UK. Ultimately, Team UK won the episode overall by a margin of 16-3.
BIG NIPPER - RESULTS
Series 5
The Fifth Wars - UK Championship
Heat, Round 1
Heat K, Eliminator
vs. Razer (4)
Lost
Series 7
The Seventh Wars - UK Championship
Heat Final
Heat B, Round 1
vs. Barbaric Response, Kan-Opener, The Grim Reaper
Qualified
Heat B, Round 2
vs. Jackson Wallop
Won
Heat B, Final
vs. The Grim Reaper
Lost
Series 8
Series 8 - UK Championship
Round 2, Third Place
Heat 3, Group Battle
vs. Or Te, Supernova, TR2
Qualified
Heat 3, Head-to-Heads
vs. TR2
Lost (0 points)
Heat 3, Head-to-Heads
vs. King B Remix
Won via KO (3 points)
Heat 3, Head-to-Heads
vs. Dantomkia
Lost (0 points)
Series 10
Series 10 - UK Championship
Heat, Third Place
Heat 2, Group Battle
vs. Carbide, Gabriel 2
Lost
Heat 2, Robot Redemption
vs. Crackers 'n' Smash
Won
Heat 2, Semi-Final
vs. Eruption
Lost
Heat 2, Third Place Playoff
vs. Aftershock
Won
10 Robot Rumble
vs. Apollo, Concussion, Eruption,
Expulsion, Iron-Awe 6, Sabretooth,
Terrorhurtz, Thor, Track-tion
Lost
World Series, representing the UK
Winner, as part of Team UK
Episode 2, Tag Team
vs. THE BASH & Weber
Won via KO (3 points)
Episode 2, Head-to-Head
vs. Terror Turtle
Won via KO (3 points)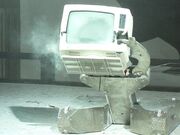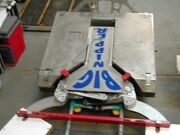 Following Robot Wars' initial cancellation, Big Nipper achieved considerable success in live events held during the show's hiatus. While maintaining a similar appearance to its Series 7 form, it underwent a series of upgrades and modifications to its wheels, internals and armour. Notably, it used S28-400 Magmotors for its drive and weapon systems – increasing its pushing and lifting/crushing power considerably - and adopted aircraft-grade titanium armour to withstand attacks from damaging opponents.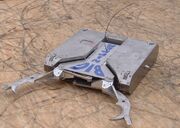 Immediately after it competed in Series 7 of Robot Wars, Big Nipper competed at the 2004 UK Championships, where it finished in third place. Along the way, it picked up Ewe 2 and carried it out of the arena, before losing its semi-final to Mute. Nevertheless, Big Nipper won the third place play-off in a rematch with Ewe 2 with a second lift and charge which dumped Ewe 2 out of the arena. Big Nipper also competed in the 2005 Winter Tour, winning against the likes of Ripper and Chompalot[6], but did not achieve a podium finish.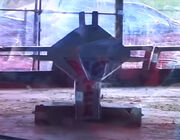 Big Nipper also competed in the 2006 UK Championships where it was able to win its heat with back-to-back pittings against Weird Alice and Edge Hog, despite being thrown out of the arena by Hades in its opening battle. Big Nipper advanced to the knockout bracket and used a new defensive plough with smaller static claws to fight against Scorpion, with the teeth of the opposing horizontal spinner shearing upon impact and breaching the arena, landing in a nearby field[7]. This resulted in all heavyweight spinners being prohibited from live events until Extreme Robots built their new arena in 2017. Regardless, Big Nipper advanced to face PulverizeR in the quarter-finals which it won with a quick stranding, before Turbulence finally threw Big Nipper out of the arena to eliminate it in the semi-finals. Big Nipper did however win the third place play-off in a rematch against PulverizeR, to earn another third place finish.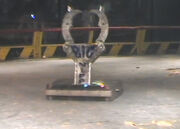 After two third-place finishes, Big Nipper was able to win the UK Championship outright in 2007, defeating Beast, Leveller 2 and Iron-Awe 5 along the way before immobilising Terrorhurtz in the Grand Final to earn the UK title for the first time. Big Nipper could not defend its title in 2008, but still finished with another third place position, defeating Leveller 2 and Tiberius along the way. It finally lost its semi-final to the eventual champion Iron-Awe 5 after being pitted, but defeated Ripper Evo in the third place play-off. In 2009, Big Nipper performed well on the live circuit as usual with wins over machines such as Kan-Opener, while the championship for that year saw it finish in fourth place after losing control against Terrorhurtz in the semi-final. Big Nipper continued to compete at live events over the next two years, although it did not achieve a podium finish at any championships until 2012.
Big Nipper's second victory in the FRA UK Heavyweight Championship took place in 2012, joining a very select few robots to win the title more than once. It won its opening melee almost immediately, after Iron-Awe 6 flipped itself over and broke its bungee cords, while Big Nipper trapped Behemoth behind the beaten Iron-Awe 6 for a knockout win. This put Big Nipper through to the quarter-finals where it won a very close battle over Iron-Awe 5, and then convincingly defeated Toxic 2 in the semi-finals. Although Maelstrom was initially leading the Grand Final, Big Nipper was able to bite through a gap in its flippers, hold the machine upright, and drop it into the pit for a knockout victory of the UK championship.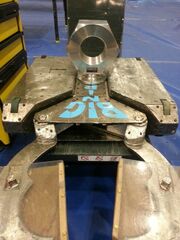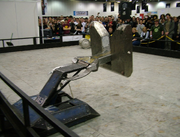 In 2013, Big Nipper became the holder of the Robots Live! Challenge Nut, and won the Tag Team competition alongside Kronic, beating Meggamouse and Maelstrom in the final. Big Nipper returned to the UK Championship in 2014 where it won its opening three-way melee over Iron-Awe 5 and Titan, and eliminated Behemoth in the quarter-finals, before succumbing to Eruption in the semi-final after being flipped into the arena wall, where Big Nipper's claws held it in place and allowed Eruption to throw it out. Big Nipper settled for fourth place after a final defeat against Manta.
After a three-year break, Big Nipper returned to the live events circuit in April 2017, with additional upgrades to its tyres, weapons and drive systems. That month, it competed at the Robots Live! event in Burgess Hill and at the inaugural Extreme Robots event in Manchester, participating in several battles with varying degrees of success, including one win and one loss against Gabriel in four-way melees. For Burgess Hill, Big Nipper still retained orange colours from Series 8, while it returned to its signature grey design for Manchester, two weeks before Series 10 was filmed.
After Big Nipper's final battle on Robot Wars was concluded, the team repaired the robot's battery damage, but did not compete at another event with the machine after this. Team Titanium brought Big Nipper to Robonerd in August 2019, still flying the Union Flag spray-paint seen in the World Series, where the team also confirmed that Big Nipper had formally retired.
Team Titanium have also built and competed in live events with the following featherweight robots:
Little Spinner: A featherweight armed with a spinner, active around the time of the original Robot Wars run.
Little Spinner 2: Also known as Buzzbar, a invertible blue T-shaped robot armed with a yellow undercutting blade.
Little Spinner 3: A blue circular-shaped full-body spinner with yellow side stripes.
Little Spinner 4: A silver circular full-body spinner with large silver blades.
Little Hitter: Formerly known as Blue, a box-shaped robot with a front wedge and an axe, which won the 2004 UK Featherweight Championships.
Little Hitter 2: A wedged box-shaped robot armed with a axe.
Little Hitter 3: Another wedged box armed with a axe, with a more angled body.
Little Hitter 4: A further update to Little Hitter, with a greater emphasis on machined parts. By this time, a previous version of Little Hitter was now modified to compete as No Toy.
Little Flipper: A featherweight robot armed with a flipper.
Little Flipper 2: A wedge shaped robot armed with a flipper, featuring a crescent moon painted on one side.
Little Flipper 3: A low wedge-shaped robot armed with a flipper, which won the 2011 UK Featherweight Championships.
For the 2015 UK Featherweight Championship, Team Titanium built a four-wheel driven hydraulic crusher named Little Nipper, with a heavy emphasis on CNC machined parts. It achieved fourth place after being knocked out by Beauty 2 in the semi-final. Team Titanium sold Little Nipper to Shane Swan in 2017 so that his teammate Anthony Murney could enter it into the planned featherweight championship of Series 10, although following the cancellation of the event, Little Nipper was sold on again to its current owner Tony Booth.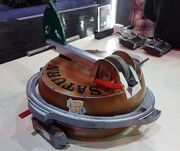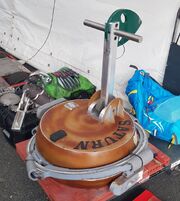 In 2018, Team Titanium competed in This is Fighting Robots, a spin-off of the Chinese TV show King of Bots, with a robot called Saturn, the team's second heavyweight. Saturn features a compact circular chassis, and is armed with an electrically driven axe, and a rim spinner surrounding the robot's outer body, representing the rings of Saturn. It advanced to the main bracket after being selected by Zhang Yishan to join his team, having caused considerable damage to 008 and Xiake during its preliminary battle. In the main competition, it fought Megabyte and Golden Hoops, but after a huge impact between Saturn and Megabyte, the British machine was rendered immobile. Saturn remained in the competition for the Tag Team round, but was split from its base by Red River Hong, eliminating Saturn from the competition. Saturn also accompanied Big Nipper at Robonerd in August 2019.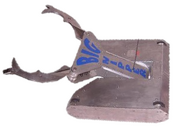 Although a regular and competitive entrant at other live events, Big Nipper made only one appearance at a Robot Wars-branded live event, at the 2013 event in Widnes. There, it fought in the main competition, fighting Turbulence, Maelstrom and Rattler in its heat. After only managing to turn Rattler over once, and spending much of the battle getting flipped around by Maelstrom, Big Nipper lost the heat on a judges' decision, and was eliminated early on from the competition. After this event, Big Nipper upheld exclusivity at Robots Live! events until the Robot Wars live events were rebranded into Extreme Robots, where Big Nipper returned to John Findlay's competition.
Despite having a similar name, Big Nipper was not related to the antweight competitor, Little Nipper.
Big Nipper is one of five robots to have won the UK Championship twice, doing so by winning the 2007 and 2012 FRA UK Heavyweight Championships during the show's hiatus. The others are Chaos 2 in Series 3-4 of the original Robot Wars, and Terrorhurtz, Iron-Awe 5 and Eruption in other FRA-sanctioned competitions.
In the original era of Robot Wars, Team Titanium were known as Team TMT.
All of Big Nipper's losses involved a robot that had or would make the semi-finals or Grand Final of a UK Championship.
In Series 7, Jonathan Pearce stated that Big Nipper had an interchangeable scoop along with its lifter/crusher; however, this weapon was never actually used for any of its televised battles in that series.
In Series 7, Big Nipper also featured a mascot in the form of a soft toy crab, which was seen on top of the robot while it was in the Pits, but not mentioned.
Big Nipper is one of three robots, the other two being Behemoth and Sabretooth, to compete in both era of Robot Wars and have a superior win percentage in the reboot (54.5% in the reboot compared to 50% in the classic era).
Big Nipper was eliminated from its first and final series by the eventual champion, losing to Razer in Series 5, and twice losing to Eruption in Series 10.
At filming for Series 10, the robot was referred to only as 'Nipper' by various sources, a mistake made as the word 'Big' no longer fit on the robot when it was outfitted with its vertical spinner.
Big Nipper is one of four robots to flip another out of the arena without reaching the heat final in the same series, along with Eruption, Behemoth and General Carnage 2, and the only one of the four to do so using a vertical flywheel.
In 2007, Big Nipper received an Honorable Mention in The Combat Robot Hall of Fame, in honour of its lifting/crushing weapon, durability and performances in live events held during Robot Wars' hiatus.[8]

Community content is available under
CC-BY-SA
unless otherwise noted.