"And death came on many legs with a wicked taste for good curry..."
— The team's slogan from the Binky website[1]
Binky was a heavyweight robot, which competed in Series 3, as a substitute robot for Daisy, which broke down and was unable to participate in the battle. Binky lost in the first round against Aggrobot, and never returned.
Design
[
]
"It's a 80cc scooter motor, stuck into the simplest design we could make, to make it into a robot. It does 360 degrees around the turret and it does 50mph."
— Phillip Saville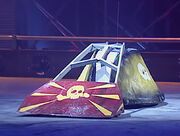 Binky was a long, drum shaped robot with a huge "battle sled" as its weapon so that the robot could turn at 360 degrees around the turret. It had a Kevlar bodyshell and cost £400 to build. The motors were given to the team by the Havoc team.[2]
Although it was rather sluggish in its only appearance, Binky was reportedly capable of travelling 50mph, the fastest in the series, due to its 80cc Scooter engine for power, and 12-wheel drive. Binky was also one of the largest robots that participated in Series 3 of Robot Wars.
Robot History
[
]
Series 3
[
]
"Binky has been brought in from the substitute's bench, with plenty of time to prepare."
Binky originally failed to qualify for Series 3, but was still used as a reserve robot for the series, and after Daisy was forced to withdraw due to mechanical failures, Binky was brought in at the last minute.
"Well, don't "blinky", you might miss Binky! Powered by a scooter engine, cost £400 to build with a nose axe and battle sled as weaponry and a Kevlar body shell."
— Jonathan Pearce on the armament, power and weapon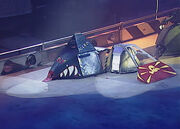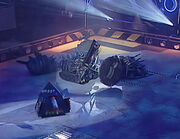 In the first round of Heat C of the Third Wars, Binky was placed up against fellow newcomer Aggrobot, another very large robot. In the battle, Binky's body allowed it to weather Aggrobot's spike attacks, but then Binky broke down after being struck by an arena spike. Binky was then attacked by the house robots until cease was finally called, and was eliminated from the competition.
"Binky was made to look dinky, with a severe case of agoraphobia!"
— Craig Charles on Binky's loss
Results
[
]
BINKY - RESULTS
Series 3
The Third Wars - UK Championship
Heat, Round 1
Heat C, Round 1
vs. Aggrobot
Lost
Wins/Losses
[
]
Series Record
[
]
Trivia
[
]
The team decided to enter Robot Wars after seeing the first series, but it wasn't until the time of Series 2 they had the money to start building Binky.[3]
External Links
[
]
References
[
]