"It had a petrol powered grinding blade at the front, a cardboard sheild and a mean stare."
— The S.M.I.D.S.Y. website on Black Knight
Black Knight was a competitor robot from Doncaster that failed to qualify for Series 5 of Robot Wars. It was defeated in its qualifier by veteran competitor S.M.I.D.S.Y. and Series 5 newcomer Derek, and ultimately never appeared on the show.
Design
[
]
Black Knight was a green, two-wheeled, rectangular box-shaped robot featuring a model of a knight in black armour on its top. The knight held a brown lance and a black shield with a white cross and the number 3 written on it, while the robot itself was armed with a petrol-powered grinding blade. The robot took just eight days to build, and suffered from exposed wheels and a lack of self-righting mechanism.
Qualification
[
]
"Everyone's friendly, the guy with Black Knight (another Steve Parker from Doncaster!) says he doesn't mind being trashed, we agree a plan with Derek for us to hold the knight's head in SMIDSY's Jaws whilst they cut it up."
— The S.M.I.D.S.Y. website on Black Knight's qualifier
Black Knight attended the Sheffield leg of the qualifying tour. Black Knight fought Derek and S.M.I.D.S.Y. in the Series 5 qualifiers. With its owner Steve Parker agreeing to let its opponents severely damage Black Knight, it was attacked by S.M.I.D.S.Y. and Derek in the opening moments, before being finished off by Shunt as S.M.I.D.S.Y. immobilised Derek with its disc. While Derek would appear in Series 5 along with S.M.I.D.S.Y., Black Knight failed to qualify, and neither it or its team attempted to apply for any subsequent series.
Series Record
[
]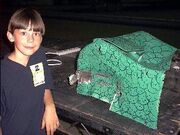 References
[
]