Bloody Murder Weapon was a competitor robot that fought in Series 2 of Dutch Robot Wars. It only reached the second round in its only appearance, beating Infinity before losing out to Gravity.
Bloody Murder Weapon was a box-shaped robot painted red and yellow, and armed with a black spinning frame with four spiked blades which protected the robot as with a full-body spinner. A pole was stuck out in front of the robot to help the team steer it properly. Despite its spinning weapon looking potent, it failed to work in either of its battles, which contributed to Bloody Murder Weapon's eventual defeat in the second round of its Heat.
Bloody Murder Weapon was entered into the series by a Dutch team known as Team Demon. The team was captained by Martin Heg, who was joined by Jasper Staadehaard and Henk-Willem van Meerveld.
Robot History
Edit
Dutch Series 2
Edit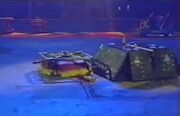 In its first round battle, Bloody Murder Weapon had an easy victory over Infinity, despite being unable to spin up its weapon throughout the course of the battle. Infinity broke down almost immediately, with Bloody Murder Weapon pressing the pit release button as the House Robots proceeded to attack the immobilised Infinity.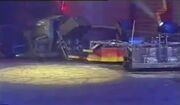 In the second round, Bloody Murder Weapon faced WJ Dijkstra's Gravity. Its spinning frame once again failed to work properly, allowing Gravity to chase it and shove it into Growler, who rammed Bloody Murder Weapon against the wall.
"This is a high speed chase!"
— Eric Corton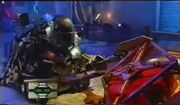 Bloody Murder Weapon got away, only for Gravity to pursue it again and push it into Growler again. It eventually found itself in another CPZ, before escaping from Sir Killalot and pressing the pit release button. Bloody Murder Weapon continued running away from Gravity, until Gravity caught up again and pushed it onto the Flame Pit. Gravity then rammed Bloody Murder Weapon into Sir Killalot again, who this time grabbed, spun and threw Bloody Murder Weapon across the arena as time ran out. The jury's decision went in favour of Gravity, eliminating Bloody Murder Weapon from the series.
Wins/Losses
Edit
Series Record
Edit
| Dutch Series | Bloody Murder Weapon Series Record |
| --- | --- |
| Series 1 | Did not enter |
| Series 2 | Heat, Round 2 |
Bloody Murder Weapon shares a parallel with Cyclone, as both robots reached the second round of their heat in Dutch Robot Wars due to their first opponent breaking down immediately, despite their own spinning weapons failing to work in either of their battles.
Community content is available under
CC-BY-SA
unless otherwise noted.