"Straight in, straight out"
— The team's motto
Bodmin Community College was a successful team from the Cornwall-based college which competed in the first three series of Robot Wars.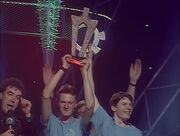 The team was made up of Hender Blewett and Chris Kinsey, who were Systems & Control students at the college, and Peter Kinsey, who was their teacher.
"In May '97 Hender Blewett was considering various options for his A-level Technology project. At a loss for inspiration, he was just about stuck when, as if by fate, a letter arrived on the desk of the Head of Technology, Peter Kinsey. This letter was the key to what was to become an epic venture. It contained information about Robot Wars in the US and an application form for the up and coming British Robot Wars TV series. Hender was excited by the prospect and a team of three of the finest minds in Bodmin was quickly formed to challenge the rest of Britain in a battle to the death."
— The team's website on entering Robot Wars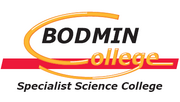 The team competed on the show with two very similar robots; Roadblock, the Series 1 champion which also finished third in Series 2, and Beast of Bodmin, which reached the second round of the Semi-Finals in Series 3. Both were simple wedge-shaped robots with rear-mounted circular saws, and would usually win their battles by tipping opponents over or pushing them around the arena using their wedges.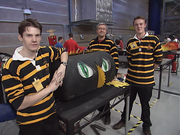 Despite their success in the first three series, the Bodmin Community College team did not return after Series 3 due to commitments outside of Robot Wars. Peter Kinsey left to become a supply teaching consultant, while Chris Kinsey and Blewett were busy studying at university, so they did not enter Series 4 and ultimately retired from competition.
Wins/Losses
Edit
Series Record
Edit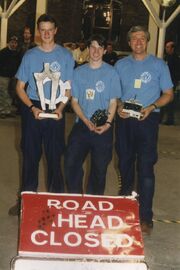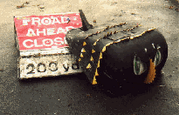 In Series 1, Hender Blewett's name was incorrectly spelt as 'Hender Blewitt' on Roadblock's statistic board.
The team was one of only three semi-finalist teams from Series 2 (along with Mace and Panic Attack) to also make the semi-finals of Series 3. All three fell in the second round of the semi-finals.
Community content is available under
CC-BY-SA
unless otherwise noted.