For the Series 2 competitor from Team UK Robotics, see Rottweiler.
Bottweiler was a super heavyweight robot that appeared in Series 2 of Robot Wars. It competed exclusively in the Super Heavyweight Championship, also known as the Super Showdown, but lost its qualifier to Demon Duck, which was only partially shown on television. The robot's name was a pun on 'rottweiler', a breed of dog.
Southampton University also attempted to enter Series 3 with a new version of Bottweiler (spelt Botweiler) and RC Bandit[1]. However, neither robot was selected to compete in that series.
Versions of Bottweiler
Edit
Bottweiler
Edit
Bottweiler was a yellow and black, six-wheel drive robot designed to resemble a bulldozer, and equipped with a front scoop for pushing and ramming opponents around the arena. It was originally armed with a cutting disc at the front, but the disc was replaced with the scoop after it broke before the robot was due to fight. The scoop itself was provided to the Southampton Masters Engineering Group by the Robot Wars production crew.
Botweiler
Edit
The Southampton Masters Engineering Group later attempted to enter a new version of Bottweiler (spelt Botweiler) into Series 3, removing the robot's top armour in order to make it invertible and light enough to be classified as a heavyweight. It also featured a new weapon - a cutting disc mounted on a movable arm - but retained the original robot's six-wheel drive. However, for currently unknown reasons, it was not selected to compete in Series 3 along with the team's other heavyweight RC Bandit.
Robot History
Edit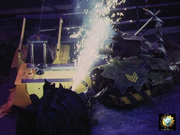 Bottweiler competed in the Super Heavyweight Championship, and fought Soc'em and Demon Duck in its qualifier. It immediately bulldozed Soc'em into the PPZ, immobilising it instantly as Soc'em's spikes got impaled on the wall, before colliding with Demon Duck.Citation? After spending a long time attacking each other, Demon Duck eventually shoved Bottweiler into the PPZ, both robots being pinned against the wall as they were attacked by the House Robots. Demon Duck escaped, albeit losing its scoop and having its top armour damaged by Sir Killalot in doing so, but Bottweiler became immobilised, smoking as Shunt and Dead Metal attacked it. Demon Duck would ultimately win the qualifier and proceed to the Super Showdown despite taking more damage from Sir Killalot, while Soc'em ended up in the pit and Bottweiler was dragged across the arena by the other House Robots.Citation? As a result, Bottweiler was eliminated from the Super Heavyweight Championship.
Wins/Losses
Edit
Series Record
Edit
References
Edit
External Links
Edit
Community content is available under
CC-BY-SA
unless otherwise noted.