"From Essex, each member of this team is highly interested in a future in Engineering and study a combination of Maths, Design Technology and/or Physics - building the robot in their Design Technology teachers robotics club."
— The Robot Wars website on the team in Series 9
The Brentwood School Roboteers were a team of teenage students who entered Series 9 and 10 of Robot Wars with their robot Expulsion. Despite an early exit in Series 9, the team finished in third place during their Series 10 heat, and qualified for the 10 Robot Rumble.
The Team
[
]
Expulsion was entered by the Brentwood School Roboteers, named to reference their sixth form in Essex, Brentwood School. All of the televised team members in Series 9 and 10 were students at the school, all of whom were part of an extracurricular roboteering club, which funded Expulsion and provided a workspace to build both versions of the robot.
"I am so proud of our students – the team only built their first robot less than a year ago! Before this, they knew nothing about robotics and had to research the subject before they were able to start building a fighting robot."
— Thomas Walland[1]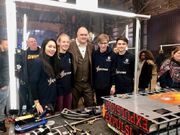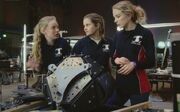 The project was led by the students' Design & Technology teacher, Thomas Walland, the only member of the team to not be a student himself. Thomas Walland was not a televised member of the team, but was present at filming to aid the students with their project, and provided a consulting role, also speaking on behalf of the team in local press stories. Thomas Walland's goal with creating Expulsion alongside his students was to inspire other young students to build robots, with particular respect to increasing the number of female roboteers in competition.
"The number of students now involved in robotics is remarkable and we hope that our school's team will further inspire students around the world to get into robotics – especially girls."
— Thomas Walland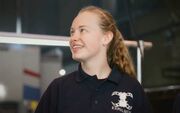 The goal of Thomas Walland was achieved in part thanks to Expulsion's team captain, Georgina Henwood, one of the few female team captains in Robot Wars. As the captain of the team, Georgina Henwood was the lead speaker of the team during interviews, and was also the only member of the Brentwood School Roboteers to be part of the televised team in both Series 9 and 10. Henwood was capable of repairing and maintaining Expulsion, and was also the robot's driver in both of its series.
"Team captain Georgina is the driving force behind the team, and arguably knows as much if not more about robotics than her teacher."
— The Robot Wars website on Georgina Henwood in Series 10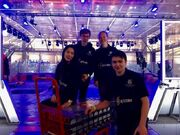 In Series 9, Georgina Henwood was joined on the televised team by Henry Wenham, who the Robot Wars website listed as the "chief engineer" of Expulsion, alongside Nicole Guo, the "chief physicist", and Ethan Goodbody, the design engineer. Georgina and Henry were aged 17 at the time, while Nicole and Ethan were aged 16.
"The young team, all pupils studying Design Technology, Physics and Mathematics, go up against some of the UK's finest engineers. What they lack in age, experience and budget, these budding engineers certainly make up for in tenacity and cutting-edge invention."
— Brentwood School report on the team for Series 9[2]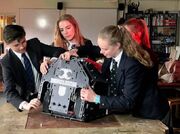 In Series 10, Georgina Henwood (now aged 18) was joined by three new team members, Rebecca Ashford (aged 16), Harry (aged 15), and Juliette Skilling (aged 14), who drove Detention during Expulsion's first-round battle. While the Series 9 team had an even split of two male roboteers and two female roboteers, the Series 10 roster was now primarily female, enforcing Thomas Walland's vision, which eventually led to the Brentwood School Roboteers consisting of an all-female lineup in the Chinese TV show King of Bots.
"The students in both teams have shown enormous dedication to the Robot Club – spending as much time as they can at the weekend and during their holidays designing and building robots. Not only have they been invited back to feature on another series of Robot Wars but they have also received this invitation to go to China to compete on an international platform."
— Thomas Walland on the dedication of the young roboteers[3]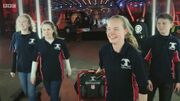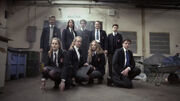 Although the televised teams in both series consisted only of four team members, for a total of seven televised team members across both series, the Brentwood School Roboteers consisted of at least eleven students by the end of Series 10, plus the teacher Thomas Walland, and at least eight of the students were present in the pits for Series 9. Nine students were also featured in a televised shot during Expulsion's VT in Series 10. The students who worked on Expulsion without competing on one of the televised teams included Sabrina Skilling, James Cromarty, Ruben Wantling, and Henry Rappolt.
"Chief Physicist Nicole Guo and Chief Designer Ethan Goodbody, both aged 16, completed the four-man Expulsion team which was ably supported by a sub-team of Ruben Wantling (Design Engineer), Sabrina Skilling (Engineer), Rebecca Ashford (Designer), James Cromarty (Weapons Coordinator), and Henry Rappolt (Robotic Engineer)."
— Brentwood School report on some of the untelevised members of the team at the time of Series 9[4]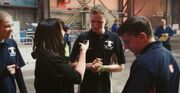 Additionally, the team's coach driver also featured on the televised broadcast of Expulsion's heat in Series 10, after Angela Scanlon escorted her to the Brentwood School Roboteers in the pits, where the coach driver cried tears of joy at the schoolchildren qualifying for the 10 Robot Rumble.
Notably, not long after Series 10 aired on television, Georgina Henwood completed her studies at Brentwood School and advanced to university. In the event of an eleventh series taking place in 2018, the Brentwood School Roboteers had decided on a new team captain who would have fulfilled Henwood's role, if Expulsion were to return. However, no such series would ultimately be commissioned.
Robots
[
]
| Name | Weight Class | Series |
| --- | --- | --- |
| Expulsion | Heavyweight | Series 9-10 |
Wins/Losses
[
]
Series Record
[
]
Outside Robot Wars
[
]
Aside from Expulsion, the team built a second robot, Suspension, a 70kg robot armed with a set of rear flails shaped into the letters of Suspension's name. It made its live events debut at the Robots Live! event in Burgess Hill, where it was thrown out of the arena by Weird Alice in one battle and immobilised in another against Eruption and Big Nipper. Later in the same month, Suspension competed at the same Extreme Robots event as Expulsion, managing to pick up a combat win.[5]
In September 2017, a new version of Suspension fought with a broad front wedge and loose chains at the rear to allow sit-and-spin tactics while spinners were still deemed unsafe at live events. It fought at Extreme Robots in Colchester but lost group battles to Cyclone twice, TR3 twice, Eruption, Behemoth, Meggamouse, and Iron-Awe 5 respectively. The original version of Suspension became known as Internal Suspension, but was thrown out of the arena by Eruption, while the new incarnation of Suspension would appear on Chinese television.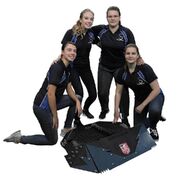 Four members of the Brentwood School Roboteers competed with Suspension in the first season of the Chinese TV programme King of Bots, aiming to represent female engineers with the ultimate goal of becoming "Queen of Bots"[6]. The robot was now equipped with a lifting wedge, the type previously used by Stinger: The Killer Bee and Wyrm, as well as a flamethrower located immediately behind the wedge. In this form, Suspension reached the second round after defeating WU66 by knockout through resisting its spinner, although it was immobilised after a long battle with Greedy Snake at this stage.
Suspension competed at the Extreme Robots event in Portsmouth in May 2018, featuring in a six-robot fight won by Weird Malice before defeating Cyclone 360 and Donald Thump.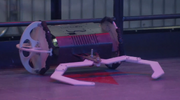 Under the guise of Team Chukka (also known as Team Crunch), Georgina Henwood also entered the 2018 King of Bots UK championship with The Claw, a two-wheeled featherweight armed with a pair of horizontal crushing jaws. The Claw encountered mobility problems in both of its first two qualification rounds, which resulted it finishing third to Take Cover and Neon respectively. In its third melee, The Claw survived for longer than its ally Hedgebot, but was still defeated by Amnesia, and was eliminated from the competition as a result.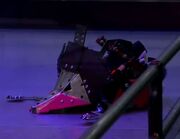 Thomas Walland also built a featherweight to enter the same event. His robot was Hedgebot, armed with undercutting pneumatic axe claws, inspired by the African Pygmy hedgehog. It lost its first battle to Hell's Angel by knockout after being stuck on top of its opponent for an extended period of time. Hedgebot fought Hell's Angel again in its next qualification round, alongside Aegis Mk II, but again lost after getting stuck on the arena wall, although it collected points for finishing in second place, before being flipped over by Amnesia in the aforementioned melee with The Claw.
Hedgebot and The Claw also fought each other in a whiteboard battle, where The Claw won on a Judges' decision. Both robots also participated in a Tag Team rumble as partners, and also took part in the eighteen-way Gladiator battle but with no success. The Claw also fought in a separate eight-way rumble, where its wheel was forced through the wall by Satanix.
Trivia
[
]
The Brentwood School Roboteers featured the highest number of team members out of any team in the reboot.
References
[
]
External Links
[
]