Bridget Maasland is a video jockey, television presenter and producer from Den Haag (The Hague) in the Netherlands. She worked as the pit reporter for both series of Dutch Robot Wars.
Robot Wars
[
]
"Well Rob, it constantly amazes me that behind those merciless fighting machines are such kind and quiet people, it's really unbelievable."
— Bridget Maasland in Dutch Series 1, Heat E (translated from Dutch)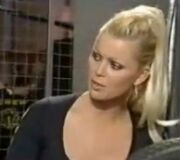 As the pit reporter for both series of Dutch Robot Wars, Bridget Maasland would interview all competing teams prior to their battles on the show, and introduce their robots to the audience, while not being afraid to mock or berate other teams where she felt this was deserved, otherwise encouraging the roboteers in their efforts. In Series 1, Bridget Maasland presented the show with a flatter hairstyle, but rolled her hair up for Series 2 to give her a strikingly different appearance in both series.
Outside Robot Wars
[
]
She originally worked as a model in both the Netherlands and in Barcelona. She became a full-time video jockey and television presenter in 1995, originally working for the Dutch music station TMF. She joined BNN five years later and presented various different shows on the network including Dutch Robot Wars until she left in 2005 to join the Talpa TV network. Here she presented the fifth and sixth series of the Dutch version of Big Brother (the German version of which had been presented by Robot Wars German dub presenter Christian Möllmann) and also produced many of her own shows. In 2007 she left to join the commercial station RTL Nederland where she has continued to present and produce her own shows.
Trivia
[
]
Bridget Maasland is the only pit reporter outside of the UK series to maintain her role for a second series of the show.
Personalities
Presenters
Pit Reporters
Commentators
International Dub Presenters
Judges

Noel Sharkey

(

Series 1

-

10

,

Extreme 1

-

2

,

US 1

-

2

,

Nickelodeon

,

Dutch 1

-

2

,

German

) •

Eric Dickinson

(

Series 1

-

2

) •

Adam Harper

(

Series 1

-

3

) •

Martin Smith

(

Series 3

-

7

,

Extreme 1

-

2

,

US 1

-

2

,

Nickelodeon

,

Dutch 1

-

2

,

German

) •

Myra Wilson

(

Series 4

-

5

) •

Mat Irvine

(

Series 5

-

7

,

Extreme 1

-

2

,

US 1

-

2

,

Nickelodeon

,

Dutch 1

-

2

,

German

) •

Sethu Vijayakumar

(

Series 8

-

10

) •

Lucy Rogers

(

Series 8

-

10

)

Other

Stuart McDonald

(Director/Announcer,

Series 1

-

7

,

Extreme 1

-

2

) •

Tom Gutteridge

(Director/Executive Producer,

Series 1

-

7

,

Extreme 1

-

2

) •

Stephen Carsey

(Director/Executive Producer,

Series 1

-

7

,

Extreme 1

-

2

) •

Bill Hobbins

(Series Producer,

Series 3

-

7

,

Extreme 1

-

2

) •

Andrew Robertson

(Executive Producer,

Series 8

-

10

) •

Matt Wilkinson

(Series Producer,

Series 8

) •

Henry Imbert

(Series Producer,

Series 9

-

10

) •

Robotics industry professionals