"Get The Point"
— Etched above Brimhur's spike
Brimhur was a robot that competed in Series 3 of Robot Wars. It lost in the first round to Weeliwako, and did not return.
Design
[
]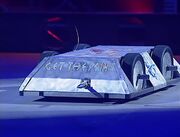 Brimhur was low box wedge-shaped, four wheel drive machine, one of five invertible machines in its Heat. The bodyshell was made of 3mm thick aluminium and its weapon was a hardened steel spike, powered by a pneumatic ram. Above the spike was the phrase "Get the Point". Brimhur's electronics were custom designed by team member Paul Mainwaring. It also had sharpened cutters on each of its wheels, presumably to be a reference to the use of wheel spikes on Roman Chariots, as seen in the film Ben-Hur, which also inspired its name.
The robot's main flaw came from its aerial being contained within the body, which led to poor signal in the arena.
"In the very first prog one competitor had a robot built entirely from steel sheet totally enclosing the works, and the radio aerial INSIDE this shell (a wonderful example of a faraday cage). The entrant (a university) was amazed at the lack of range, equally I was amazed it worked a all."
— Rex Garrod[1]
The Team
[
]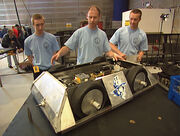 Brimhur was built by a team of work colleagues. Mike Mackenzie captained the team and was joined by Paul Mainwaring and Daniel Hudson. Paul Mainwaring designed the electronic system for Brimhur and controlled it in its only battle.
Robot History
[
]
Series 3
[
]
Brimhur competed in Heat A of the Third Wars, where it faced Weeliwako.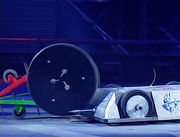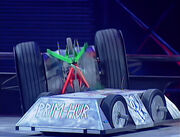 Brimhur's first battle started very slowly as Weeliwako tried to turn into Brimhur, but Brimhur managed to hit Weeliwako a few times with its spike. However Weeliwako then came on the attack, landing a couple of axe blows on the top of Brimhur. Brimhur then pushed Weeliwako against the arena wall, but its opponent continued to land axe blows. Brimhur pushed Weeliwako into Sir Killalot's CPZ, but Weeliwako seemed to be stronger as it pushed Brimhur back onto the flame pit, where Brimhur became immobilised.
"Brimhur on the flame pit. Slowly broiling steel shell..."
— Jonathan Pearce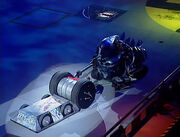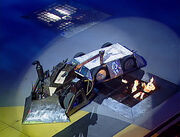 The House Robots then came in and Shunt axed a large hole into the top of Brimhur actually lifting Brimhur up when it retracted its axe. Shunt continued to attack Brimhur until cease was called, which meant Brimhur was out of the competition.
"Brimhur was immobilised - towards the end, it was like vultures feeding on a carcass"
— Craig Charles on the House Robots' attack
Results
[
]
Wins/Losses
[
]
Series Record
[
]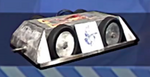 References
[
]