"A real brute, or a pussycat?"
— Jonathan Pearce begins his introduction of Broot
Broot was a competitor robot which entered Series 2 of Robot Wars. In its only appearance, it was eliminated at the Gauntlet stage after covering a distance of 3m and having its wheels damaged by Matilda.
Broot featured one of the youngest roboteers in the original series, with driver Ben Symons only eleven years old at time of its appearance.
"We await the impact of the weapon called an 'untz', named after the nickname for a schoolyard punch. It's a long spring-loaded rod which flies out from the welded angle iron chassis. It's 24V battery-powered, running on three wheelchair motors."
— Jonathan Pearce assesses Broot's weapon and statistics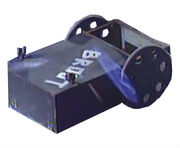 Broot was a large, invertible, box-shaped robot with two plywood wheels and a welded angle iron chassis. It was powered by two 12V batteries running on three wheelchair motors, and armed with a spring-loaded spike named by the team as an 'untz'; the latter after the nickname for a schoolyard punch.
"For Mark Symons's team, the design of their robot was based on three criteria: a machine that could function upside-down; high manoeuvrability, including a zero turning circle; and low cost. For the motor and batteries, the managed to obtain a second-hand wheelchair, the best and cheapest option, giving them pretty much everything they needed. The chassis was constructed of angle iron, which is made of inexpensive but very mild steel. The wheels were made of plywood, and the tyres were made of pieces of water hose hammered on to the wheels with roofing nails. (It should be clear by now that Broot is not a high-tech machine!) In spite of its unglamorous appearance and characteristics, Broot is actually a triumph of economy and ingenuity; in fact, when asked if there were any improvements he would have like to make to the robot, Mark replied that there were none that could have been made, given the cost restrictions"
— The Robot Wars Technical Manual on the construction of Broot
At 80.2kg, Broot weighed 0.8kg over the original Heavyweight limit. While possessing reasonable manoeurvrability during its only appearance, the robot's plywood wheels proved fragile, and its wheelchair motors offered very little pushing power.
The robot's name was a corruption of the word 'brute'.
Broot competed in Heat J, and was the third robot in this Heat to attempt The Gauntlet.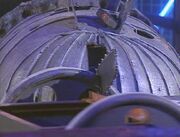 It steadily drove out of the entry pen into the brick wall on the centre route, but was unable to drive through despite knocking a few bricks down. Broot backed up for another run, but again could not push the fallen bricks away, and was rammed by Matilda, who backed away and turned round to use her chainsaw. In an attempt to dodge Matilda, Broot backed and turned away from the brick wall, but was quickly intercepted by the House Robot, and had one of its wheels sliced by her chainsaw.
"Those wheels are plywood... oh, and Matilda... smells wood, and goes in! And there's the immediate danger of having wooden wheels!"
— Jonathan Pearce as Matilda cuts through Broot's wheel with her chainsaw
As the team watched anxiously from their control booth, Matilda eventually pinned Broot against the railings, and attempted to cut through its top armour. Towards the closing seconds, Broot began driving towards the right-hand route, but sustained more damage, and was pushed into the ramrig by Matilda just as 'cease' was called.
"Oh, poor Ben! He loves going to Alton Towers, this a roller coaster ride that's gone wrong. It's bye-bye Master Symons and his ply!"
— Jonathan Pearce as Broot runs out of time
By the end of its run, Broot had covered a distance of only 3.0m, which ultimately left it in sixth and last place on the leaderboard. As a result, it was eliminated from the Second Wars, with the team leaving the studio before Philippa Forrester could have a chance to interview them.
BROOT - RESULTS
Series 2
The Second Wars - UK Championship
Heat, Gauntlet
Heat J, Gauntlet
3.0m (6th)
Eliminated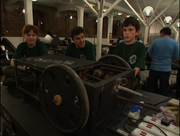 Community content is available under
CC-BY-SA
unless otherwise noted.