Not to be confused with UK competitor, Brutus Maximus
Brutus is an invertible heavyweight robot from Belgium which attempted to enter Series 8 of Robot Wars. It was built by Team VHS-Robots, former unofficial Belgian champions with Pika, but was not selected to compete in the series.
Other members of Team VHS-Robots also applied for Series 8 with TMHWK, but it was also not selected to compete. Brutus was succeeded by Cobra, which entered Robot Wars: Series 9 and a side event of Series 10, using various parts from Brutus.
Brutus was an invertible, four-wheel drive robot armed with a small wedge which could work either way up. It was armoured in HARDOX, and relied on its brute strength and pushing power as its main offensive capabilities. Brutus cost £1,500 to build, and was planned to be fitted with a hydraulic clamp/cutter for its potential entry into Series 8. However, this weapon was not built until the creation of Cobra, as Brutus was not selected to compete in that series.
Series Record
Edit
UK Series
Edit
Dutch Series
Edit
Outside Robot Wars
Edit
Brutus entered the Bronebots 2016 competition in Moscow, together with Beast, Ripper, Dozer, Stinger, Bullfrog and Kan-Opener H-spec. Since the end of Robot Wars in 2004, Team VHS-Robots have also fought with Hades a robot armed with a full-pressure flipper built from parts from an early version of Gravity.
Although the design of Brutus was succeeded by Cobra for television, the weaponless Brutus fought at the Extreme Robots event in Maidstone, in October 2018. There, it was immobilised by Aftershock in just a few seconds, and also lost to Ripper.
Robot Wars Live Events
Edit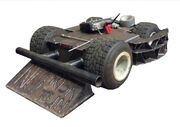 Brutus has fought at a small handful of Robot Wars live events, though does not appear as frequently as other robots, due to the team being situated in Belgium. Despite this, Brutus appeared at the Robot Wars World Championship 2015 at Colchester. In the first round, Brutus fought Ka-Pow! and Beast. Brutus survived until the end of the match, where it qualified for Round 2 alongside Beast on a Judges' decision. However, Brutus was quickly thrown out of the arena by eventual champion Toxic 2 in the second round. Brutus also fought in a separate Annihilator competition at the event where it reached the second round losing after breaking down 13 seconds into the battle, despite being the last robot left standing in the first round.
Community content is available under
CC-BY-SA
unless otherwise noted.