For the UK competitor of a similar name, see Kan-Opener.
"We competed in this years Robot Wars live tour at Glasgow & Newcastle. Our robot CanOpener did a good job wining three out of four battles  but didn`t look good enough to be selected for the TV edition.[1]"
— Team Marrionville
CanOpener was a competitor robot which attempted to enter Series 5 of Robot Wars, but failed to qualify. The team would eventually compete with Destructosaur.
Design
[
]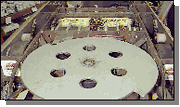 CanOpener was a flat invertible robot with eight wheels. The robot was painted black with red splodges on the front and back as well as red side panels. CanOpener was armed with a large flywheel and ramming spike. The working name for CanOpener was Roadkill which was changed some time before the qualifiers. [2]
Qualification
[
]
CanOpener fought in both the Newcastle and Glasgow tours of the Fifth Wars Robot Wars qualifiers. Though not much is known about the matches CanOpener fought, it fought in four separate battles winning three and losing one. Despite the three wins, CanOpener was not selected for not "looking good enough" for the competition.
Series Record
[
]
References
[
]