"Cassius was named after Cassius Clay, (Mohammed Ali) the champion boxer, His catchphrase was 'I float like a butterfly and I sting like a bee'. The Cassius series of robots use air suspention [sic], that floats like a butterfly, and a flipper that stings like a bee. So they had to be called Cassius."
— Rex Garrod explains the context behind Cassius' name[1]
Cassius was a competitor robot and one-time UK championship runner-up from the UK TV show Robot Wars. It was named after the birth name of legendary boxer Muhammad Ali, Cassius Clay, with his catchphrase being referenced in multiple ways through its external and internal design features.
Cassius is widely cited as an inspiration and role model for future robots, alongside later robots such as Chaos 2, Razer and Hypno-Disc. The robot's fame mostly comes from it being the first competitor to successfully self-right in Robot Wars. It used its front-hinged flipper to catapult back onto its wheels on a number of occasions, allowing it to progress in circumstances that had previously spelled defeat for competitors. Rex Garrod coined the term 'self-righting mechanism' to describe Cassius's actions; this device, also known as a 'srimech', would be popularised and later become an essential component in Robot Wars and other robot combat competitions around the world.
The successor to Recyclopse was built by Rex Garrod of Team Cassius and entered into the second and third series of the show. It reached the Grand Final on its debut run in Series 2, defeating the defending champion Roadblock before falling in a shock pitting at the hands of Panic Attack. A second version, Cassius 2, returned for the following series, but suffered a shock exit in the second round after reversing into the pit against Pussycat.
Versions of Cassius
[
]
Cassius
[
]
"And not made from clay! A sinister-looking heavyweight contender with a deadly jab from a CO2 gas-pressurised ram, capable of lifting one-and-a-half tonnes. Inventor Rex Garrod has built Teletubby toys, but at 79.3kg, this is a lean and mean machine."
— Jonathan Pearce introduces Cassius in Series 2, Heat H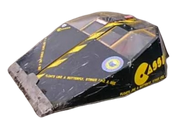 Cassius was a two-wheel drive, wedge-shaped robot armed with a front-hinged, CO2-powered flipping arm. The arm, referred to as a 'ram', was made out of a modified motorbike suspension fork and had a lifting capacity of 1.5 tonnes. This enabled Cassius to throw opponents over and lift even the heaviest House Robots with ease. Cassius' weapon was the first of its kind to be used in Robot Wars, and was a variant of the full-sized front-hinged flipper found on Rex Garrod's earlier machine, Recyclopse.
Philippa Forrester: "So this gets underneath something and then pings it up?"
Rex Garrod: "It should get somebody... almost out of the arena."
Philippa Forrester: "So could that lift Sir Killalot, for example?"
Rex Garrod: "Well, if he's under a tonne-and-a-half, yes."
— Rex Garrod discusses the potential of Cassius's flipping arm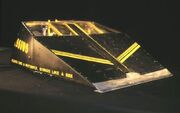 Other features included a pneumatic suspension system, comprising two swinging arms attached to the drive wheels and two more with castors located at the front and rear of the machine. This allowed for a variable ground clearance of between zero and 110mm, enabling Cassius to lower its front for breaching opponents' ground clearances. Cassius was also among the first robots to use a gyroscope, improving its control across the arena. Drive power came from 12V aircraft starter batteries and 12V motors running at 24V, enabling Cassius to reach a high top speed of 25mph.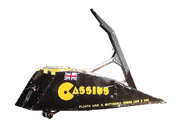 Cassius' chassis and armour consisted of a mild steel box-section frame and polycarbonate panels; the frame was painted in what Oliver Steeples described as 'Teletubby yellow'.[2] The rest of the robot sported a predominantly black and yellow colour scheme, with its logo and slogan on the sides. A variation of this scheme – incorporating hazard stripes on the flipping arm – was also seen at various stages throughout Series 2. Cassius' paint scheme, along with the robot's speed and wedge shape, led to Jonathan Pearce once likening it to a 'stealth bomber' during its Semi-Final appearance.
While powerful, fast and innovative, Cassius' main weakness came in the form of its ground clearance, despite its pneumatic suspension. This gave it a tendency to rear up while accelerating forwards, often leading to Cassius being unable to get underneath opponents or getting stuck on top of small obstacles. Various competitor and House Robots, namely Panic Attack, Roadblock and Sir Killalot, would regularly exploit this weakness in competition.
Cassius 2
[
]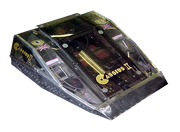 Following its successful run in Series 2, Team Cassius built a second version of the robot, Cassius 2 (stylised as Cassius II), which had a similar design and drive layout to the original. Its construction incorporated a variety of materials, including polycarbonate and Aerolam honeycomb aluminium[3], which lead to a more transparent appearance. Cassius 2 also exchanged its predecessor's arm for a wider and more powerful front-hinged flipper (referred to as a 'flip-up paddle' on its statistics board), which was initially designed to carry a 1kg CO2 supply. The same supply would also power a brand-new rear-mounted weapon; a ¾ metre-length pneumatic spike, which was claimed to be powerful enough to catapult Cassius 2 out of the pit if it fell in backwards.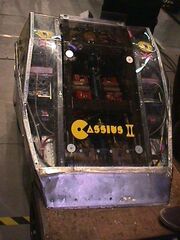 However, due to issues beyond the team's control, Cassius 2 was unable to use its improved arsenal as intended. During filming of Series 3, the CO2 system used for both the flipper and spike was banned, as part of wider health and safety restrictions imposed following a behind-the-scenes incident involving an unrelated robot. As a result, Cassius 2 was only allowed to fire its flipper or spike once per fight[4], although it was still able to use the former multiple times during its first battle of Series 3.
"Yes we (the Cassius crew) didn't do very well in the last wars. Partly because we were not allowed to use our Co2 gas because of health and safety requirements imposed in panic reaction after the accident which injured a stage hand (nothing to do with us, it happened before we had arrived at the studio). We had to keep our cylinders outside in the cold and this meant that we could not decant from a cold cylinder to a warm one (basic laws of physics that cannot be overcome without a pump). This meant our robot had but one flip-up or one spike operation per fight, due to the fact that no liquid gas was in the on-board cylinder, that normally contains 1 kilo of liquid co2 with an expantion [sic] rate of 571 to 1 in gas form as in its usual fighting mode, giving us almost unlimited use in 5 minutes fighting. This was a severe handicap but in the end Mick (our driver) conveniently dived into the pit (I must remember to buy him a lemming outfit). This was probably the best way out as I am afraid to say that by then I was not a happy chappy at all."
— Rex Garrod
In addition to its revised weaponry, Cassius 2 featured more subtle differences over the original machine. It was claimed to be faster and lighter (despite a higher quoted weight of 81.3kg, making it 1.9kg over the original Heavyweight limit), and was equipped with an improved version of the pneumatic suspension system found on the original Cassius. This system, referred to as 'air suspension' on-screen, used swinging arms for both the front castors and main drive wheel units, as well as airbags which could be inflated with low-pressure CO2 to increase the robot's ground clearance.[3] As with its predecessor, Cassius 2's suspension system could also be used to lower the robot's front for breaching ground clearances, as well as to tilt the robot on one side for sharper turning or to lower its entire chassis for defence against other wedges.
The Team
[
]
Main article: Team Cassius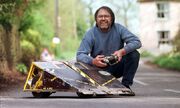 Cassius was entered into Series 2 and 3 by its driver Rex Garrod, the captain of Team Cassius, who had previously entered the first series of the show with Recyclopse. Rex Garrod was an enthusiastic roboteer who valued entertainment over a competitive run, and recognised the capacity of Robot Wars to teach younger viewers and roboteers about science, technology and engineering. During battles, he would regularly attack the House Robots with Cassius in order to entertain the audience, and prevent further damage to beaten opponents. Prior to Robot Wars, Rex Garrod was best-known for presenting the TV show The Secret Life of Machines, and for building Brum, an artificially intelligent self-driven car, which was the star of its own TV series.
In both series, Rex Garrod was joined by static teammate Simon West, and in Series 2, the team was completed by Edward Bull. For Series 3, Mick Cutter of Team Chaos joined the team for Cassius 2. Rex Garrod was strongly associated with Team Chaos in general, having collaborated with George Francis to build his own entries, and those of Team Chaos.
Robot History
[
]
Series 2
[
]
"Cassius, one of the competition favourites. Rex Garrod's been here before..."
— Jonathan Pearce, prior to Cassius' Heat Gauntlet run
Cassius made its Robot Wars debut in The Second Wars, seeded fifth due to the performance of Rex Garrod's previous machine – and First Wars Grand Finalist – Recyclopse. Originally, it was due to take part in the first half of the series, but suffered technical issues prior to filming,[2] allowing Panda Monium to enter Heat A as a reserve.[5] Cassius later ended up competing in Heat H, where it was the first robot in that heat to attempt The Gauntlet. Prior to its run, Jonathan Pearce mentioned that it was considered one of the favourites to win the main UK Championship.
"It's going to take on The Sentinel down this path - with a little bit of luck and a little bit of speed, and through!"
— Jonathan Pearce, as Cassius darts underneath The Sentinel
Slowly, Cassius trundled from its starting position towards the left-hand route, dodging two sets of floor spikes as it did so. Upon rounding the corner, it made an exceptionally quick run, darting underneath The Sentinel's arm and slamming into the side rails over the end zone.
"And Dead Metal can't stop it! That's a great run by Cassius! Too late for Dead Metal to come in now... well done, Rex!"
— Jonathan Pearce, commenting on Dead Metal's attack
Dead Metal grabbed Cassius with his pincers, but to no avail; Cassius kept slamming into the rails in his grip until 'Cease' was called, securing itself the fastest Gauntlet run of the heat.
"Floats like a butterfly, stings like a bee, power and pace is Rex Garrod's key."
— Jonathan Pearce summarises Cassius' run
This run also enabled Cassius to qualify for the Football Trial, alongside GroundHog, Loco, Sting and Wizard. For this stage, it was equipped with a plastic scoop-like attachment, in order to give it greater control over the ball. Cassius' involvement in the first round was limited; it initially charged towards the ball, but was intercepted by Matilda, eventually reversing and ramming into her as well as a nearby Loco. Cassius was lifted by Matilda's tusks, an attack which enabled Loco to push the ball away and score the first goal.
"Rex, the goal's this way. Rex, the goal is this way. This way, this way, Rex!"
— Jonathan Pearce as Cassius struggles to push the ball forward in the second round
In the second round, Cassius immediately rammed Wizard, rearing up before reversing the ball into the side barrier. It spent several seconds trying to push the ball along the barrier, with great difficulty. At one point, Cassius got itself wedged on top of the ball itself, allowing Matilda to briefly force it against the barrier. After several seconds – and forcing one of the wall panels loose – Cassius continued pushing the ball along, only to be stopped and lifted by Matilda's tusks.
"Matilda in there... surely that's a foul tackle, referee? Matilda doesn't know the meaning of the word 'foul!'"
— Jonathan Pearce, as Matilda attacks Cassius
In response, Cassius rammed Matilda as it pushed the ball further on, eventually steering past her and catching the ball once more. This time, it successfully scored the second goal, briefly driving underneath Sergeant Bash in the process. During a post-round interview, Rex Garrod was quick to congratulate the Loco team on scoring first.
Philippa Forrester: "What an amazing goal! Michael Owen would've been proud of that, wouldn't he?"
Rex Garrod: "Well, I'm not much of a footballer, but one thing that I'm pleased about, the [Loco] boys scored first!"
— Interview following the Football Trial
Through to the Arena stage, Cassius faced Wizard in the second Semi-Final. When asked by Philippa Forrester about being potentially drawn against the young Loco team, Rex Garrod openly stated his reluctance to destroy their robot, while hinting at possible attacks on the House Robots.
"I want to encourage kids to build them. I might destroy them, so... if I could immobilise them without doing them any harm, yes, but I certainly wouldn't go out to destroy them, no way. Now, a House Robot, that's different..."
— Rex Garrod, expressing reluctance towards damaging Loco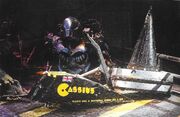 Garrod's pacifist intentions were apparent in the opening seconds, in which Cassius twice darted past Wizard before entering the PPZ and driving underneath Dead Metal. It remained wedged between Dead Metal and one of the spiked pyramids for some time, but eventually escaped. Cassius proceeded to ram Wizard into the PPZ a few times, before attempting to attack Sir Killalot. It got underneath and thrust its arm against the front of Sir Killalot, but was unable to tip him over.
"...Rex Garrod, with Cassius, showing more style, more aggression and again taking on the House Robots! Taking on Bash! Taking on the circular saw... can't flick Bash away. Killalot closing in and Cassius loves it!"
— Jonathan Pearce as Cassius attacks the House Robots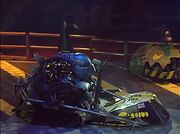 Cassius resorted to ramming Sergeant Bash as he attacked the now-immobile Wizard, then Sir Killalot in the centre of the arena. Darting back into the PPZ, it tried to push and lift Sergeant Bash from the rear, but was again unable to use its flipping arm to good effect. Sir Killalot reversed into both machines, with Cassius briefly getting underneath the latter's tracks before leaving the PPZ. 'Cease' was called, and Cassius was declared victorious.
Craig Charles: "You took on everyone – Shunt, Dead Metal, you even had a good go at Killalot!"
Rex Garrod: "Well, you've got to try, haven't you? That's what it's all about, isn't it? We're here to fight!"
Craig Charles: "You're here to fight, and you did certainly get stuck in!"
— Interview following Cassius' Heat Semi-Final victory
Through to the Heat Final, Cassius faced Loco, whose team Rex Garrod had earlier congratulated for their Football performance. Recognising the educational value of Loco's endeavour - as a method of teaching its young team members about engineering - Garrod reiterated his earlier stance going into the battle, considering it 'pointless' to inflict heavy damage on his soon-to-be opponent.
"We've almost got a pacifist on Robot Wars!"
— Philippa Forrester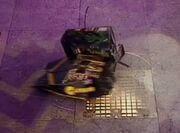 True to Rex's words, Cassius dodged Loco on its first charge, grazing the swinging pendulum before reversing and nudging Loco. Loco got underneath the side of Cassius with its front ram, but Cassius veered forward, eventually getting underneath and almost toppling Loco over with a charge. More bumping ensued, with Cassius proceeding to push Loco sideways using its drive alone. Eventually, it turned Loco over using its wedge shape, immobilising the Bristol-based machine. As the House Robots began attacking its defeated opponent, Cassius proceeded to get underneath and push Dead Metal across the centre of the arena, almost tipping him over with its arm. It lured Shunt across the PPZ, only to turn around and become wedged on top of his plough. Capitalising on Cassius' predicament, Matilda rammed, lifted and briefly pinned it against the wall, almost flipping Cassius over in the process.
""No place for pacifists in Robot Wars!", say the House Robots. "Tsk, tsk!", says Matilda, on Cassius..."
— Jonathan Pearce, as Cassius incurs an attack from Matilda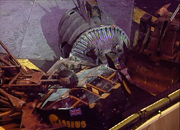 Despite this, Cassius continued its attacks on the House Robots. It lured and wedged underneath an approaching Dead Metal, pushing him back with its arm raised. It survived another lift and a shower of sparks from Matilda, who proceeded to drag and push Cassius out of the PPZ with Shunt's assistance. Cassius escaped, driving to the far end of the arena before charging head-on at Dead Metal once again. During the same charge, it got underneath Matilda and threw her over onto Shunt's scoop, mirroring Recyclopse's attack on Matilda during its First Wars campaign.
"A little pirouette of delight – oh, magnificent! And he's flipped Matilda, that's the second time he's done it!"
— Jonathan Pearce as Cassius flips Matilda
Eventually, Cassius was grabbed by Dead Metal, who pinned it between himself and a now-overturned Matilda. It was pushed onto the edge of the pit by Shunt and Sergeant Bash, before being nudged fully in by the latter. Even so, Cassius still emerged as the winner, securing itself and an elated Rex Garrod a place in the Series Semi-Finals.
"And finally, I think this could be some respite for Rex if they nudge them in! Oh it's a tired Cassius, but it's a victorious Cassius!"
— Jonathan Pearce, as Shunt and Sergeant Bash pit Cassius
Cassius reappeared in Semi-Final 2, where it was the second robot to attempt the updated Gauntlet course. Immediately prior to its run, Peter Kinsey of the Roadblock team anticipated its success in this and later rounds; meanwhile, Rex Garrod told Philippa Forrester that Sir Killalot was the only robot he feared at this stage.
"My money's on Rex."
— Peter Kinsey's prophetic comment during the Semi-Finals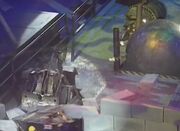 In a deviation from its Heat run, Cassius began by charging through the breezeblocks on the centre route, eventually breaching them and steering the sphere into the pit. At this point, it was blocked by Shunt, and unsuccessfully tried to push the House Robot from the side. In response, Shunt pushed Cassius back through the remaining breezeblocks, punching a hole through one of its top panels with his axe. Cassius reversed for a run past him, but wedged itself underneath the nearby railings. After being jostled by the floor spikes, it drove underneath Dead Metal and thrust him away just as time ran out, reaching a distance of 5.15m.
"Has he done enough, Rex Garrod? Well, he looks doubtful... only 5.15 metres, that's a shock!"
— Jonathan Pearce, as the results of Cassius' second Gauntlet run are revealed
With neither Haardvark nor Plunderbird 2 surpassing its run, Cassius finished the Gauntlet stage fourth overall, securing its place in the next stage.
For the Pinball Trial, Cassius was once again the second robot to make its run, which would earn it its place in Robot Wars history. It began by driving between the ram-rigs and turning towards the right-hand stacks of bricks and barrels, knocking most of them down with ease. Cassius hesitated, before clearing the remaining bricks and barrels across the arena perimeter. Seconds later, it turned and beached itself on one of the bricks, allowing Sir Killalot to prod, hook and lift Cassius with his lance.
"And he's been pinned down by the lance of Killalot, and dragged effortlessly into the air! Goes beyond the ramp..."
— Jonathan Pearce, as Sir Killalot carries and turns Cassius over
Dangling helplessly in the air, Cassius was carried back and forth by Sir Killalot, eventually being turned upside-down at the far end of the see-saw ramp. Cassius fired its rear suspension unit, then its flipping arm, throwing itself into a half-somersault back onto its wheels. Making it the first use of the Self-righting mechanism.
"...turned turtle – AHH, BRILLIANT! Superb gymnastics from Cassius! The little backflip was super! Let's have a look – hey! How about that? Breakdancing from Rex Garrod and Cassius!"
— Jonathan Pearce reacts to Cassius self-righting
Immediately after this historic move, Cassius turned away, brushing with Dead Metal and ploughing into another set of bricks and barrels. It proceeded to reverse slowly in an arch towards another stack of bricks, but was unable to knock any down before Matilda lifted it from behind. At this point, Cassius' right-hand drive chain had come loose, preventing it from continuing its run. However, it had scored a total of 200 points, finishing the Pinball Trial second overall and securing a place in the Arena stage. This not only marked the first time that a Robot Wars competitor had successfully self-righted, but also the first time that a competitor was able to progress after doing so.
Craig Charles: "That was one of the most spectacular bits of roboteering ever seen on Robot Wars! What was that about?"
Rex Garrod: "A self-righting mechanism."
Craig Charles: "A self-righting mechanism? It looks like a double somersault in the air!"
Rex Garrod: "You know, it's just one of its tricks."
— Rex Garrod coins the term 'self-righting mechanism' for Cassius' acrobatics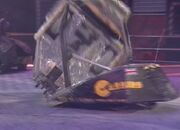 In its Arena battle, Cassius faced Haardvark, for a chance to progress to the Grand Final. It started dominantly, driving straight underneath Haardvark and flipping it over using its arm.
"Cassius has taken over the mantle as Robot Wars favourites after the demise of Mortis early on, and immediately flipping Haardvark once and twice!"
— Jonathan Pearce, as Cassius begins flipping Haardvark
As Haardvark balanced on its side, Cassius rushed in and threw its opponent back onto its wheels, allowing both robots to carry on. Moments later, Cassius slipped underneath Haardvark again, pushing and thrusting it into the PPZ. The two competitors eventually escaped and bumped each other in the center of the arena, narrowly dodging the Flame Pit. Eventually, Haardvark steered Cassius into Sir Killalot, who lifted it onto Haardvark's rear end. This attack caused one of Cassius' drive chains to be dislodged, putting Rex Garrod's chances of progression in jeopardy as his machine – along with Haardvark – was attacked by Sir Killalot again.
"...the chain has come off there, and Cassius is in trouble here! Cassius is going no further, that's for certain..."
— Jonathan Pearce, noticing Cassius' dislodged drive chain
As Sir Killalot lifted both competitors at once, Cassius landed back upright, shuffling back and forth into Haardvark as the latter was being carried towards the Flame Pit. Sir Killalot eventually turned Haardvark over and left it to burn; however, he drove up the front of Cassius, allowing Cassius to momentarily lift him completely off the floor.
"...and look at Cassius! Well he almost lifted Killalot – we've never seen that before. That was very close!"
— Jonathan Pearce, as Cassius lifts Sir Killalot
In response to Cassius' attack, Shunt lifted, pushed and stacked it against the railings, where Cassius remained until 'Cease' was called. Despite this, Cassius secured its place in the Grand Final, the second time in which Rex Garrod and his team had reached this stage of the competition.
"I want to put on a good show, above all. If I go out in a blaze of glory, I wouldn't mind that a bit, but if I go out looking like a wimp, I shan't be very happy."
— Rex Garrod, prior to the Grand Final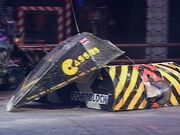 In its Grand Final Eliminator, Cassius was due to face defending UK champion Roadblock, which progressed alongside it from the second Semi-Final. This, in effect, served as a rematch between Rex Garrod and Bodmin Community College, who had previously faced each other in the Grand Final of the First Wars. Straight away, both robots charged head-on into each other, with Cassius briefly getting pushed back before driving sideways up Roadblock's wedge. Nudging the swinging pendulum, it continued to be assailed by Roadblock, which pushed Cassius into Matilda. Cassius was lifted and forced further up the top of Roadblock; Roadblock continued to push Cassius across the arena, despite briefly getting caught by Dead Metal. The tip of Cassius' wedge scraped the floor as it did so, until at last, Cassius broke free.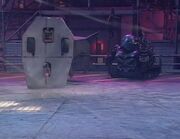 Immediately, Cassius drove into Sir Killalot, who promptly turned it over using his lance. As in its Pinball run, Cassius thrust itself back onto its wheels with its arm, enabling it to carry on with the battle.
"...and Killalot's flipped it! Are we gonna see it? Are we gonna see it? YES! We have seen it! They love the bunny-hop!"
— Jonathan Pearce as Cassius repeats its self-righting 'trick'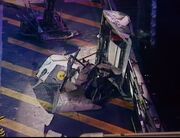 Meanwhile, Roadblock got itself trapped in the PPZ, a situation which Cassius capitalised on as it approached and briefly got under the defending champion. Eventually, Cassius slipped fully underneath Roadblock, throwing it against the railings as Shunt helped pinned the red, black and white machine in place. With Roadblock unable to self-right, Cassius emerged victorious, proceeding to ram Sir Killalot before pushing its vanquished opponent over the Flame Pit. In defeating the First Wars champion, Rex Garrod also avenged his earlier defeat against it; afterwards, it was revealed that Cassius' initial charge had dislodged one of the plug and sockets for Roadblock's batteries.
Philippa Forrester: "How's Cassius bearing under the strain?"
Rex Garrod: "Well, it's gone a bit second-hand, but it's okay..."
— Interview following Cassius' victory over Roadblock
In the Grand Final, Cassius faced Welsh competitor Panic Attack, itself having reached this stage following a strong debut run. Despite still being considered the favourite to win the championship, Rex Garrod insisted that the Panic Attack team were worthy opponents, and maintained his focus on putting on an entertaining display.
Philippa Forrester: "Rex, I've been calling you the king of roboteers. This is the time to prove yourself. Do you think you can beat Panic Attack?"
Rex Garrod: "They are a very good team, no question about that. If I go down to them, I will be... not disappointed, because I think they deserve the win as much as anyone. I'll do my best, as long as it's a good show and I don't chicken out, that's alright."
— Interview prior to the Grand Final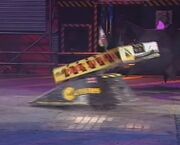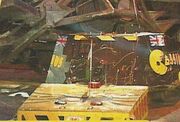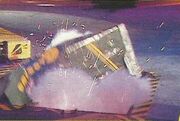 In the opening moments, Cassius trundled and bumped into Panic Attack, before succeeding in getting underneath its yellow and black opponent. Again, it nudged Panic Attack aside, only to reverse back across the arena in anticipation for another attack. The two robots lunged at each other; Cassius got underneath and launched Panic Attack off the floor, albeit without using its flipping arm. Immediately after, Cassius reversed into Panic Attack, only to be pushed into and under Dead Metal. As before, it used its arm to lever Dead Metal against the circular saws, and reversed. After several seconds, Cassius rammed Panic Attack once more, reversing within proximity of Shunt and the PPZ. Cassius manoeuvred towards Panic Attack once more; in a shock turn of events, Panic Attack pushed it sideways into the pit, emerging as the champion of Robot Wars: The Second Wars. Cassius, in turn, emerged as the series runner-up, with Rex Garrod jovially admitting that Panic Attack had a 'better driver'.
Craig Charles: "I had my money on you!"
Rex Garrod: "Well, I'm terribly sorry – you've lost it!"
— Rex Garrod, jubilant in defeat
Cassius made an additional appearance in The Grudge Matches, an end-of-series episode dedicated to one-off battles and non-heavyweight championships. There, it fought the first of two Judgement Day battles against Mortis, which stemmed from Rex Garrod's controversial victory over the former in the First Wars.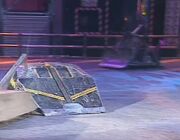 To begin with, Cassius charged towards the side of Mortis, raising its flipping arm as it attacked Dead Metal yet again. As it reversed, it was collected and lifted by Mortis, but drove away towards the PPZ. Cassius made another lunge, only to have its top armour pierced by Mortis' tantō blade. Turning in reverse, it proceeded to reverse into Sergeant Bash, then charged precariously close to the pit. Moments later, Cassius got itself stuck on the pit edge, only to escape with assistance from Shunt.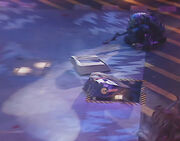 As the battle progressed, Mortis lost mobility on one side due to a damaged track, allowing Cassius to charge at and jostle it closer towards the pit. However, as it made another lunge at the Random Violence Technologies machine, Cassius accidentally drove itself in, and was eliminated from the Judgement Day battle as a result.
"Cassius, trying to nudge Mortis into the Pit of Oblivion. And Cassi- OH NO! What on earth was he doing? Mortis has won the Grudge Match... and Rex Garrod has committed suicide!"
— Jonathan Pearce as Cassius pits itself
A few moments later, Cassius was joined by the victorious, but partially-immobile Mortis. In response, it attempted to lift Mortis out of the pit just before 'Cease' was called, to the surprise and jubilation of both teams.
"And Cassius rises from the dead! Brilliant stuff!"
— Jonathan Pearce as Cassius lifts itself and Mortis inside the pit
Afterwards, Rex Garrod commented light-heartedly on his questionable driving, while Random Violence Technologies declared the battle a 'dead heat' due to Mortis' damaged track. Rob Knight hinted towards another grudge match against Garrod and his machines, but this would be the final time in which Team Cassius and Random Violence Technologies would fight each other in Robot Wars.
At the end of the Second Wars, Cassius was nominated for the 'Best Designed' and 'Best Engineered Robot' awards, but lost out to Razer and The Mule respectively.
Series 3
[
]
"The long-awaited appearance of the runner-up from the last series. Cassius and Rex Garrod, a flip-up paddle and CO2-powered rear spike the weapons. Motors from lawnmowers – can this cut the rest down to size? And what innovations, what surprises this time around?"
— Jonathan Pearce introduces Cassius 2 in Series 3
On the back of its predecessor's success and innovations, Cassius 2 debuted in Heat M of The Third Wars. Considered a championship favourite once again, it faced Dundee, a new robot from the Loco team, in the first-round, essentially forming a rematch between the two teams.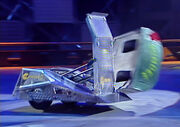 Initially, Cassius 2 shuffled its way towards the centre of the arena, before turning and ambling its way towards Dundee. It tried to flip Dundee over, but was unable to get fully underneath it, instead merely flicking the Bristol machine away as it sped into Sir Killalot's grasp. Sir Killalot steered Cassius 2 into one of the wall-mounted flamethrowers before letting it escape, with the two competitors bumping and sizing each other up for some time. Eventually, Cassius 2 drove around the back of Dundee, allowing it to get underneath and push the latter into Sir Killalot. While doing so, it tried to flip Dundee forwards a few times, without success, before reversing.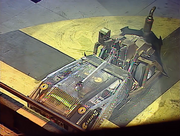 Cassius 2 resumed its initial assault, dodging and nudging Dundee for a few more moments. Finally, it got underneath Dundee from the side and threw it onto its back, signalling the elimination of the crocodile-based robot. 'Cease' was called, but Cassius 2 was not finished, proceeding to attack Matilda in her CPZ.
"And this is what we love about Rex Garrod! A smile etched on his face as his bot takes on the House Robots – OH, and taking terrible punishment from Shunt!"
— Jonathan Pearce as Shunt damages Cassius 2's flipper
In response, Shunt pushed, axed and lifted Cassius 2 up against the side wall, leaving it with a large gash in its flipper cover. Nevertheless, Rex Garrod's place in the second round had already been secured.
There, Cassius 2 faced Pussycat, a new robot entered by the Cold Fusion Team, with Mick Cutter driving and Rex Garrod operating the weapons. Coincidentally, this served as Garrod's third consecutive rematch, as he had previously faced the team, as well as their previous robot Bodyhammer, in the First Wars Grand Final. Before the battle, Garrod explained to Philippa Forrester that its rear spike had the potential to launch the entire robot out of the pit if it fell in backwards. However, he also emphasised that Cassius 2 would not be able to achieve this feat if it fell in front-first.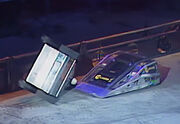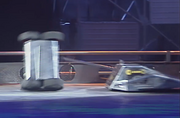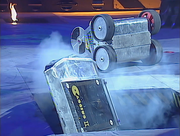 Immediately, Cassius 2 sped into Pussycat, clipping the latter's bottom-right wheel before smashing into the wall. Reversing, it proceeded to dodge Pussycat's diamond-edged saw, only to sustain an attack to its rear armour as both competitors neared the Flame Pit. After raising its rear suspension and flipper, the latter at a much slower speed than before, Cassius 2 reversed at high speed into Pussycat, surviving more attacks from its opponent's weapon. During one of these attacks, Pussycat tipped over onto its side; slowly raising its flipper once more, Cassius 2 positioned itself behind Pussycat and thrust it a short distance away using its rear spike. Seconds later, Cassius 2 charged backwards into Pussycat, in an attempt to shove it into the nearby pit. However, Pussycat drove out of the way at the last second, resulting in Cassius 2 reversing into the pit itself.
"So, we'll see! Can they get themselves out, or did it go in sidewards [sic]? That's the first time we saw the great CO2-powered spike, lunging out. Now they went on the drive, misjudged, went into the pit on its side! They won't get out of there! What a shock this is – Cassius 2 have gone!"
— Jonathan Pearce, shortly after Cassius 2's self-pitting
Unfortunately, Cassius 2 fell in sideways, and its spike did not operate beyond its solitary attack on Pussycat. As a result, it was eliminated from the Third Wars, in one of the biggest shocks of the entire series.
Craig Charles: "You were probably my favourite robot to win this - I had my money on you guys!"
Rex Garrod: "Well, you lost again!"
Craig Charles: "Well, you've got loads of tricks that the robot can do that we never got to see... Cassius was responsible for one of the finest, finest moments on Robot Wars 2. We were expecting fireworks from you this time round, but they never happened!"
Rex Garrod: "Well, we got the fireworks out of the pit!"
— Interview following Cassius 2's elimination
In addition to the main competition, Cassius 2 was intended to represent England in the International League Championship, but withdrew prior to competing. Razer fought – and won – in its place.[6]
Over the course of Cassius' appearances on Robot Wars, Rex Garrod voiced strong disagreements over some of the show's rules and safety procedures (see Garrod's Protest). This ultimately led to him not competing on the show after the Third Wars (and presumably Cassius 2's subsequent withdrawal from the International League Chamionship), therefore Cassius 2's Heat M run effectively marked its - and Team Cassius' - final appearance in televised combat.[1]
Results
[
]
Wins/Losses
[
]
NOTE: Cassius' Gauntlet and Trial runs are not included
Series Record
[
]
Gallery
[
]
Outside Robot Wars
[
]
Cassius took part in the Bordon charity event in 1999, which was organised by the International Wreck Crew, fighting competitors such as Eubank the Mouse and Facet. In between the Second and Third Wars, Cassius fought a series of test battles against Chaos 2 as part of an informal 'contest' between Rex Garrod and George Francis. Although it managed to defeat Chaos 2 once during these battles, Cassius would lose the 'contest' 4-1 to the eventual two-time UK Champion.[7][8]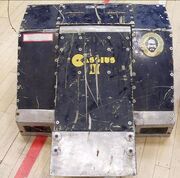 Following their initial televised debuts, Cassius and Cassius 2 also appeared at various live events, such as the 2000 Debenham Robot Rumble. An all-new heavyweight version, Cassius 3 debuted later in 2000 as Rex still wanted to participate in robot combat events despite retiring from Robot Wars. Featuring a rear-hinged flipper, self-righting side rams and a more angular shape, Cassius 3 utilised two Bosch motors running at 1200W, 36V, both supplied to Rex Garrod himself, and was a regular competitor at events such as the Robot Rumbles.[9] This incarnation also featured a rear vertical spinning disc, which would not be used at live events. Cassius 3 is known to have fought M2 at the 2002 Debenham Robot Rumble event.[10] Cassius 3's last competitive appearance was at a Colchester Robot Rumble event around some time in the early 2000s where it lost to Tanto after being pushed into the pit.[11]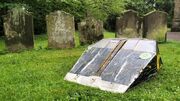 All three versions of Cassius have been retired from robot combat, although they continued to appear as static displays for some time after Robot Wars entered its hiatus. These were sometimes accompanied by a featherweight, Cassius Junior, which was built by Rex Garrod as a demonstration for Ultimate Real Robots Magazine. Most pertinently, Cassius was brought to Rex Garrod's funeral in May 2019, alongside Garrod's fellow creation Brum.[12] In the present day, the three models of Cassius are still in the possession of Rex's family.[13]
Appearances in Merchandise
[
]
Trivia
[
]
Cassius, which was able to flip Matilda in Series 2, was preceded by Rex Garrod's first machine Recyclopse in Series 1, which was coincidentally the first robot ever to flip Matilda or any House Robot.
Cassius is considered to be one of the pioneers of the self-righting mechanism in robot combat, and the first UK combat robot to successfully use one.
Cassius was the only robot in Series 2 with a front-hinged flipping arm and the first robot in the UK Series to be equipped with this weapon type.
Cassius fought in the first rematch between two teams in Robot Wars when fighting Roadblock in the Grand Final.
Cassius was the first robot to defeat a defending Robot Wars Champion, winning over Roadblock in the Series 2 Grand Final.
Cassius is the only runner-up to not win a heat again after its initial appearance.
Cassius was pitted in all three of its losses.
Both of Cassius 2's battles in Series 3 were grudge matches from Series 1 and 2 respectively.
Cassius was one of the few robots to only appear in a battle where four House Robots were present in the arena.
In 2007, Cassius was inducted into The Combat Robot Hall of Fame, in honour of it being the first UK robot to use a self-righting mechanism.[14]
Honours
[
]
Honour
First robot to successfully self-right

Nominations
References
[
]
External Links
[
]