Chris Reynolds is a British special effects expert, who designed and maintained all of the House Robots seen on the original seven series of Robot Wars, as well as all of its international spin-offs. Reynolds' involvement with Robot Wars dates back to the very first series, where he was commissioned to design and build four House Robots that would act as obstacles for the competitor robots. Reynolds has a degree in Architecture, and is an associate of the Institute of Explosives Engineers.
Robot Wars
Edit
"We were up against building four fighting vehicles, capable of fighting other robots and smashing bits off them, and at the same time looking good as well"
— Chris Reynolds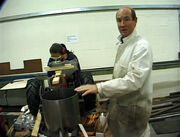 In late 1997, Chris Reynolds of the BBC Special Effects Department was commissioned with the task of building four 'House Robots', inspired by Gladiators, another popular television show of the time. Over only six weeks, the four original House Robots were constructed. Each House Robots was to have its own personality- Matilda as an organic, mutant animal, Shunt as a bulldozer, Sergeant Bash as an army general, and Dead Metal as a scorpion or lobster type robot. The time frame was very constraining, and as a result some decisions were left until the day of recording. Throughout the entirety of Robot Wars' original televised run, Chris Reynolds remained as the head of the House Roboteers, overseeing the building of Sir Killalot, Refbot, Mr. Psycho, Growler and Cassius Chrome, as well as the numerous upgrades that the House Robots got over the years. He also made occasional appearances in international versions of the original series, notably being interviewed by Micke Dubois in the Swedish version of Series 4, Semi-Final 2.[1]
After Robot Wars entered its hiatus, Chris Reynolds was allowed to keep the House Robots, but eventually the BBC reclaimed them, with Reynolds believing they were probably scrapped. This fortunately proved to not be the case however, with images and confirmation of the original robots in storage later appearing on social media. With the announcement of the rebooted series, clips of the original Matilda, Dead Metal, Shunt and Sir Killalot in the present day appeared in previews advertising Series 8; new versions of the latter House Robots were built by Robo Challenge for the reboot.
Outside Robot Wars
Edit
Chris Reynolds is a leading special effects designer, working for over 25 years, and in that time participating in the production of many successful TV shows, including Blackadder, Top of the Pops, Blue Peter, Comic Relief and Top Gear, as well as numerous shows directed by Stuart McDonald, who Reynolds worked with on Robot Wars. After Robot Wars, Reynolds set up his own company called All Effects (or ALLFX), who deal with every manner of special effects, from smoke and fire to snow and ice. ALLFX has a workshop near Heathrow, which it uses as a base of operations.
References
Edit
External Links
Edit
Community content is available under
CC-BY-SA
unless otherwise noted.