Close Shave was an antweight robot that was due to compete in the Antweight Championship during the first series of Robot Wars Extreme. However, it did not appear in the actual tournament, due to the battle being postponed to a day where builder Alan Parkin was unavailable.
According to Robot Wars Extreme: The Official Guide, the team had built an "army" of antweights, of which Close Shave was supposedly the strongest. None of these other robots were seen on the televised show either.
Design
[
]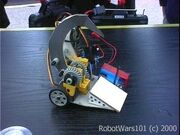 Close Shave was a two-wheeled antweight robot actively inspired by Razer[2], with a small front wedge and a large vertical crushing arm. It made extensive use of Lego parts for its wheels, drivetrain and weapons systems, which were attached to a solid baseplate underneath.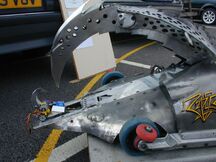 Etymology
[
]
The name Close Shave was chosen in reference to its heavyweight inspiration Razer, likening it to a household razor and choosing a name based on shaving. Alan Parkin also remarked that the robot 'probably won't work anyway', so the name Close Shave provided a "close enough" outlook.
The Team
[
]
Close Shave was built by Doncaster-based team captain Alan Parkin, who was also the driver of the machine. The robot's website also references a teammate Ben Camery, although it is unknown if he was also present at the filming of Extreme, which usually only allowed one-man teams in the antweight class. In the modern day, Alan Parkin's team is known as Canalside Robotics, although he likely did not have a team name at the time of Extreme.
Robot History
[
]
Extreme 1
[
]
Close Shave was scheduled to compete in the Antweight Championship of Robot Wars Extreme, where it would have fought Anto, Anty B, Combatant, Legion, Little Nipper, Pants and Razzler.
Unfortunately for Close Shave, the filming of the event was consistently pushed back until the Antweight Championship had to be postponed to a different day. This provided a scheduling clash with Alan Parkin's work, so he withdrew from the delayed event, with the TV show making no reference to Close Shave as a result. Nevertheless, Close Shave was still referenced in Robot Wars Extreme: The Official Guide, which contained a brief interview with Alan Parkin.
Work commitments would also prevent Close Shave from applying for the Antweight Championship in the second series of Extreme.
Series Record
[
]
Outside Robot Wars
[
]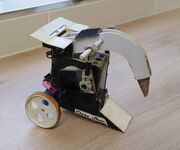 While it did not appear in Extreme 1, Close Shave debuted at the Antweight World Series 2 and won the event outright, with wins over Pants, Ickle Xno, Cannon Fodder and Bodge. It continued its high success in AWS 3, qualifying over Pants and Osiris in Round 1 and beating Tyrant in Round 2 before losing its semi-final to Pants. Close Shave finished third in AWS 3 after beating Cannon Fodder in the play-off, also winning two melees and the Tag Team event. Close Shave reached the third round of AWS 4, qualifying over Buzzant and Ickle Xno before losing to A.P.C.. Close Shave was less successful in AWS 5, falling in the first round to Pants and Buzzant, while Anto knocked Close Shave out of AWS 6 in Round 1. In its final Antweight World Series, Close Shave reached the quarter-finals of AWS 7 with wins over War Pog, Last Chance Saloon, Pants, Psycho Ant before finally being knocked out by Anteater and Anticyclone.
Close Shave also won the Antweight category at a Robots@War event[6] and attended a small number of other antweight events. By the end of its career, Close Shave had a much more prominent and damaging crusher. Close Shave was retired after the Antweight World Series 7, but Alan Parkin still owns the robot to this day, along with other antweights of his[7].
In the early 2000's, Alan Parkin also built four other antweights to compete in AWS 2-10:
Plod, a tracked robot largely made out of Lego Technic pieces.
GrassBox, an angular box wedge-shaped robot, also shortened to GB.

TrackBox (or Traxbox), a tracked robot with a scoop, advancing the design of GrassBox
Not A Box, the third in the "box" series of antweights, using wheels and a scoop. Jokingly described as "Not A Box, AKA TrackBox2, or GrassBox 3"

One-Eighty, a box-shaped robot with a lifting scoop that could travel up to 180 degrees.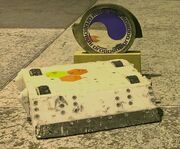 Alan Parkin would later become an active competitor in the British featherweight scene, regularly attending Robodojo events in North Yorkshire. He first competed in these events with Plastic Fantastic, a four-wheel driven invertible wedge made entirely out of HDPE. With no active weapon, Plastic Fantastic was a purely defensive robot designed to withstand blows from spinners and achieve victories via recoil damage or pittings. Plastic Fantastic competed in all Full Combat Robodojo competitions throughout 2019, winning one of the five outright. Its consistent attendance and high placements in each competition gave Plastic Fantastic enough victories to win the 2019 Full Combat competition overall.
Plastic Fantastic also competed in the FRA UK Featherweight Championship 2019 under the controls of Gareth Anstee, escaping the heats with wins over Revolver, Virus, Blunt Force Trauma 3, Elevate 2, and only a loss to the defending champion Amnesia. It advanced to the Top 16 but lost its head-to-head against Push-Abili-Tilly there.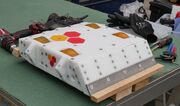 Following its Robodojo 2019 victory, Plastic Fantastic was retired in favour of its successor Velocity, a similarly designed machine retaining all the key strengths of Plastic Fantastic, with new wheels and added reinforcement. This has competed at a number of Full Combat Robodojo events in 2020 with relative success. Velocity would also on occasion compete in the Sportsman division as a reserve under the controls of younger drivers when other machines withdrew.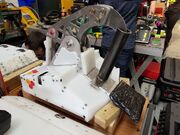 Also in 2019, Alan Parkin would build a featherweight robot armed with a hydraulic crusher, scaling up the design of Close Shave, known as Pressure Point. Its crusher weapon is among the most powerful in the modern day circuit and can easily pierce the armour of many featherweight machines it has fought, although Pressure Point mainly participates in Robodojo sportsman competitions with its weapon reduced in power or disabled entirely to comply with event rules. It was relatively successful in 2019, collecting a number of wins even without the full use of its weaponry. At the 2019 championship it was driven by Alan Parkin and defeated Barróg, Toothless and Binky, losing only to Satanix in the group stages. It reached the Top 16 where it was eliminated by Barróg Doom. Pressure Point continued to compete in the Robodojo 2020 sportsman circuit and won one event outright that year, ultimately placing second for the year's circuit, behind Euphoria.
Trivia
[
]
References
[
]
External Links
[
]