"Make it interesting"
— Team motto
The Cold Fusion Team (or Team Kat under captaincy of the Barnwells) is a very experienced team from Robot Wars, though its membership has changed over the years. They fought across eight main series and two series of Robot Wars Extreme, making them the longest competing team in Robot Wars, equal with Team Make Robotics.
The Cold Fusion team created four heavyweight robots; Bodyhammer, which reached the Grand Final of Series 1, Pussycat, an extremely successful robot that finished second in Series 4, as well as winning five side competitions and an international event, Kill-E-Crank-E, responsible for eliminating Razer in the first round of Series 8, and finally Crank-E, which fought in Series 9. The team also entered two featherweight robots; Katnip in Extreme Series 2 and Kitty in Extreme 2 and Series 7.
The team was originally named because Herrick, Dayton-Lovett and Jones were nuclear engineers. However, while none of these men remained on the team, it took on the name of Stuart Barnwell's Team Kat (not to be confused with Team KaterKiller, who sometimes went by that name).
Throughout Robot Wars, the Cold Fusion team were always willing to lend a hand. In Series 7, Alan Gribble even helped M2 repair its flipper at the last minute, despite knowing that M2's next battle would be against Pussycat. The team were recognised for their helpfulness in Series 5 when they won the Sportsmanship award.
Team History
[
]
Origins
[
]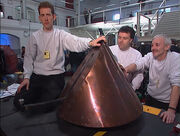 The team originally consisted of Robin Herrick (team captain and designer), Andrew Dayton-Lovett (composites specialist) and Steve Jones (build, project management and logistics). In Series 2, Jones was replaced by David Gribble when Robin looked to hand over the driving to a specialist RC driver. For Pussycat, the on-screen team consisted of Herrick (the captain and designer), David Gribble (the driver) and Robert Bettington (the weapon operator), though David's father, Alan, was the chief build engineer.
"I got involved with Robot Wars via my son David, The Cold Fusion Team needed a good driver, and some help finishing their robot Bodyhammer. The Team visited our local radio control racing club, where they spotted David, he is the club two wheel drive champion. They asked Dave if he would consider driving for them, he of course jumped at the chance. I have a small engineering business and was able to help out with finishing Bodyhammer."
— Alan Gribble on joining Cold Fusion Team[1]
Robert Bettington was Alan and David Gribble's neighbour. He competed with the team between Series 3 and 5, also competing in Extreme 1.
"Rob Bettington lives next door to Alan and David but seems to spend a lot of time in the workshop helping Alan with the robot. Rob's dad Malcolm did the welding in the top section of Pussycat. Rob's also a good radio-controlled car driver and wants a career in engineering."
— Team Cold Fusion website on Robert Bettington[2]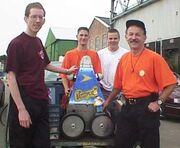 For the Series 4 Heats, Alan Gribble joined the on-screen team in place of Herrick and took over his role as captain. Robin later returned for the Semi-Final and Grand Final in place of Robert Bettington, but left the team after the Fourth Wars.
"I'm not really in the team anymore because I live a very long way away. I'm designing a new robot by myself. Look out for it in Series 8!"
— Robin Herrick on the Cold Fusion team website[3]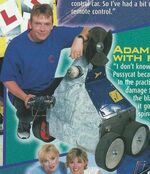 For the Celebrity Special shown as part of the Christmas specials in December 2000, the team were joined by the actor Adam Woodyatt. As per the rules, he had to control the machine for sixty seconds before he was permitted to hand the controls over to the roboteers. His fellow EastEnders star Natalie Cassidy also joined the team after the robot she was controlling, Iron-Awe lost to Pussycat in Round 1.
The lineup for Extreme 1 and Series 5 was the same as the Series 4 Heats.
Tragedy
[
]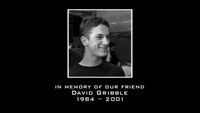 On Saturday 13th October 2001, shortly after Extreme Series 1 and Series 5 had been filmed, David Gribble, Pussycat's driver, was involved in a motorcycle accident and did not recover. A book of condolences was compiled on the official Robot Wars website, a memorial was shown at the end of the first episode of Robot Wars Extreme Series 1, and the last issue of the first Robot Wars Magazine was dedicated to his memory. This was the main reason behind Pussycat not returning for Series 6. However, Alan Gribble did act as a technical consultant for that series, and was seen helping teams in the pits. He would also fulfil this role during Series 7.
Stuart Barnwell and Team Kat
[
]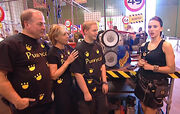 As the Cold Fusion team began to recover, Alan sought out a new driver. At the time, Rex Garrod from Team Cassius had been running a feature called Rex's Robot Challenge for Real Robots magazine, which explained in detail how to build a featherweight robot. Stuart Barnwell was building a robot for that challenge, following the magazine, but ended up speaking to Alan via email for advice and the two became friends.
Alan offered to make the weapon for Barnwell's robot, which was Katnip, out of metal as his plastic one was not strong enough. After the tragic death of David, Alan invited Stuart to become the team's new driver.
Stuart Barnwell also had his own team called Team Kat, which merged with the Cold Fusion team in Extreme 2. Pussycat returned for this series, entered by Alan Gribble, his wife Ann and Stuart Barnwell. The team also entered two featherweights: Kitty, entered by Alan and Ann, and Katnip, entered by Stuart and his parents Roger and Amanda. As Alan Gribble was a technical consultant for Series 7 and not allowed to enter a robot, Stuart Barnwell took over as team captain, and entered Pussycat and Kitty alongside his parents. Although both now worked for the show, Alan and Ann remained part of the team behind the scenes.[4] At this point the team was known as Team Kat for convenience, and it was also the name of the team's official website. The team continued in this guise until the return of Robin Herrick in Series 8.
Stuart Barnwell also joined the Tomahawk team in Series 7. Tomahawk captain Paul Kendrick's wife was heavily pregnant during the filming, and since Tomahawk's controls required a second team member to operate the axe, Kendrick asked Barnwell to assist him in the main competition. Stuart Barnwell had agreed to operate the axe, but ended up driving instead, as he had experience driving the robot at some live events.
In Series 8 of Robot Wars, Stuart Barnwell joined Team S.Tek to enter with Dantomkia, a robot that Barnwell had previously defeated in his last fight on the original Robot Wars. As part of Team S.Tek, he also drove Push to Exit in Series 9.
Return to Robot Wars
[
]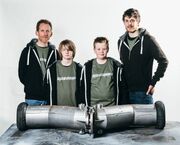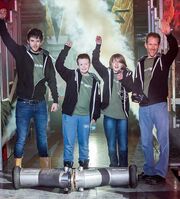 After moving away from the rest of the team in 2001, Robin Herrick, still working in the nuclear industry, briefly experimented with a heavyweight walking robot with a hydraulic hammer and petrol engine but this came to nothing when the TV show ended and the distance made travel to live events too onerous. Robin Herrick (now running his own engineering design business) made a sudden return to the robot fighting scene in 2016, re-forming the Cold Fusion Team with three new team members, his son Matthew Herrick, Matthew's friend Isaac Potts, and late entry Nick Wells from Aberdeen. Their robot, Kill-E-Crank-E, designed and built over a 6-week period just prior to filming (with the assistance of Caithness businesses JGC Engineering & Technical Services and Precision Machining Services), participated in Heat 1 of Series 8 of Robot Wars.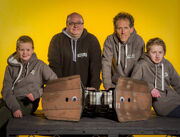 In a similar manoeuvre to David then Alan Gribble coming onto the team, then Stuart Barnwell joining the team followed by his parents, Isaac Potts has been followed onto the team by his father Mike Potts. Mike has taken charge of control system development for Crank-E, the team's entry in Series 9. Robin Herrick still leads for concept design and mechanical detail. Mike is a leading safety case engineer in the nuclear power industry with hobby interest in drones, taking the place of Nick Wells on the team.
Robots
[
]
Name
Weight Class
Series
Bodyhammer
Heavyweight
Series 1-2
Pussycat
Heavyweight
Series 3-5, 7,
Extreme 1-2, US Season 1
Katnip
Featherweight
Extreme 2
Kitty
Featherweight
Extreme 2, Series 7
Kill-E-Crank-E
Heavyweight
Series 8
Crank-E
Heavyweight
Series 9
Wins/Losses
[
]
NOTE 1: Bodyhammer's Gauntlet and Trial runs are not included
NOTE 2: Pussycat's overturned victory against Scutter's Revenge is considered to be a loss
Series Record
[
]
UK Series
[
]
US Series
[
]
Outside Robot Wars
[
]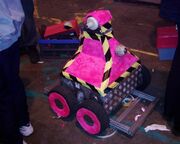 The team of Alan, Robert and David entered Techno Games 2003 with a weapon-less Pussycat in the football as Pink Pants along with a weapon-less pink fur clad TX-108, which was under the name RaMyA (Razer My Arse), but lost to Typhoon Rover and Typhoon 870 in round 1. Pink Pants also competed in the Assault Course but lost to Incy Wincy in round 1 (Incy Wincy did not qualify for round 2 however). The team (including Robin as designer and Alan on build) also built Twigworth Breaker for the Shot-Putt in 2001 but it barely managed to launch the ball out of the cage on one throw (only throwing the ball to 2.00m) and on the second throw failing and actually going up vertically upon launch and being caught by Alan Gribble.
The team still occasionally made an appearance in the touring organisation Roaming Robots, with Stuart, Amanda and Roger Barnwell and Ann Gribble making up the team. Robin Herrick also made a one-off appearance at the Robot Wars live tour in 2016 with Kill-E-Crank-E. Of the three robots that were entered into Robot Wars by Team Kat, none of them are still in the possession of the team; Katnip was scrapped in 2007, Pussycat briefly came into the possession of John Findlay of Team Roaming Robots (but was only used for static display) and Kitty has also been reowned.
"Technology moves on and technology costs money, which at the moment we are not prepared to move on with, we have no money"
— Team Website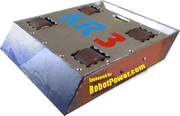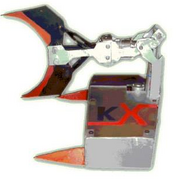 After Robot Wars, Team Kat also entered a featherweight called KX, which was built in 2006 but has since retired from fighting altogether. In 2014, KX was turned into GiAnto by Shane Lale of Team Tilly. The team also built an invertible featherweight ramming robot originally called KatRip but was eventually renamed KR2 and then renamed again as KR3-SP2, which never fought in competitive battles. Alan Gribble died of cancer on November 1st, 2013 at the age of 63[5].
Ann Gribble made her return to robotic combat in late 2017, after being invited to join various teams captained by Ian Watts. Alongside the consistent team members of Ian and Sam Watts, Ann Gribble competed on three different TV shows with:
The Grubs, a four-part clusterbot entered into the Chinese show King of Bots.
Eater, a two-part clusterbot entered into the Chinese show This is Fighting Robots.
The Four Horsemen, a four-part clusterbot entered into the 2018 and 2019 seasons of the American show BattleBots.
For more information on these machines, see Team Big Brother.
Trivia
[
]
Team Chaos and the Cold Fusion Team were the only two teams from the Series 1 Grand Final to enter Series 4.
Cold Fusion Team/Team Kat is the only team to have competed on the televised show in the first and Seventh Wars. Robin Herrick is the only roboteer to have competed in both Series 1 and Series 8 or 9.
The Cold Fusion team has seen more team members than any other, and is the only team to have entered both the first series of the original run and either of the rebooted series.
The band Inkwell performed a song named The Tragedy of David Gribble live, to commemorate the life of David Gribble.[6]
There is a Facebook page to remember David Gribble, which can be found here.
Typhoon 2, Apollo, Carbide and Eruption are the only Grand Champions that the Cold Fusion Team did not fight, though the team did compete against Team Typhoon in Techno Games, having fought them in the Football event. If this is included, Cold Fusion are the only team to have fought all six UK champions from the original run.
Due to Bodyhammer falling in the Gauntlet of Series 2, while Pussycat won its three battles in Series 3 before being disqualified, the Cold Fusion Team did not lose a single combat battle in the main Robot Wars competition between their appearances in the Grand Finals of Series 1 and 4.
During Pussycat's second battle with Tornado in Robot Wars Extreme, David Gribble wore a Wild Thing t-shirt, inverting the 'W' to mockingly call the robot 'Mild Thing'.
External Links
[
]
Honours
[
]
References
[
]