Jayne Middlemiss: "Disc at the back, flipper at the front, is that a lethal combination?"
Robert Kenyon: "We hope so!"
— Pre-battle interview with Jayne Middlemiss in Series 7
Colossus was a heavyweight robot which competed in Series 6-7 of Robot Wars. The robot was built for a final year university project by the team. It lost in the first round in both appearances after being flipped over by a returning top four seed, Firestorm 4 and Bigger Brother respectively.
Design
[
]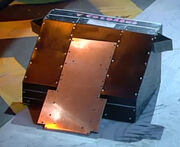 Colossus was a chain-driven basic wedge robot running on 11' go-kart wheels and was painted black for its debut. It featured a pneumatic flipper powered by two 100mil bar rams, titanium dural armour, a 19mm square box section chassis and a diamond edged cutting disc at the back running off a 750W motor. However, the flipper did not function as a self-righting mechanism, which cost it in its first battle.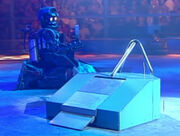 For Series 7, Colossus was repainted blue, coated in new Kevlar steel knitted wool inner armour with a rounded rear end and a new top-mounted rollbar. Although now able to self-right, it had no more success as the flipper failed to operate, leading to it getting flipped over again.
The Team
[
]
Colossus was entered into Series 6 and 7 by a college team from Preston in Lancashire, known simply as Team Colossus. Robert Kenyon captained the team, and he was joined by fellow students Christopher Hatton and Stephen Bennett in both appearances.
Qualification
[
]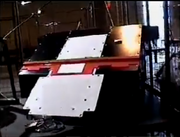 At the Series 6 qualifier, Colossus fought 259, Chip and Splinter. 259 took out all three opponents in under thirty seconds. However, unlike Chip and Splinter, Colossus received a discretionary place to qualify.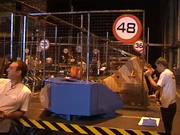 At the Series 7 qualifiers, Colossus was drawn against Alchemy, Barber-Ous 2'n a Bit and Lightning. Alchemy broke down at the start of the battle, whilst Barber-Ous 2'n a Bit broke down after losing a wheel. Lightning won the fight after flipping Colossus over, but both Barber-Ous 2'n a Bit and Colossus received discretionary places.
"Alchemy (spinner & grabbers) broke down going in. Barber-Ous (tough uprated spinning Barber's pole design) inflicted damage to our front scoop and a rear spike that can be hammered out and gave us lots of scratches and in the early part of the fight he was winning on damage. But we knocked the wheel off of Barber-Ous and he was immobilised after lots of contacts. Colossus was the other robot. Having flipped them earlier and them self-righting, we then got the chance to flip them again and this time they never recovered. So at the end of the fight no other robot was moving. Fantastic!"
— Laurie Calvert on the qualifier battle (edited)[1]
Robot History
[
]
Series 6
[
]
"Very confident in the pits!"
— Jonathan Pearce
In its debut battle, Colossus fought the third seed Firestorm 4, and two fellow Lancashire representatives, Series 2 competitor Mega Hurts 2 and fellow newcomer Cedric Slammer.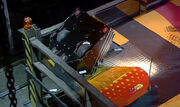 Colossus initially targeted Cedric Slammer, but could not bring its weapon into play. Later, Firestorm 4 pushed Colossus into the CPZ, up against the side wall, flipping it over. Colossus' flipper lacked the power to self-right, despite trying, particularly as the arena wall was in the way. Colossus was attacked by Sir Killalot and Sgt. Bash, sustaining a slice in its armour. By the end of the battle, all four robots became immobilised, but Colossus was the second robot to be defeated, so it was eliminated from the Sixth Wars.
Series 7
[
]
"Fought in the Sixth Wars. Lost its first battle though."
— Jonathan Pearce
Colossus was pitted against fourth seed, Minor Meltdown champion and former runner-up Bigger Brother as well as newcomer Typhoon 2 (who fought in the Extreme 2 Annihilator) and U.R.O. (who had not competed before) in its first round battle. However Colossus was left at a severe disadvantage when its flipper failed to work.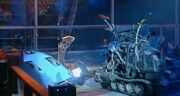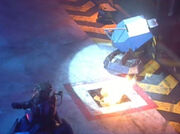 Bigger Brother pushed Colossus into the CPZ and flipped it over into exactly the same position that it had been flipped into in Series 6. Colossus was counted out by Refbot, but Bigger Brother, having defeated every robot in the arena, attempted to revive Colossus and put it back on its wheels, but was too late by a margin of seconds. Colossus then attacked Bigger Brother, but was edged towards the pit by Sir Killalot, eventually backing in itself. It was then followed by U.R.O., confirming the elimination of both robots.
"What a fight. In all the confusion, Colossus and U.R.O. were counted out. That means Bigger Brother and Typhoon, they go marching on!"
— Craig Charles
Results
[
]
Wins/Losses
[
]
Series History
[
]
Trivia
[
]
Had Bigger Brother righted Colossus a few seconds earlier in its Series 7 first round melee, the also-flipped future champion Typhoon 2 could have potentially been eliminated, changing the entire course of The Seventh Wars.

Along with U.R.O., Colossus was the final robot to lose against former runner-up Bigger Brother, and the first to lose against Series 7 champion Typhoon 2, in Robot Wars.

Both of Colossus' battles featured Sgt. Bash and Sir Killalot as the House Robots.

Along with Nasty Warrior, Colossus is one of the few robots to have the same two House Robots in all of its battles.

Both of Colossus' losses involved a robot that would reach the Grand Final of that series.
In its first appearance, Colossus fought in the second heat and was the last robot to be introduced and in its second and last appearance, it fought in the penultimate heat and was the first robot to be introduced.
Both of Colossus' battles involved the seeded robot immobilising three of the robots.
References
[
]