Colossus was a chain-driven basic wedge robot running on 11' go-kart wheels that competed in the final two series of Robot Wars. It featured a pneumatic flipper powered by two 100mil bar rams, titanium dural armour, a 19mm square box section chassis and a diamond edged cutting disc at the back running off a 750W motor. The black wedge competed in Series 6, but lost in the first round in a fight containing 3rd seeds Firestorm 4. It was repainted blue, given new kevlar steel knitted wool inner armour and competed in Series 7 where it lost in the qualifiers to Lightning, then received a discretionary place into the main competition, but had no more success as it lost in the first round in a match that featured 4th seeds Bigger Brother.
Robot History
Series 6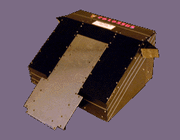 Firestorm 4, the number 3 seed, Mega Hurts 2 and Cedric Slammer were Colossus' opponents in the first round. Firestorm 4 pushed Colossus into the CPZ, up against the side wall, flipping it over. Colossus' flipper lacked the power to self-right, despite trying, and was eliminated.
Series 7
Bigger Brother, the number 4 seeds, Typhoon 2 and U.R.O. were against Colossus in round one of Series 7. Bigger Brother pushed Colossus into the CPZ and flipped it over into exactly the same position that it had been flipped into in Series 6 where it was once again unable to self-right. Colossus was counted out by Refbot, but was flipped over by Bigger Brother again. It then attacked Bigger Brother, but was pushed into the pit by Sir Killalot. Ironically, if Bigger Brother had righted it a few seconds earlier, the also-flipped future champion Typhoon 2 could have potentially been eliminated instead, but as things were, Colossus was eliminated.
Results
Wins/Losses
Series History
Series 1-5: Did not enter
Series 6: Heat, Round 1
Series 7: Heat, Round 1