"These newbies went from fans to finalists, and have proved worthy of their place!"
Concussion was a heavyweight robot which competed in Series 9 and 10 of Robot Wars. Despite being untested in battle and the team consisting of newcomers to the sport, Concussion reached the Grand Final of Series 9 with an undefeated run, twice defeating former Grand Finalist Thor in the process. A combined attack from bar spinners Carbide and Ironside3 in its Grand Final Group Battle resigned Concussion to fifth place. An improved Concussion performed well in Series 10, but fell short of the Grand Final by losing its Heat Final to Nuts 2, and was pitted in the 10 Robot Rumble. Concussion also successfully represented the United Kingdom in Robot Wars: World Series, and secured an overall victory for Team UK by defeating Weber.
Design
[
]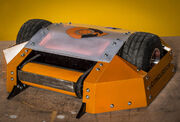 Concussion was a compact, two-wheel drive robot armed with a single-toothed, teardrop-shaped spinning drum. The drum was initially machined out of a single piece of EN8 carbon steel[1], revolving at 6,000rpm and weighing 24.5kg in Series 9. The tooth was designed by team member Sam Griffin, with the Dorset Roboteering Team prioritising a weapon which was well-balanced but had greater engagement on the tooth. Like other drum spinners such as Pulsar and the Series 9-10 versions of Sabretooth, Concussion was capable of running inverted, which it could do so through its 10-inch diameter go-kart wheels.[2] The robot itself was predominantly painted orange and white, with black accents on the drum and front wedgelets. Concussion's name was painted on the side and rear panels in black, with its logo also featured on the top panel.
"Concussion was designed around its 6,000rpm spinning drum weapon, machined from a single piece of hard steel for added strength and supported by a laser-cut precision-welded frame."
— Robot Wars: Build Your Own Robot on Concussion in Series 9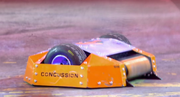 Concussion's chassis consisted of a welded frame made out of S355 steel, the same grade as used in forklift truck arms.[3] The robot's armour in Series 9 consisted of various materials, including 3.2mm RAEX, a 10mm polycarbonate top panel and a 3mm aluminium baseplate.[4] The design also incorporated a steep angular wedge profile at the rear - similar to that of Carbide - as well as two narrow front wedgelets used to expose the ground clearance of Concussion's opponents. Notably, the team 3D-printed their own removable link to reduce the chances of the link falling out during battle.[5] Concussion was specifically designed to be serviceable from any angle, in order to allow Dorset Roboteering Team to repair the robot as quickly as possible in between battles.[6] The Series 9 Concussion was powered by a pair of 750W electric motors, although these were susceptible to burning out along with the robot's speed controllers. Additionally, the robot's go-kart wheels were exposed to overhead attacks, and the tooth design on the original drum was susceptible to chipping, reducing the weapon's efficiency over time.
Prior to the robot's completion, Dorset Roboteering Team built a wooden prototype to test and refine Concussion's original drive system. During testing, Ian Lewis visited the team[7], with the prototype demonstrating its capabilities by pushing Lewis back and pulling his car across a short distance.[8] Both Lewis and Simon Scott gave Dorset Roboteering Team advice after seeing the team's early CAD models for Concussion, with Scott also manufacturing the robot's original drum.
"You may remember in series 9 we had a few issues with our drive. Mainly overheating and spontaneous fires. Fixing these issues was the first thing on our to do list for series 10. We've completely redesigned the drive system in Concussion Mk2, to start with we've changed the motors out for lighter and more powerful Ampflow E30-400's, and we managed to obtain sponsorship from VEX Robotics who provided us with two awesome Victor BB's. They are really solid ESC's so we don't expect them to fail, they'll also be limiting the current to the motors which will hopefully prevent us from burning anything out this time."
— Concussion - Robot Wars Facebook page, ahead of Series 10[9]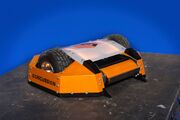 For Series 10, a brand new version of Concussion was built with only a wheel mounted eight ball piece being carried over from the Series 9 model. This incarnation was reworked internally to minimise the faults that consistently occurred to the robot in Series 9, with the robot now featuring lighter and more powerful AmpFlow drive motors as well as a custom-made gearbox and Victor BB speed controllers.[10] Concussion also received sets of LED lights which lit up through the top panel, as well as small bars on top of the robot on either side of the drum.
"For Series 10 Concussion returned with an improved spinning drum, with the ability to hurl pieces of enemies out of the arena and cause internal damage."
— Robot Wars: Build Your Own Robot on Concussion in Series 10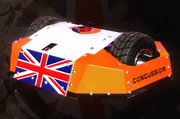 In addition to these internal upgrades, Concussion's drum was replaced with a new 26.2kg single-toothed one made out of Toolox steel. The new drum featured an altered design and improved strength over the original weapon, while also rotating at 7,000rpm - a 1,000rpm increase over the Series 9 drum.[11] This drum allows Concussion to self-right using gyroscopic forces in combination with running inverted.[12] Additionally, Concussion featured several upgrades to its armour; its front area was now made out of 6mm RAEX, the baseplate made out of 3mm titanium and the front wedgelets manufactured out of Toolox.[13] During its appearance in the second episode of Robot Wars: World Series, Concussion sported a new rear panel with the Union Jack, in reference to it representing Team UK for this competition.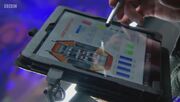 Also for Series 10, Nick Oliver installed a Wi-Fi-based telemetry system, which was used to monitor Concussion's battery voltage and the temperature of its main components, as well as to control the robot's LED light system.[14] This information was displayed on a tablet which the team reviewed during battle.
"The new custom-made telemetry circuit, which Oliver designed and for which he also did all of the coding. Using wi-fi, the circuit will report back realtime data from the robot to an application installed on a tablet."
— Institution of Mechanical Engineers
Despite its design similarities, Concussion was not inspired by Robot Wars or BattleBots competitors with drum spinners such as Pulsar or Minotaur. In fact, the team were not aware of Minotaur and other similar drum spinners until the design stage had already begun, at which point a few key liberties were taken to distinguish it from being a 'Minotaur clone'.[15]
"Me and Carl came back, and we both had in our heads a weapon that would be really good, because we saw the big spinners, and we saw the bulky-armoured robots and we thought a drum would be really really good for this, something that would uppercut and do a good amount of damage, and flip people over. So we just had the same sort of idea, I guess!"
— Tim Rackley in an interview with Haynes Manuals[16]
The Team
[
]
"The whole team are huge fans of the show – Tim and Carl were VIPs at series one filming and decided to get a team together and build a robot to compete!"
— The Robot Wars website on the Dorset Roboteering Team in Series 9
Concussion was entered by the Dorset Roboteering Team, which was founded after team members Tim Rackley and Carl Yeo attended the filming of Series 8 as audience members, and both decided to form a team from their friends and colleagues, Nick Oliver and Sam Griffin, fellow fans of the show. All four team members held a unique role on the team, creating a balanced skillset.
"Team Captain Tim is a die-hard Robot Wars fan, so much so he even has a tattoo on his leg in homage to the show."
— The Robot Wars website on Tim Rackley in Series 10
The team was captained by Tim Rackley, often nicknamed Tim Rackers, who was a 24-year old test engineer at the time of Series 10. Known for his expressive demeanour on the show and mohawk hairstyle, Tim Rackley was the most prominent speaker in the TV series, and was also the weapons operator of Concussion.
"Definitely ask questions! ...Straight away last year we knew what we were doing with our drive, but we needed to learn, we needed to know a bit more, so the best way to do that is by asking!"
— Tim Rackley's advice for new roboteers[17]
35-year old electronic engineer Carl Yeo was the driver of Concussion, and became known for his aggressive driving style, landing extra attacks on robots such as The Kegs and Iron-Awe 6 after Concussion had already defeated them, also being one of the first drivers in Robot Wars to attempt a gyro-dance for self-righting purposes.
25-year old mechanical design technician Sam Griffin was described as the mechanical expert of the team, according to the Robot Wars website, and led the repairs of Concussion, which all members of the team assisted with.
24-year old electronic engineer Nick Oliver designed the electronic systems of Concussion internally, and also created the telemetry system used to display Concussion's performance statistics in battle and manage its LED system. Nick Oliver monitored this information on a tablet while Concussion fought.
"The team is basically four fans who decided to give it a go after many years watching the show!"
— The Robot Wars website on the Dorset Roboteering Team in Series 9
Robot History
[
]
Series 9
[
]
Concussion competed in Heat 3. In its Group Battle, it faced Series 8 fourth-place finisher Thor, fellow newcomer Tauron and another Series 8 returnee, Chimera2.
Dara Ó Briain: "Are you confident, by the way? Your first time here."
Tim Rackley: "Yeah, I mean, we've never done any fight anywhere, so we're complete rookies, but - "
Dara Ó Briain: "So this is the first-ever fight?"
Tim Rackley: "Ever... apart from a piece of oak, but yes."
— Dara Ó Briain interviews Dorset Roboteering Team ahead of Concussion's Robot Wars debut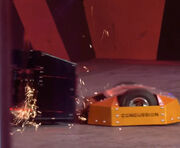 At the start, Concussion immediately lunged at Tauron, but missed, only to slam into Tauron's side and immobilise it. Seconds later, it flipped Chimera2 over, before chasing Chimera2 as it drove over the arena spikes. Chimera2 pushed Concussion back before Concussion spun away and hit its wedge. Concussion drove away as Thor axed Chimera2, before pushing Chimera2 into the CPZ and getting underneath it as Thor charged in to separate the two robots. A slam from Thor freed Concussion, allowing Concussion to hit its side twice with the drum as Chimera2 was counted out. As a result, Concussion progressed to the Head-to-Head round along with Thor, although not without losing drive to one side as a result of a burnt-out motor.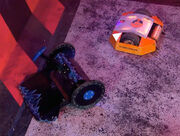 "One of the windings has burnt out on one of the drive motors. Erm, we've never pushed him quite that hard. We've - you know - we've thrown him about in a car park and pulled a car or two, but, you know, never around against everyone else trying to rally against you."
— Tim Rackley assesses the damage to Concussion's drive motor
In the pits, Dorset Roboteering Team found that the affected drive motor was irreparable, and were forced to equip Concussion's second spare drive motor due to a faulty weld in their first spare. Concussion's first Head-to-Head battle saw it face Thor for the second time.
Both robots slammed into each other in the opening seconds. It chased and pushed Thor towards a CPZ as the latter triggered 'Rogue House Robot', but was caught by Dead Metal and pinned against the wall as the latter sliced into its top panel.
"They're okay, just about!"
— Jonathan Pearce as Concussion escapes Dead Metal's grasp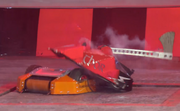 Dead Metal released Concussion from its grasp, where it momentarily hesitated before pursuing and slamming into Thor. Concussion hit Thor a few more times, sending sparks flying and causing CO2 to vent from the latter's axe mechanism, before driving over Thor's wedge and momentarily lifting off the floor as it did so. Another couple of hits deflected Thor away and sent Concussion onto the partially-lowered pit panel, leaving it unable to drive away as its ground clearance was too low to drive out of it. Thor slammed into Concussion again, but this impact dislodged one of Concussion's drum belts.[18] Both robots became stuck together as a result, before Thor freed itself using its axe and Concussion spun around on the pit panel. The House Robot Matilda closed in to try and free Concussion from the pit - in the edited programme, this was disguised as a Rogue House Robot attack - but instead Matilda became stuck on top of Concussion.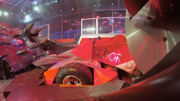 "Oh, Matilda's done us in!"
— Sam Griffin as Concussion is rammed by Matilda
With Concussion stuck underneath Matilda, Thor axed Matilda's tusks before Dead Metal grabbed Concussion again and the three robots separated. Still trying to drive itself off the pit panel, Concussion drove around in circles, only to clip Thor's left-hand wheel-guard with its drum and flip it over as the latter charged towards it. This was done with Concussion's drum spinning at half power.[19]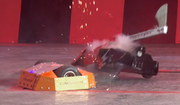 "...but poor Concussion. They're almost out of it, because they're stuck in there. They can't drum up enough power to get away – they can! OH! They flip Thor with the mighty power of the drum! What a turn up, what a turn up!"
— Jonathan Pearce as Concussion flips Thor over
With Thor left unable to self-right due to a depleted CO2 supply, Concussion emerged victorious, scoring three points for its first knock-out victory. However, Dorset Roboteering Team still encountered problems with the robot's drive systems, with all of its motors and speed controllers having burnt out following that battle. Despite the prospect of the team forfeiting their place, they repaired Concussion for its next battle with seconds to spare. The second Head-to-Head saw Concussion face Heavy Metal, a new robot from the experienced Team 13.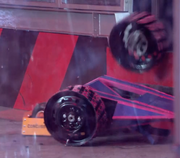 Concussion drove around Heavy Metal at the start, pursuing it across the arena before slamming drum-first into its wedge. Sparks and rubber treads from Heavy Metal's wheels flew across the arena as Concussion hit it again, before Concussion flipped Heavy Metal over and buffeted it towards the wall. Another slam from Concussion ripped Heavy Metal's right-hand wheel off and sent it flying out of the arena, leaving Heavy Metal immobilised on one side and unable to drive straight. Concussion sat in the middle of the arena until 'cease' was called, and scored another three points to remain first on the leaderboard with a total of six.
These six points were enough for Concussion to secure a guaranteed place in the Heat Final, even before its last Head-to-Head against M.R. Speed Squared, but both robots fought nonetheless. Before the battle started, M.R. Speed Squared encountered problems attempting to get its spinning weapon working, with Dorset Roboteering Team both discussing the issue with Team Forsey and evaluating their tactics in light of this.
"It didn't look like their weapon was going, so... we're just gonna go hell for leather at them, I suppose."
— Tim Rackley on M.R. Speed Squared's weapon issues and Concussion's tactics ahead of their Head-to-Head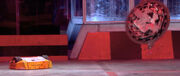 As the battle began, Concussion drove around and deflected M.R. Speed Squared, the latter spinning uncontrollably as its weapon powered up. This was enough to flip M.R. Speed Squared over and disable its weapon, with Concussion pursuing, hitting and pushing M.R. Speed Squared along the arena before the latter pressed the Arena Tyre to activate the pit. Concussion again hit M.R. Speed Squared, lifting it on top of itself with the drum, before attempting to pit it. Both robots swerved away from the pit edge, with Concussion hitting M.R. Speed Squared a few more times before pushing it over the Flame Pit and into Dead Metal. Once M.R. Speed Squared escaped, Concussion hit and pushed it again, seemingly unable to damage M.R. Speed Squared, before shoving it into Dead Metal and chasing it towards Sir Killalot. Concussion flipped M.R. Speed Squared onto itself again in the process, forcing Sir Killalot to grab and lift M.R. Speed Squared off in an attempt to separate them.
"Concussion has been hit and dented, but it has been a very good machine – and very nearly got itself on the precipice there."
— Jonathan Pearce as Concussion tries to pit M.R. Speed Squared again
Once M.R. Speed Squared was thrown across the arena by Sir Killalot, Concussion pushed it towards the pit again, and started smoking as it hit and flipped M.R. Speed Squared a few more times. More smoke billowed as M.R. Speed Squared pushed it back, with Concussion noticeably losing speed and mobility across the arena floor as it tried to retaliate.
"Something's on fire."
— Tim Rackley spots Concussion's internal fire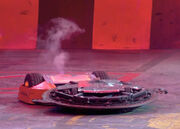 Still smoking, Concussion was rammed again by M.R. Speed Squared, and spun itself and its drum in an attempt to display its remaining signs of mobility. Despite this, it managed to hit M.R. Speed Squared twice more before 'cease' was called, and survived to a Judges' decision. Even with its reduced mobility, the decision went unanimously in favour of Concussion, awarding it two points and first place on the leaderboard with eight points. Even with continuing repairs and uncertainties surrounding the reliability of its left-hand drive motor, this result confirmed Concussion's place in the Heat Final, where it faced Thor once again.
"If they can avoid another battle bonfire, could this be the fairy-tale ending for the boys who went from fans to finalists?"
— Angela Scanlon before Concussion's Heat Final against Thor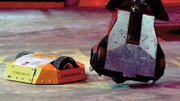 At the start, Concussion slowly moved forwards as Thor rammed into it, before driving around and deflecting Thor away with a front-on blow. It chased Thor around the arena before hitting its side and wedge a few more times and almost flipping it onto its back. Again, Concussion pursued and hit Thor's wedge, with another hit causing Thor's CO2 system to leak for the second time, before gingerly pressing the Arena Tyre as Thor tried to push it back. This released the pit, with Concussion continuing to hit, chase and lift Thor with the drum as the two robots momentarily drove close to Dead Metal.
"...and Concussion is prowling, and growling, and again holding the arena central space."
— Jonathan Pearce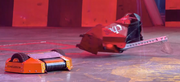 Eventually, another succession of blows resulted in Concussion flipping Thor over, with Thor self-righting immediately in response. More frontal slams allowed Concussion to buckle Thor's front wedge, before the two robots locked together and Concussion was pushed back and nearly axed by Thor. Both backed away, with Concussion nudging Thor as it briefly stopped moving near the Flame Pit. Thor regained mobility shortly after, and pushed Concussion over the Flame Pit seconds before 'cease' was called. Both robots survived to a Judges' decision as a result, with Concussion unanimously winning the decision and progressing to the Grand Final.
"This team of engineers went from being in the audience last series to being competitors in this one - they've done fantastically to get this far!"
— Jonathan Pearce
The newcomer went into the Grand Final as an underdog, being drawn against horizontal bar spinners Carbide and Ironside3 in its Group Battle.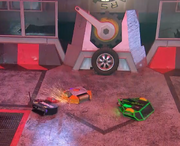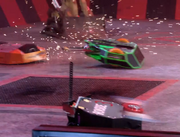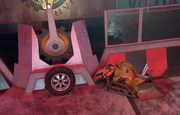 Concussion was very fearful of these spinners, and it merely backed away when 'activate' was called, slowly nearing the Arena Tyre before sustaining a huge blow from Carbide. Concussion was sent reeling into the Arena Tyre, opening the pit, but Concussion had already lost drive on one side. Concussion turned to face Ironside3 weapon-to-weapon, but then both bar spinners launched a joint attack, each hitting both sides of Concussion. The final attack from Carbide sent Concussion spinning straight back into the Arena Tyre, where Shunt axed the fully immobile robot, and barged it into the wall. Concussion was counted out, and it was eliminated from the Grand Final at this early stage.
Angela Scanlon: "The dream ends here!"
Sam Griffin: "Oh we went past the dream ages ago!"
— Dorset Roboteering Team, celebratory in defeat
Series 10
[
]
Returning for its second series, Concussion competed in Heat 4 of Series 10. The reigning Grand Finalist of the heat, Concussion was drawn against Nuts 2 and Androne 4000 in the first round.
It was immediately targeted by the crusher-wielding Androne 4000, whose wedged front proved resistant to the drum spinner of Concussion. Darting around, Concussion took a glancing blow from Nuts 2, the flail impacting directly in the centre of the wheel hub. The resulting damage severely hampered Concussion's movement throughout the battle. The restricted Concussion caught a glancing blow on Androne 4000, but was struggling to land significant attacks or move properly. Androne shepherded Concussion onto the arena flipper, which overturned the drum spinner and allowed Androne 4000 to eventually pierce into Concussion's underside, also directly sniping Concussion's removable link, knocking it out completely. As Androne 4000 pushed Concussion over the floor flipper, Androne 4000 was thrown partially and the heavy landing caused Androne 4000 to break down. With Concussion pinned in its crusher, and Androne 4000 immobile, both robots were counted out simultaneously.
"When they got locked together, they couldn't separate, and from that position there, I'm afraid it was a kiss of death...an embrace of doom."
— Jonathan Pearce
The hole from Androne 4000's crusher required serious hammering out from Tim Rackley. Despite losing mobility slightly sooner than Androne 4000, it was deemed to have finished the fight in second place, awarding Concussion a more advantageous Robot Redemption Knockout. Once repaired, Concussion's redemption was obstructed by The Kegs, which had been customised to hinder Concussion by outfitting one robot with a wedge.
The fight was decided very quickly. With one smooth drive motion, Concussion landed a heavy blow on the back of the spinner-armed Keg and clove the barrel shell straight off, immobilising half of the clusterbot. Concussion tossed the wedge Keg through the air, onto the floor flipper, and then hurled it into the CPZ of Sir Killalot.
"Where they come from in Lewes they roll flaming barrels down the street on bonfire night - well they're rolling towards oblivion here! This is mightily impressive from Concussion here. Whoa!"
— Jonathan Pearce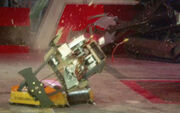 With both clusterbots now immobile, Concussion landed another shattering blow on the shell-less spinner, smashing wires free, ripping a tire loose from a wheel and sending shards out of the arena. Concussion had comfortably won the battle in just 34 seconds, reigniting the mood of the Dorset Roboteering Team.
Angela Scanlon: "You look...content!"
Tim Rackley: "We're feeling a lot better than earlier, that's for sure."
Angela Scanlon: "You're back to form, it seems. That was beautiful to watch. Less so for Kegs."
Tim Rackley: "Thank you, thank you. Well we love fighting them - in fact, they gave us a splinter."
Angela Scanlon: "Oh boo hoo, have you seen them?"
— Angela Scanlon debriefs with Concussion
Concussion would then battle Iron-Awe 6 in the semi-final round. Iron-Awe 6, which had won its first round battle, was clad in entanglement weapons which posed some strategic challenges for Concussion.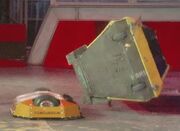 Iron-Awe 6 charged head-first into Concussion's drum, but failed to wedge under it whilst also resisting the drum. Concussion ground away at Iron-Awe 6's side, chewing through its entanglement devices, and eventually began bucking it from the floor. One glancing blow from Concussion's drum on the back corner of Iron-Awe 6 overturned the flipper, whose failing weapon let them down once again, and Iron-Awe 6 could not self-right. Leaving Iron-Awe 6 in the clutches of Dead Metal, Concussion charged in for a final nip on its fallen foe as cease was called.
"Guys, if we're honest, your experience was the most intimidating thing in that arena. Seriously. Genuinely."
— Tim Rackley shakes hands with the Grimms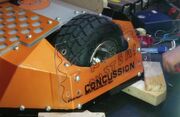 Concussion was now drawn against Nuts 2 in a rematch of the opening Group Battle. As a precaution against wheel damage that cost them in the first encounter, the team drilled sacrificial polycarbonate "Nut Buster" plates onto the side of Concussion to shield its exposed tyres.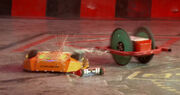 Concussion charged into the spinning Nuts 2, but were flipped by the floor flipper. Crashing into Nuts 2, Concussion landed on its wheels, but made the exact same mistake by driving onto the floor flipper again. This time, Concussion landed on its back, where the Nut Busters prevented it from driving smoothly.
"And I'm not too sure here whether the Nut guards are impeding it here...Concussion can usually drive both ways up, but those Nut Buster guards are stopping them moving!"
— Jonathan Pearce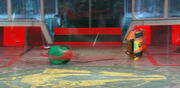 Spinning its drum up to full speed, Concussion attempted to use torque to right itself, but whilst it came close, it was not able to right itself. Concussion collided with Shunt, losing all of its momentum. The team hoped for Shunt to right Concussion, but instead the team lost the power of their drum following an axe blow. Despite Nuts 2 smashing off one of the guards, Concussion was not able to right and was battered by Shunt's axe, which caused serious damage to the robot. Limping in a circle, Concussion was counted out and relegated to the 10 Robot Rumble for its final chance to earn a place in the Grand Final.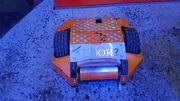 There in the 10 Robot Rumble, Concussion faced a fellow drum spinner in Sabretooth, past Grand Finalists Apollo, Eruption, Terrorhurtz and Thor, newcomer Track-tion, Iron-Awe 6 in the second encounter between the two, as well as Big Nipper and Expulsion. Jason Marston of Thor wished to avenge his double-loss to Concussion in Series 9, and applied a large Concussion sticker to his robot as a warning to Concussion. Dorset Roboteering Team responded by brandishing Thor's logo on the surface of Concussion.
"To get through that, you're gonna have to be something pretty special."
— Tim Rackley on Concussion, before the 10 Robot Rumble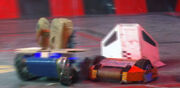 Concussion made its first move in the battle when it immediately dislodged one of Track-tion's tracks, leaving the school entry hobbled early on. Shepherded by Apollo, it almost drove into the descending pit which was activated by Thor, but managed to squeak by. Concussion was able to briefly join a group attack on Eruption, alongside Big Nipper, Terrorhurtz and Iron-Awe 6, but to no major effect; at this stage, Expulsion and Track-tion had already fallen. Concussion went to attack Apollo, but Sabretooth landed the more devastating drum blow by hurling Apollo almost on top of Concussion, and clipped Concussion which caused the drum to fail.
"Oh the meat in the sandwich there between Sabretooth and Concussion, teaming up well!"
— Jonathan Pearce
The Dorset Roboteering Team were responsible for the second Fog of War, but Concussion's effectiveness in battle was minimised without its drum. It grappled with its chosen rival Thor, but was unable to cause any damage and was herded away without much trouble. Terrorhurtz was edging an immobilised Iron-Awe 6 towards the pit and Concussion darted forward and took the pitting upon itself. This elation did not last long, however, as Concussion was the next robot to go down; it tangled once again with Thor and was pushed into oblivion, the fourth robot to fall.
"Oh, Jase!"
— Tim Rackley reacts to Jason Marston's revenge
World Series
[
]
Concussion made another appearance in Series 10 when it represented the United Kingdom during Robot Wars: World Series. In the first round, it fought alongside its former rival, Thor, to battle the Team Rest of the World captain, USA representative, and loanerbot Cathadh, and the Canadian representative Terror Turtle.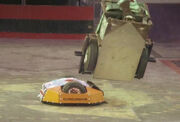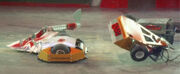 Concussion began in the fight against Terror Turtle, their second time fighting a Team Terror Turtle machine in Series 10, although the fight was short and controversial. In just seconds, Concussion immobilised Terror Turtle by overturning it with its drum - the quickest knockout blow in Robot Wars history in just over two seconds. Concussion retreated and tagged Thor, who engaged Cathadh. As Cathadh wound itself up on Thor's wedge, Concussion flew out of the CPZ and bit a chunk out of Cathadh's rear, hurling it away and breaking its weapon system.
"Hey! I'm sorry, that is illegal! That's illegal. Excuse me, get back in your box, Concussion's not allowed to be out there!"
Both Terror Turtle and Cathadh were crippled and immobilised, even with Shunt helping the latter back on its wheels. Cease was called, and Tim Rackley mentioned that Concussion had hit Cathadh so hard that its RV system had failed. The Cathadh team were not impressed, and lodged an official objection after the fight based on the robot being double-teamed. After discussing, UK Captain Michael Oates agreed with Dara Ó Briain that Thor and Concussion would forfeit the fight, handing 3 points to the Rest of the World team.
Dara Ó Briain: "Are you willing to hand over the points because of this disgraceful behaviour?"
Michael Oates: "Yeah, I think, let's even up the score, and let's go into the head-to-heads with a clean slate."
— Michael Oates of Team UK forfeits Concussion's potential victory
Concussion was drawn against the Russian Weber in the head-to-head stage, and a victory in any capacity from Concussion here would solidify the overall victory of Team UK in the episode.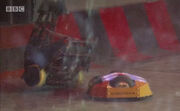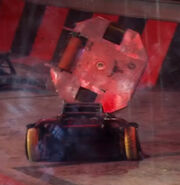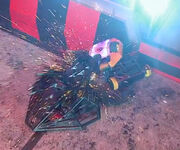 Concussion was faster around the arena floor, and slammed into the side of Weber, which flipped itself over against an entry gate and initially struggled to self-right. As Weber re-righted itself, Concussion built up the pressure, but was overturned after Weber got underneath it using its wedge. Concussion self-righted when its drum hit the arena wall, but fell into the clutches of Dead Metal, whose saw met Concussion's drum in a violent screech of metal. After Concussion escaped, Weber ran into trouble with the House Robots, and Sir Killalot peeled a wheel off. A few more blows from Concussion on Weber's back and sides caused the robot mobility problems, and the fight was called a KO victory for Concussion. Sir Killalot pitted Weber, and eventually shovelled Concussion in afterwards.
"When Dead Metal went straight down on the spinner, I thought ooh, what's going to happen there!"
Concussion's victory ultimately sealed victory for Team UK, as the gap of 11-3 was too much for Cathadh to make back later on, and Team UK ultimately won the episode by a margin of 16-3.
Results
[
]
CONCUSSION - RESULTS
Series 9
Series 9 - UK Championship
Grand Final
Heat 3, Group Battle
vs. Chimera2, Tauron, Thor
Qualified
Heat 3, Head to Heads
vs. Thor
Won by KO (3 Points)
Heat 3, Head to Heads
vs. Heavy Metal
Won by KO (3 Points)
Heat 3, Head to Heads
vs. M.R. Speed Squared
Won by Judges' decision (2 Points)
Heat 3, Heat Final
vs. Thor
Won
Grand Final, Group Battle
vs. Carbide, Ironside3
Eliminated
Series 10
Series 10 - UK Championship
Heat Final
Heat 4, Group Battle
vs. Androne 4000, Nuts 2
Lost
Heat 4, Robot Redemption
vs. The Kegs
Won
Heat 4, Semi-Final
vs. Iron-Awe 6
Won
Heat 4, Heat Final
vs. Nuts 2
Lost
10 Robot Rumble
vs. Apollo, Big Nipper, Eruption, Expulsion, Iron-Awe 6, Sabretooth,
Terrorhurtz, Thor, Track-tion
Lost
World Series, representing the UK
Partnered with Thor in Tag Team battle
Episode 2, Tag Team
vs. Cathadh & Terror Turtle
Forfeited (0 points)
NOTE: Concussion (and Thor) won by knockout, but forfeited the points due to a rule breakage during the battle
Episode 2, Head-to-Head
vs. Weber
Won by KO (3 points)
Wins/Losses
[
]
NOTE: Concussion and Thor's battle with Cathadh and Terror Turtle is included as a win.
Series Record
[
]
Gallery
[
]
Outside Robot Wars
[
]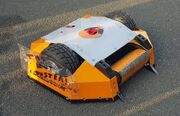 Concussion never fought on the event circuit, although it did make an appearance on static display at the Extreme Robots event at Guildford 2017. Concussion's next public appearance was at Robonerd in August 2019, still sporting the "Nut Busters" from its Series 10 appearance. All members of the Dorset Roboteering Team were present, with Tim Rackley also helping to run the event, and bringing a water-based robot named The Tim Quackers Experience.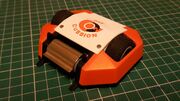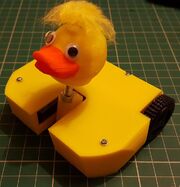 The team also built a replica model of Concussion with working drive, and in November 2018, competed at the Dorset Robot Championship with a regulation antweight version of Concussion, weighing 150g. Team member Carl Yeo also built a featherweight machine named Quackie Chan.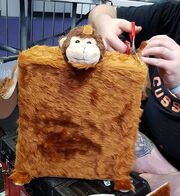 Ahead of the Robo Challenge Championship at Insomnia 61, Dorset Roboteering Team began building Migraine, a scaled down version of Concussion, although this ultimately did not compete. Tim Rackley instead competed with Spank the Monkey, a tall fur-coated robot with two swinging arms. Notably, it was equipped with an inflatable banana in a battle with drum spinner Equinox, and the banana was absorbed by the drum spinner, disabling it.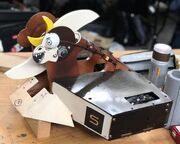 As the captain of the Smushed Banana team, Tim Rackley built a new featherweight in 2018, to enter the featherweight championship held by King of Bots at Insomnia 63. His new robot was named Furious George. Armed with a vertical spinner designed to look like an opened banana, Furious George won its first qualification battle after pitting Nelly the Ellybot, before comfortably defeating Utopia and Meow in its next melee, although Furious George would lose its final qualification round against Cobalt, after getting wedged against the wall. Furious George qualified for the Top 20, but was stranded on its side against the arena wall by Aegis, and lost the battle. Furious George had one last chance in the five-way losers' melee, but it was immobilised by DB12, eliminating Furious George at this stage. Both Furious George and Spank the Monkey competed in a six-way animal-themed melee named "Farmageddon", where Spank the Monkey was quickly immobilised by Nelly the Ellybot, while Furious George immobilised all of the remaining machines except for Meow. However, for hitting the immobile Hedgebot at its builder's request, Furious George was stripped of its victory for unsportsmanlike behaviour, as the judges were unaware of Hedgebot's request. Spank the Monkey entered a three-way whiteboard battle between prominent members of the Robot Wars Shuntposting Facebook group, placing it against Nelly the Ellybot and Straddle 2, and was quickly overturned by Nelly the Ellybot. Finally, Spank the Monkey was retired in a demonstration of the heavyweight robot Vulcan, which destroyed the featherweight machine in front of the audience.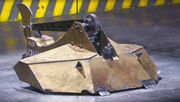 Tim Rackley collaborated with Jason Marston to enter the Chinese TV show Clash Bots, filmed in 2018. They did so with AU Thumper, a golden robot armed with a steep wedge and an electrically driven axe, capitalising on Marston's success for Thor. The robot ultimately finished in third place - for more information, see here.
Tim Rackley and Sam Griffin would also compete in the 2018 season of BattleBots with Monsoon, a vertical bar spinner. The robot was armed with a vertical spinner, and Rackley competed on a team with Tom Brewster and Sarah Asplin, reaching the Top 8 of the competition. For more information, see here. Tim Rackley also starred in a skit where he styled Max Bales' hair into a mohawk, in reference to Bales' robot Mohawk.
For the 2019 season of BattleBots, Tim Rackley formed a new team with Jack Tweedy to build the hammer-wielding Ragnarök. In its first battle, Tim Rackley faced his former teammates in a battle against Monsoon, but quickly lost the use of its weapon receiver after being thrown over, and could not self-right. It returned for a battle against Valkyrie, but an airborne hit from the horizontal spinner of Valkyrie immobilised Ragnarök in a single hit. With two back-to-back losses, Ragnarök entered the Desperado bracket in an effort to salvage its campaign, but despite holding off WAR Hawk for a while, Ragnarök was immobilised and knocked out of the Desperado tournament. The final fight of the season from Ragnarök was a battle with Mad Catter, although Ragnarök started strong, delivering numerous blows, both robots lost half of their drive early on. Mad Catter's minibot Crazy Cat then used its flamethrower to attack Ragnarök from behind, who was then counted out.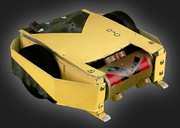 Tim Rackley would go on to feature as a referee for the beetleweight combat web series Bugglebots in 2018. At the end of the first series, he also took part in the 'Ref Rumble', taking control of The Berg in a one-on-one battle against Saw Loser and fellow referee Shane Lale. Despite encountering intermittent drive issues, he commanded The Berg to a dominant knockout victory, repeatedly hitting and flipping Saw Loser until it became immobilised.
Sam Griffin would also go on to build a beetleweight horizontal spinner called Night Fury, where it won the Chatham Challenge Belt in July 2021, beating Jack Tweedy's Toxin in the final.
Trivia
[
]
Among Concussion's working names were Thrash Metal and Riptide[20], the latter not being used to avoid confusion with Riptide Robotics
The wooden prototype of Concussion was capable of pulling a 1.8 tonne car at over 5 miles per hour.
The team set a budget of £2000 to build Concussion, but went four times over-budget, and eventually spent £8000 on the robot[21].
Simon Scott of Team Razer manufactured Concussion's drum for a heavily reduced rate. This lead to the misconception that he had been involved in the design process.[22]
According to the team, Concussion's ideal Tag Team Terror partner would be Terrorhurtz, so that the robots could attack from above and below in tandem (aerial and uppercut).[23]
According to the team, their favourite fight at the time of Series 9 was their defeat of Heavy Metal, as it demonstrated Concussion's full weapon potential.[24]
Concussion's drum used in Series 9 took 30 hours to mill.[25]
Concussion was the only robot to reach the Heat Final in Series 10 having lost its Group Battle.
Dorset Roboteering Team, Team Make Robotics and Team Outlaw were the only teams to reach a Grand Final with four members present.
Along with Team MAD and Team Toad, the Dorset Roboteering Team were one of three teams in Series 10 to place stickers representing their robot on the other competing machines.
Concussion is one of the only robots to fight two different robots from one team in a single series - Terror Turtle and The Kegs in Series 10.
Honours
[
]
References
[
]
External Links
[
]