Constrictor was Team UK Robotics' second entry in Robot Wars, after Rottweiler in Series 2. Constrictor only fought in The Seventh Wars, losing in Round 2 to Tsunami. It was a low profile robot, could produce decent speeds, yet it was hard to control at times, and was armed with an innovative pneumatic flipper that doubled as a crusher. The weapon could self-right, but the robot was fully invertible as well. Constrictor was originally going to have a grabbing/lifting claw, but it was scrapped due to weight constraints. It was armoured in 10mm high-density polyethelene with 3mm aluminium on the top. Constrictor's link cover was believed to have been stolen by the House Robots' operators, as the "Killalot kiss my bot" sticker on the link cover disappeared without a trace when Constrictor was returned to the Pits.
Robot History
Series 7
In its first battle, Constrictor faced Fluffy, Scarey-Go-Round and Killer Carrot 2. It began by lifting Killer Carrot unsuccessfully, before attempting to do so again several more times. Scarey-Go-Round then knocked a decorative panel off the back Constrictor, before resuming its fight with Fluffy, who tore a chunk out of it. Constrictor then attacked the full body spinner, doing some damage which stopped one of its wheels, making it go round in circles. Fluffy began to break down, and was only able to drive round in circles similarly to Scarey-Go-Round. Constrictor and Killer Carrot clashed again, Killer Carrot able to lift its opponent. The two robots fought near the now acitvated Pit of Oblivion with a suddenly rejunivated Fluffy. The judges put Constrictor and Killer Carrot through. In the next round, Constrictor faced promising German robot Tsunami, who had flipped both of its opponents out of the arena in its first round melee. Tsunami began by flipping Constrictor over, knocking off the decorative panel again. Constrictor self-righted, but was soon tossed through the air again by the German machine. This time, Constrictor couldn't right itself, and while it was making one of its unsuccessful attempts to do so, Tsunami pushed it to the side of the arena and flipped it out.
Results
Wins/Losses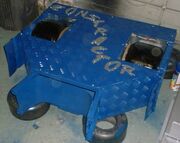 Series Record
Series 1: Did not enter
Series 2: Entered with Rottweiler
Series 3: Failed to qualify with Rottweiler 2
Series 4-6: Did not enter
Series 7: Heat, Round 2
Outside Robot Wars
Constrictor also entered the Techno Games Football Tournament, pairing up with Hellbent to form The Skeleton Crew.

External links