"Ladies and Gentlemen, please welcome the master of mayhem, Craig Charles!"
— Stuart McDonald's standard introduction of Craig Charles from Extreme 1 onwards
Craig Charles (born 11th July 1964) is an English actor, stand-up comedian, author, poet, and radio and television presenter, best known for playing Dave Lister in the British cult-favourite sci-fi sitcom Red Dwarf. He hosted Robot Wars from Series 2 until Series 7, including both series of Robot Wars Extreme. He also co-presented one episode of German Robot Wars. In 2016, Charles' hosting position was given to Dara Ó Briain and Angela Scanlon.
Robot Wars
[
]
"...the first recording with Craig Charles, who completely "got" the series..."
— Robot Wars executive producer Tom Gutteridge on one of many Robot Wars highlights[1]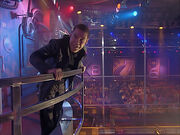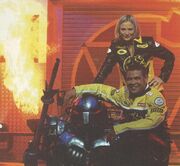 Taking over the show from Jeremy Clarkson, Charles was a lively host and had a good rapport with most of the contestants on the show, and was received far better by the audience than Clarkson. He opened the first battle of every show with the words "let the wars begin!". Charles was very enthusiastic about his role, warming up the audience with a monologue before handing over to Jonathan Pearce or one of the pit reporters. Charles would also speak to teams after significant battles, and got along well with the roboteers, most notably Joe and Ellie Watts from Team Big Brother and Amy Franklin from Team 101, who read a poem about him on one occasion. Charles would also announce the results of a judges' decision, and called out remarks about the end of a battle (he was particularly fond of saying "[Robot Name] goes marching on!"). At the conclusion of an episode, Charles usually recited a four line poem ending in the words "Robot Wars", with the second line rhyming with 'wars' or, in the case of series one of Robot Wars Extreme, ending with 'extreme' with the second stanza rhyming with the same word.
"We don't like losers. We don't like draws. We're winners here, on Robot Wars"
— Craig Charles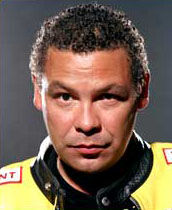 Charles addressed taking the Robot Wars job as a gamble for his career, but was extremely pleased when the show became successful, and enjoyed being a part of it.
"It's a difficult thing to take on really, one it's really self-affirming, look what I'm a part of! But in another, it really screws with your mind... you don't feel deserving of it, and you don't really understand what's going on!"
— Craig Charles about Robot Wars on Celebrity Home Secrets
Craig Charles expressed interest in presenting the new Series 8 of Robot Wars on Twitter, using the hashtag #lovetodoit.[2] However, the role was ultimately given to Dara Ó Briain. Jonathan Pearce revealed in a radio interview the following day that if a hypothetical Robot Wars: The Eighth Wars happened in 2004-2005, Charles would not have been available.[3]
Career outside of Robot Wars
[
]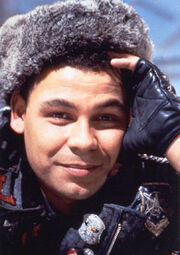 His entertainment career began as a poet on the British cabaret circuit, before moving into television and radio presenting in the late 1980s. In 1988 he was cast in the role of Dave Lister on the sci-fi comedy series Red Dwarf, appearing in the original BBC run until 1999, and reprising the role in 2009, 2012, 2016 and 2020 when Red Dwarf was recommissioned by British TV channel Dave. He has therefore appeared in every episode of the series, achieving cult status amongst the show's fans. Also he has worked with Challenge TV from 2002-2004 with Takeshi's Castle and the second series of Sushi TV which he worked as a voice-over presenter. Charles also presented a bonus video which was included with copies of Super Mario All-Stars (1993) for the Super Nintendo Entertainment System, highlighting Mario's backstory and promoting other major titles for the console at the time.[4]
Since then Charles has had various other acting roles, most notably as cab driver Lloyd Mullaney in the British soap opera Coronation Street, a role which Charles played until 2015, ten years after his debut. He has also presented various television shows and since 2003 has presented his own radio show on BBC 6 Music called The Craig Charles Funk and Soul Show. Charles provided the voice-overs for two Nestle cereal adverts in 2004, which was offering a Shrek 2 Fun Faces promotion at the time.[5][6] Charles appeared on I'm A Celebrity... Get Me Out Of Here! in 2014, but had to leave the show after four days upon learning of his brother's death. He has also appeared on celebrity versions of several quiz shows, including University Challenge (1998), The Weakest Link (2004), The Chase (2012) and Pointless (2013).
Craig Charles made mention of Robot Wars in his 2014 guest appearance on Through the Keyhole, after presenter Keith Lemon said that he liked the show. Charles said that he would "love it if Robot Wars came back", when he was asked if the show would make a return, but also said that "the show got a bit dangerous towards the end", and that "Sir Killalot was living on his front garden".
In 2016, Craig Charles appeared on ITV's Celebrity Home Secrets. On the show, he talked about his time as presenter of Robot Wars, and revealed that he still owns the jacket he wore in Series 6 and 7, also playing various clips of Craig Charles during Series 6 on the programme.
In March 2017, Craig Charles became the host of The Gadget Show on Channel 5, giving Charles a welcome return to technology-based television, a role he has retained to this day.
On 17 September, 2021, Charles took to Twitter to confirm he had contracted COVID-19, and may be out of action temporarily. Five days later, however, he tweeted again to confirm he was out of isolation and had returned to work.[7][8]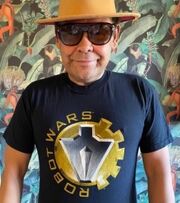 Craig Charles became the host of Channel 4 quiz show Moneybags in November 2021. He is also set to host Craig Charles: UFO Conspiracies for Sky History alongside astrophysicist Sarah Cruddas. This ten-part documentary series is due to air in early 2022.[9]
On November 19, 2021, Charles made a post on his Twitter profile tweeting the BBC Radio 6 Music page with the hashtag #tshirtday. In the post, Charles wore a Robot Wars shirt among other designs.[10] He featured on a celebrity special of Who Wants To Be A Millionaire? which aired later that same day, ironically hosted by fellow former Robot Wars presenter Jeremy Clarkson. The pair joked about Charles "taking his job" as presenter of the show after the first series. Charles ultimately won £1,000 for his charity.
References
[
]
Personalities
Presenters
Pit Reporters
Commentators
International Dub Presenters
Judges

Noel Sharkey

(

Series 1

-

10

,

Extreme 1

-

2

,

US 1

-

2

,

Nickelodeon

,

Dutch 1

-

2

,

German

) •

Eric Dickinson

(

Series 1

-

2

) •

Adam Harper

(

Series 1

-

3

) •

Martin Smith

(

Series 3

-

7

,

Extreme 1

-

2

,

US 1

-

2

,

Nickelodeon

,

Dutch 1

-

2

,

German

) •

Myra Wilson

(

Series 4

-

5

) •

Mat Irvine

(

Series 5

-

7

,

Extreme 1

-

2

,

US 1

-

2

,

Nickelodeon

,

Dutch 1

-

2

,

German

) •

Sethu Vijayakumar

(

Series 8

-

10

) •

Lucy Rogers

(

Series 8

-

10

)

Other

Stuart McDonald

(Director/Announcer,

Series 1

-

7

,

Extreme 1

-

2

) •

Tom Gutteridge

(Director/Executive Producer,

Series 1

-

7

,

Extreme 1

-

2

) •

Stephen Carsey

(Director/Executive Producer,

Series 1

-

7

,

Extreme 1

-

2

) •

Bill Hobbins

(Series Producer,

Series 3

-

7

,

Extreme 1

-

2

) •

Andrew Robertson

(Executive Producer,

Series 8

-

10

) •

Matt Wilkinson

(Series Producer,

Series 8

) •

Henry Imbert

(Series Producer,

Series 9

-

10

) •

Robotics industry professionals