"This is one of my favourites … It has a mouth that opens and shuts. Look at those gnashers in there, Jonathan! They're gonna do severe damage!"
— Philippa Forrester introduces Crocodilotron
Crocodilotron was a robot which had pneumatically-powered teeth designed to resemble a crocodile's. Crocodilitron exclusively fought in Series 3 of Robot Wars. Crocodilotron only competed in one battle, losing to eventual champions Chaos 2.
"The Millyard family used bits and pieces from the garden and the local tip for their creation. A strimmer motor provides the power, the teeth clamped by a pneumatic ram, and at a meter and a half, it's the longest in the heat."
— Jonathan Pearce describes Crocodilotron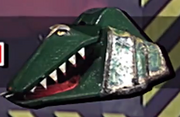 The robot was made from garden objects and its weapon was a set of clamping jaws operated by a 500lb pneumatic ram. However, only the top part moved, so it acted more as a flipper than a jaw. Crocodilotron also had two high-tensile steel spikes on the front to ram opponents.
"Crocodilotron's powered by 2 internal combustion engines and it has a 500lb double-acting pneumatic ram to operate the jaw, which has sharp teeth, which opens and shuts with extreme force. We have two high-tensile steel spikes on the front, which we aim to ram into our opponents and flip them over. If we can catch them in our mouth, we'll obviously crush them as well."
— Allan Millyard on Crocodilotron
Robot History
Edit
""We're gonna clamp you in our jaws and gobble you up!"...well don't just talk about it-OH, CROCODILOTRON, DO SOMETHING!"
— Jonathan Pearce on Crocodilotron's boasts, right as Chaos 2 flips it
In the first round of Heat E of the Third Wars, newcomers Crocodilotron were placed up against the eventual champion of the series, Chaos 2.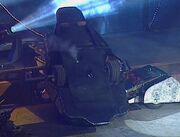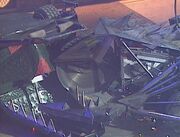 In the battle, Crocodilotron was immediately flipped over onto its back, only seconds into the battle. Chaos 2 then flipped it again, into the CPZ, almost sending it out of the arena. After Chaos 2 then took on some of the house robots, Crocodilotron was then attacked by Dead Metal, until cease was called, and Crocodilotron was eliminated from the competition.
CROCODILOTRON - RESULTS
Series 3
The Third Wars - UK Championships
Heat, Round 1
Heat E, Round 1
vs. Chaos 2
Lost
Wins/Losses
Edit
Series Record
Edit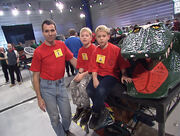 Outside Robot Wars
Edit
A few years after its appearance on Robot Wars, Crocodilotron was sold on to an unnamed buyer who planned to restore it as part of a project. However, Crocodilotron's current condition is unknown.
Crocodilotron was the first robot to lose to Chaos 2, the two-time Robot Wars champion.
Community content is available under
CC-BY-SA
unless otherwise noted.