"Heaviest in the heat at 80.3kg, Cronos lost to Scutter in the first round of the last wars. The pneumatic weapon can crush at seven and a half thousand kilo force, and the lifter can hoist a double-decker bus!"
Cronos was a robot that competed in Series 4 of Robot Wars. It did not enjoy much success, losing in the first round of its heat after being flipped by Steg 2.
Team Clean Machine also entered Series 3 with the equally unsuccessful Zeus.
Design
[
]
"It should make a nice few holes and probably squash a few robots."
— Julian Raffle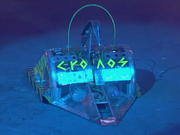 Cronos was a reverse wedge-shaped robot weighing 80.3kg - the heaviest in its heat - and made out of parts from a dry-cleaner. Its weapon was an unusual pneumatic lifter/crushing arm powered by airbags, with the arm featuring a spiked tip and being capable of crushing with 7500kg of force when lowered. When raised, the lifter portion of the weapon was capable of lifting a double-decker bus.
Etymology
[
]
Cronos was named after Chronos, the father of the Greek gods Zeus, Poseidon and Hades, continuing the naming pattern of its predecessor.
Robot History
[
]
Series 4
[
]
Cronos took part in Heat D of Series 4 and faced Series 3 Pinball Competitors Crusader 2 and the 7th seeds Steg 2 in the first round melee.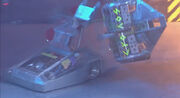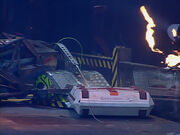 After a poor start, Steg 2 started attacking Cronos and managed to flip it over, but Cronos simply rolled back over. Cronos joined Crusader 2 in an attack on Steg 2, but was caught by Dead Metal. Crusader 2 shoved it back into the House Robot once it escaped. Cronos was unable to escape, and Sir Killalot came in and crumpled part of the front, before dropping Cronos into the pit of oblivion.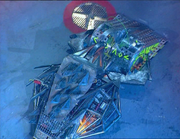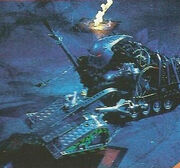 "Time has run out on Cronos in the heat. And they can go back to the laundry and dry-cleaning. If it's still there!"
— Jonathan Pearce as Cronos is pitted
Cronos was therefore eliminated from the Fourth Wars in the first round, and did not return for another series.
"Cronos out of control and out of the competition."
— Craig Charles afterwards
Results
[
]
Wins/Losses
[
]
Series Record
[
]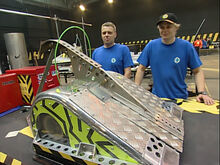 Trivia
[
]
Both team members worked in the laundry business, with Cronos using parts from a dry cleaner. Just five minutes after arriving at the Series 4 studio, Mark Raffle noticed that parts from a washing extractor required for the robot were missing, and he could not understand why Cronos was not working. It transpired that team captain Julian Raffle had to borrow these parts as he was desperate for parts and half the shops around the area were closed at the time.