"It's past its fitness test but what about the weapon? If OK, it has 4.2 tonnes of force. It has a strong steel section exoskeleton shell. You try saying that!"
— Jonathan Pearce introduces Crusher
Crusher was a competitor robot that fought in Series 3 of Robot Wars. It was eliminated in the first round despite penetrating the armour of former champion Beast of Bodmin, after its tracks slipped off.
Team Wharthog had previously entered in Series 1 and the Series 2 Middleweight Championship with Wharthog, and also failed to qualify for Series 6 and 7 with Cruncher.
"Trap the enemy in here, blade comes down, lots and lots of damage hopefully."
— Oliver Browne explains the basics of a vertical crusher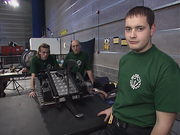 Crusher was a wedge-shaped robot with electric-driven tracks and a hydraulic crusher, which inspired its name. The crusher produced 4.2 tonnes of force and was powered by a hydraulic pump driven by a two-stroke strimmer engine. It had a strong steel exoskeleton, but was sluggish and suffered from reliability problems which almost saw it eliminated before its only battle. Furthermore, Crusher's tracks were exposed and were prone to being damaged or dislodged, which proved to be the robot's undoing.
Robot History
Edit
Crusher broke down just before its first round battle, and was repaired minutes before it was due to enter the arena.
"Its passed its fitness test, but what about the weapon?"
— Jonathan Pearce comments with Crusher having made it into the arena.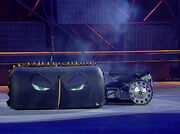 Nevertheless, it faced Beast of Bodmin, the successor to Series 1 champion Roadblock, and despite being sluggish started well by penetrating Beast of Bodmin's shell with its crusher, its opponent 'wincing' as it sustained damaged.
"Fibreglass and aluminium panels, no match for the hydraulic crusher."
— Jonathan Pearce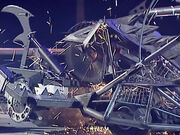 Beast of Bodmin escaped, shoving Crusher side-on before Crusher pierced through Beast of Bodmin's front end once again. Crusher was pushed sideways by Beast of Bodmin, which was unable to use its cutting saw to great effect, before having its left-hand track dislodged by Beast of Bodmin's wedge. It was pushed into the wall by Beast of Bodmin, and was attacked by the House Robots after its crusher got wedged between the railings. Dead Metal cut into Crusher's exoskeleton as the battle ended, and Crusher was eliminated.
CRUSHER - RESULTS
Series 3
The Third Wars - UK Championship
Heat, Round 1
Heat I, Round 1
vs. Beast of Bodmin
Lost
Wins/Losses
Edit
Series Record
Edit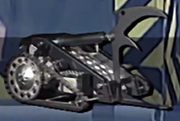 NOTE: Adam Pengilly also competed in Series 1 with Torque of the Devil
Community content is available under
CC-BY-SA
unless otherwise noted.