"It's a basic wedge design. It's got an aluminium and steel body shell for overturning and ramming other robots."
— Oliver Steeples on Cunning Plan
Cunning Plan was a featherweight robot that exclusively fought in Series 1 of Robot Wars. Weighing at just under 12kg, it was the lightest robot ever to reach the Grand Final of any series of Robot Wars, which cost it in its Grand Final battle. Cunning Plan was sponsored by the University of Reading and displayed the university shield on the top of the robot.
The name Cunning Plan possibly came from the BBC sitcom Blackadder, in which the character Baldrick would often declare that he had a "cunning plan" to resolve a problem in which he and the other characters faced.
Despite Cunning Plan being retired after Series 1, Oliver Steeples revealed in 2016 that he still owns the robot, and it is fully functional.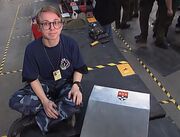 Cunning Plan was a simple double wedge-shaped robot with an aluminium and steel shell. The wedge served as the robot's weapon, with its key tactic being to charge into other robots and allow them to run up the wedge and be flipped over, with Cunning Plan winning its heat in this manner. The robot itself was painted silver with the University of Reading shield on its top panel.
Robot History
Edit

Armament! This Robot Wars article is in need of rewriting to bring it up to a higher standard. You can help Robot Wars Wiki by rewriting it.
Cunning Plan started off by taking the maze route in the Gauntlet. Due to its size it managed to get through it quite quickly.
Matilda
tried to stop it from reaching the end zone, but actually helped Cunning Plan on. After a brief hold up on the arena spikes Cunning Plan completed the course and almost drove through the arena railings at the same time.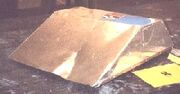 Next was the Trial stage, which was Stock Car. Cunning Plan got off to a good start, but crashed into SAT'arn and The Demolisher at the first corner. However, Cunning Plan escaped, though it was unable to catch up with the much faster Demolisher until the latter flipped itself over after completing two laps. Cunning Plan completed its two laps, before trying to right The Demolisher and ending up crossing the line first, advancing to the Arena Stage.
For its first arena battle, Cunning Plan faced Bugs. After a hesitant start Cunning Plan managed to sweep under Bugs once. Bugs seemed to have some control difficulties and it drove onto a grille and became immobilised, and Cunning Plan still found time for a brief tease at Sergeant Bash.
Cunning Plan's next battle was the quickest battle in Series 1; Cunning Plan started slowly with The Demolisher reversing away, but Cunning Plan suddenly charged at its small opponent and The Demolisher was instantly flipped onto its back and immobilised.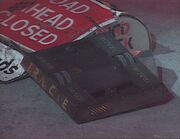 As the only remaining featherweight in the competition, Cunning Plan entered the Grand Final, where it faced Recyclopse, Roadblock, Robot the Bruce, T.R.A.C.I.E. and Bodyhammer in a six-way melee for the championship. In the opening moments, Cunning Plan did a full 360 degree spin, upon crashing into T.R.A.C.I.E., broadside on. Next, Cunning Plan's lightness was an immediate weakness as Bodyhammer easily shunted it around. Cunning Plan fought back gallantly as it charged and bounced off Robot the Bruce, and reversing into Roadblock. But T.R.A.C.I.E. then suddenly drove up Cunning Plan's wedge. Due to T.R.A.C.I.E.'s weight, Cunning Plan couldn't reverse away, but neither could T.R.A.C.I.E. as it was beached. Both robots were immobilised, and declared out of the running, and thus ended Cunning Plan's title hopes.
Wins/Losses
Edit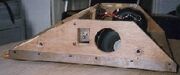 NOTE: Cunning Plan's Gauntlet and Trial runs are not included
Series Record
Edit
References
Edit
Community content is available under
CC-BY-SA
unless otherwise noted.