This article is about the British robot which was not selected for Series 10. For other uses, see Cyclone (disambiguation).
Cyclone was a heavyweight robot built by Team Roaming Robots, which applied for Series 10 of Robot Wars. It was not selected to compete.
Team Roaming Robots had previously competed in several series of the original run, notably in Series 7 with Ripper.
Design
[
]
Cyclone was an invertible, wedged box-shaped robot with a six-wheel drive system, a predominantly HARDOX/ARMOX construction and front spring-loaded wedgelets enabling it to get underneath opponents. It was armed with four interchangeable weapons - a front-hinged flipper, a rear-hinged flipper with an 'anti spinner' scoop, a drum and an axe.[1] Only the front-hinged flipper was used during its appearances at live events, which enabled Cyclone to throw other robots over and self-right. The robot was painted blue and purple, and bore a close resemblance to incumbent Robot Wars World Champion Storm 2.
Series Record
[
]
Outside Robot Wars
[
]
Cyclone made its robot combat debut at the Robots Live! Burgess Hill event in April 2017, and has since become a regular competitor at various Extreme Robots events, themselves run by Team Roaming Robots. It also travelled to Russia in November 2017 to compete at Bronebots, alongside John Findlay's other robots, Ripper and Stinger.
Cyclone competed on the Chinese TV show Clash Bots, where the robot was renamed Smasher, despite the name Cyclone still being engraved on the robot. Under the controls of Peter Redmond, it fought alongside Sparta, driven by John Findlay, to battle the British AU Thumper and the Brazilian Dark Wolf, using its front-hinged flipper. However, after Sparta was promptly immobilised, AU Thumper buried its axe into the wheel housing of Smasher, and did not let go, dragging Smasher around the arena. This allowed the vertical spinner of Dark Wolf to strike the rear of Smasher with devastating blows, causing Smasher's lithium polymer batteries to catch fire, and Smasher lost the battle in a blaze of smoke.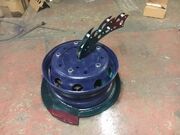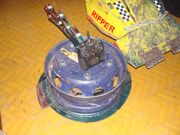 Following this destructive loss, John Findlay built a new version of Cyclone, also known as Cyclone 360, out of a wheel hub. A shell spinner by design, the new robot debuted at the Extreme Robots Portsmouth event in May 2018, where it was defeated by BattleBots competitor Parallax. However, it made up for this at its next appearance in Guildford, where it finished the event third overall. Cyclone 360 also finished in third place at the Chatham event, in September 2018.
References
[
]
External Links
[
]