"...combines two lethal weapons … Cyrax is a fast little bot, and certainly a match for any robot..."
— Robot Wars: The Official Magazine[1]
Cyrax was robot that competed in Series 6 of Robot Wars. It survived its first round battle, but was eliminated by the reigning champion, Razer in Round 2. The team previously competed in Series 3 with Wild Willy.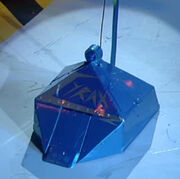 Cyrax was a roughly pyramid-shaped in design. Its main weapons were an electric-powered pickaxe on the back and a small rear-hinged flipper on the front. Both weapons were reasonably effective and the robot had a low ground clearance of 1cm, but its armour was thin. A flashing light appeared on top of Cyrax.
Jonathan Pearce continuously referred the robot as "the purple pyramid", though it was painted blue; the team's previous robot was purple.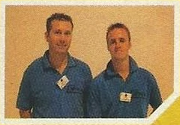 Cyrax was entered into Series 6 by a two-man team based in North Pickenham, Lincoln. The duo of Paul Wilcox and Ryan Pettefer were responsible for maintaining their robot, and had previously entered the Third Wars with predecessor Wild Willy.
Robot History
Edit
"Purple, pretty-looking thing, wonder if that'll count?"
— Jonathan Pearce as Cyrax enters the arena
Cyrax's first battle of the Sixth Wars saw it in a potential grudge match with Team Tetanus, whose previous robot Flip Flop Fly controversially beat the team's previous robot Wild Willy, as well as Ruf Ruf Dougal and Weld-Dor 3, although the team were most afraid of Weld-Dor 3.
Philippa Forrester: "Cyrax team, you know who you're up against, who are you most worried about?"
Team Cyrax: "Weld-Dor, there. Yeah, worried about that one."
Philippa Forrester: "But you've got a nice electric axe, which can keep going!"
Team Cyrax: "Yeah, we'll give it some."
— Team Cyrax state their worries
Cyrax started strongly, as it targeted Ruf Ruf Dougal throughout the battle, while Tetanus 2 focused on Weld-Dor 3, eventually pitting it. Cyrax repeatedly buried its axe into Ruf Ruf Dougal and tried to lift it, before the dog's fur eventually caught fire. Cyrax kept away from Tetanus 2, and survived until the Judges' decision, where its aggression throughout the match over the flaming Ruf Ruf Dougal allowed Cyrax to progress with Tetanus 2.
"I had a look round it earlier, and sussed out where all the bits are..."
— Ian Lewis on Cyrax before their battle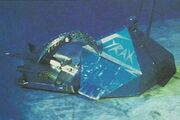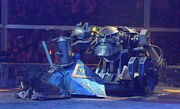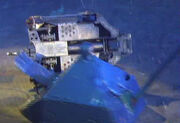 Cyrax had the misfortune to be placed against reigning champions Razer for the second round match. Razer started by trying to crumple the front flipper of Cyrax before managing to drive it into the jaws of Growler, who pushed Cyrax the length of the arena before letting go. Razer then managed to grab hold of a corner of Cyrax's pyramid shell and hold it in place while Mr. Psycho hit the robot twice with his hammer which knocked off part of the lens cap of the blinking top light. Cyrax responded by flipping Razer over but Razer managed to self-right and put one last hole in Cyrax before cease was called. The judges eliminated Cyrax, based on the large amount of damage sustained as well as poor driving and lack of aggression.
Craig Charles: "How did you feel when you saw the draw? I mean, they're World Champion, UK Champion..."
Team Cyrax: "Very unlucky! We couldn't believe our bad luck!"
— Team Cyrax on their second-round match
Wins/Losses
Edit
Series Record
Edit
Of all the competitor robots included within Pack 4 of Robot Wars Battle Cards, Cyrax had the highest weapons statistic at 93%, and could only be bested by House Robots.
References
Edit
Community content is available under
CC-BY-SA
unless otherwise noted.