For the other Series 3 competitor with a similar name, see Daisy Chopper.
"Daisy has this very strange "skipping rope" design, it's a weapon that flips all the way around, just like a skipping rope! Get it?"
— Philippa Forrester introduces Daisy
Daisy was a robot which was entered into Series 3 of Robot Wars. It was drawn against Aggrobot in Round 1, but had to pull out before the battle due to mechanical failures and was replaced by Binky. Due to Daisy's withdrawal, very little is known about it. Daisy did not attempt to enter any series afterwards.
Design
[
]
"We entered robot wars after seeing S1 and 2 and loving it. Our design was as far as we knew unique at that time. It was a manitou forklift wheel, cut in half and rewelded back together edge to edge. The top was a sheet of scrapped stainless that we hand rolled and then welded. (That was hard to do). The innards were: 4wheels skid steer from a small forklift trolley. We turned them down to fit. 18 12v cyclone batteries, starter motors for the drive and the skipping rope power. The RC and TX were completely hand made and built. The frame inside was aluminium, and the hat was tuffnel."
— Peter Buter[1]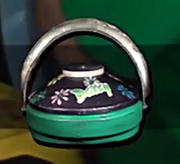 Daisy was a green and black, circular-shaped robot with a "skipping rope" metal bar attached to an axle through the robot's body. This was made from a Manitou forklift wheel cut in half, and would function as an overhead weapon to slam other robots from above. The robot's lid was made from scrapped stainless steel which had been rolled and welded, and it was decorated with the robot's name, and floral designs. The robot's main frame was made from aluminium, with a tuffnel 'hat'. However, Daisy's main issue was its MOSFET diodes in its control circuitry system, which continually failed, and none of Daisy's three available receiver crystals worked well enough for Daisy to enter the arena, forcing it to withdraw from Series 3 prior to its first fight.
The Team
[
]
Daisy was designed by the 15-year old Peter Butler who would have also been the robot's driver in combat, making him one of the younger drivers of Series 3. He was joined by father Richard Butler for the Third Wars, although neither team member received a speaking role, appearing only in Philippa Forrester's episode introduction.
Robot History
[
]
Series 3
[
]
"Next up, Daisy against Aggrobot, but news from the pits, Daisy, mechanical failures, ruled out."
— Jonathan Pearce, prior to Daisy's scheduled battle
Daisy was placed in Heat C of the Third Wars, and was due to fight the much larger Aggrobot machine in the first round of the heat. However, Daisy suffered a mechanical failure in the pits which the team could not fix in time, forcing them to pull out of the competition. Daisy's place was then taken by the substitute robot, Binky. However, Binky lost to Aggrobot in the battle anyway.
"The problem: the Achilles heel: our power to the control circuitry was fed from the 12v batts through MOSFET diodes. They kept blowing!! We later found out they were a faulty batch and weren't stable. The other problem we had was that one of the cameras or something crosstalked with our TX. We had 3 crystals with us, tried em all, but it wasn't enough. We had a great time, a great learning experience and a great laugh."
— Peter Butler[2]
Results
[
]
DAISY - RESULTS
Series 3
The Third Wars - UK Championship
Withdrew
Heat C, Round 1
vs. Aggrobot
Withdrew
NOTE: Daisy was originally supposed to fight Aggrobot, but was forced to drop out. It was replaced by Binky.
Series Record
[
]
Trivia
[
]
References
[
]