"Ladies and gentlemen, boys and girls, please welcome the Master of Mechanical Mayhem, Nickelodeon's Dave Aizer!"
— One of Stefan Frank's introductions for Dave Aizer
Dave Aizer is an American television host, producer and journalist who presented Nickelodeon Robot Wars for its one and only series.
Robot Wars
[
]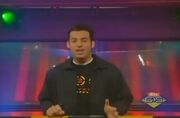 Dave Aizer presented all six episodes of Nickelodeon Robot Wars, introducing segments of the show and interviewing teams after their battles. Dave Aizer's style of presenting was noticeably different to that of the other Robot Wars presenters, in an effort to appeal to a younger audience.
His personality revolved around being kind and considerate to both the winners and losers of a battle, and he would often ask the audience to cheer for both teams. Aizer would always talk to the young team members of a team rather than the adult competitors, reflecting the target audience for Nickelodeon Robot Wars.
Outside Robot Wars
[
]
Before joining Nickelodeon, Aizer had worked as an anchor for satirical news network The Onion, Disney's ESPN club, as well as working on the student radio station at the University of Miami. Aizer joined Nickelodeon in 1999, hosting shows such as Slime Time Live and Nickelodeon GAS, the latter airing Nickelodeon Robot Wars. Dave Aizer also worked with Nickelodeon Robot Wars pit reporter Vivianne Collins to co-host Nickelodeon Games and Sports for Kids between 1999 and 2003.
More recently, Aizer has turned his attention towards coaching public speaking, offering professional advice through his website.[1] He currently works for WSFL-TV in South Florida, having previously hosted the channel's morning live television show called The Morning Show.
Trivia
[
]
Aizer holds the Guinness World Record for the most slime dumped at any one time, achieved during his time with Nickelodeon.
With six episodes to his name, Dave Aizer was the show's joint shortest serving presenter, alongside Jeremy Clarkson.
References
[
]
Personalities
Presenters
Pit Reporters
Commentators
International Dub Presenters
Judges

Noel Sharkey

(

Series 1

-

10

,

Extreme 1

-

2

,

US 1

-

2

,

Nickelodeon

,

Dutch 1

-

2

,

German

) •

Eric Dickinson

(

Series 1

-

2

) •

Adam Harper

(

Series 1

-

3

) •

Martin Smith

(

Series 3

-

7

,

Extreme 1

-

2

,

US 1

-

2

,

Nickelodeon

,

Dutch 1

-

2

,

German

) •

Myra Wilson

(

Series 4

-

5

) •

Mat Irvine

(

Series 5

-

7

,

Extreme 1

-

2

,

US 1

-

2

,

Nickelodeon

,

Dutch 1

-

2

,

German

) •

Sethu Vijayakumar

(

Series 8

-

10

) •

Lucy Rogers

(

Series 8

-

10

)

Other

Stuart McDonald

(Director/Announcer,

Series 1

-

7

,

Extreme 1

-

2

) •

Tom Gutteridge

(Director/Executive Producer,

Series 1

-

7

,

Extreme 1

-

2

) •

Stephen Carsey

(Director/Executive Producer,

Series 1

-

7

,

Extreme 1

-

2

) •

Bill Hobbins

(Series Producer,

Series 3

-

7

,

Extreme 1

-

2

) •

Andrew Robertson

(Executive Producer,

Series 8

-

10

) •

Matt Wilkinson

(Series Producer,

Series 8

) •

Henry Imbert

(Series Producer,

Series 9

-

10

) •

Robotics industry professionals