"I think Dead Metal's waiting to... carve up another contender!"
— Jonathan Pearce's in-game quote from Arenas of Destruction
Dead Metal was one of the four original House Robots from the robot combat game show Robot Wars. Designed to resemble a scorpion, he was armed with a set of pneumatic pincers and a 3000rpm circular saw, mounted on his 'head'. His primary method of attack was to first grab hold of a competitor robot, then slice through it using his circular saw; in his later appearances, the saw was mounted on a 'head' assembly which would slide forward to reach the robot he had caught.
Dead Metal is one of the five House Robots to appear in Robot Wars: Arenas of Destruction, although his functionality in-game differs from that of his real-life counterpart. He appears in all five of the video games based on the show.
Appearance and Armament
Edit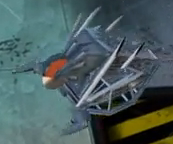 Dead Metal and the other four House Robots made their second video game appearance during this game. The game is based on Series 4, and Dead Metal's appearance was unchanged from the major overhaul he had had the previous series.
Dead Metal is a lot more detailed than his previous video game appearance, and he is no longer pink. It is clear in this game that Dead Metal is depicted as his later incarnation, from Series 3 onwards. However, in Arenas of Destruction, Dead Metal's 'head' assembly does not slide forwards and backwards as in real-life, with the saw simply spinning where it is. However his pincers do function like those of his real-life counterpart, and are particularly useful in grabbing hold of other robots. Dead Metal's pincers no longer continually open and close during battles, only coming into use when he attacks a nearby competitor robot. His method of attack is to activate both the pincers and the saw at the same time.
Dead Metal's saw is one of the most powerful weapons in the game, capable of sending pieces of armour flying away from competitor robots in seconds. However, he is the easiest House Robot in the game to immobilise through flipping, as he can be stranded on his back. Dead Metal no longer turns to face robots as they pass his CPZ, as in the previous game.
Differences from real life
Edit
Dead Metal is relatively easy to flip in the game, whereas in real life his wide shape prevented all but Gravity and Apollo from flipping him over.
The saw assembly is static, and Dead Metal simply rams into opponents with the saw.
The pincers only close slightly.
The pincers are undersized in comparison to real life.

Community content is available under
CC-BY-SA
unless otherwise noted.